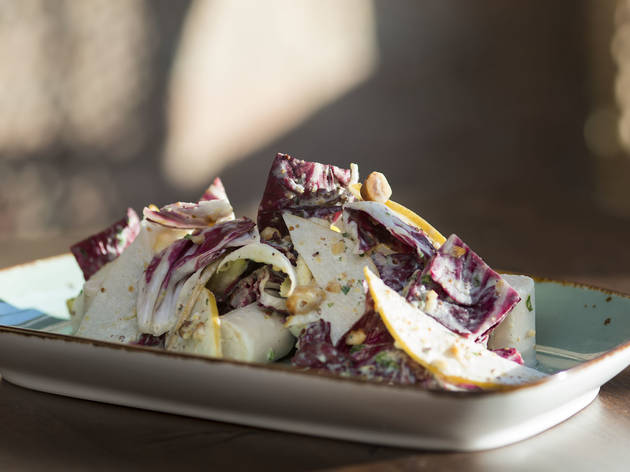 1/5
Photograph: Ben Macri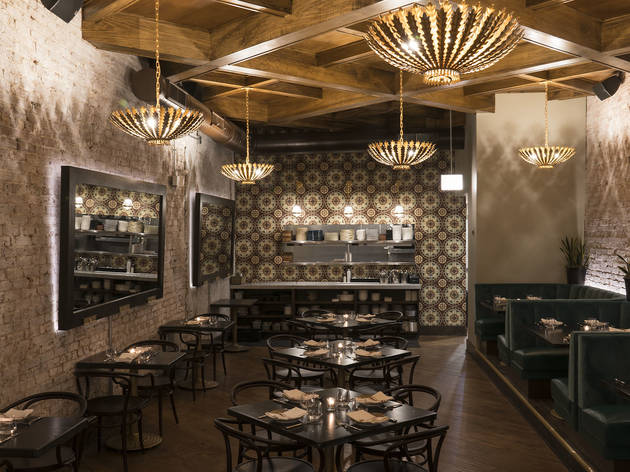 2/5
Photograph: Ben Macri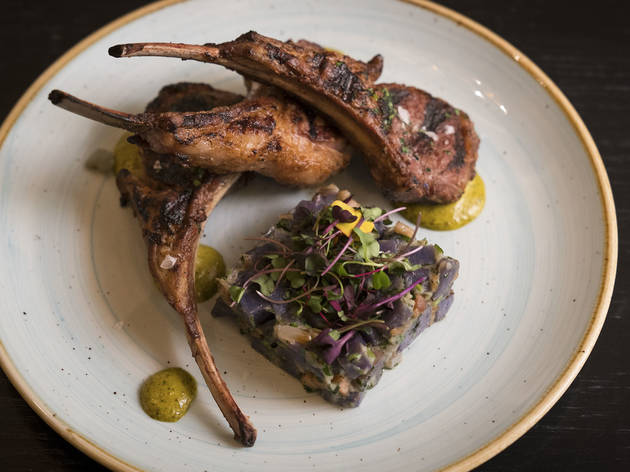 3/5
Photograph: Ben Macri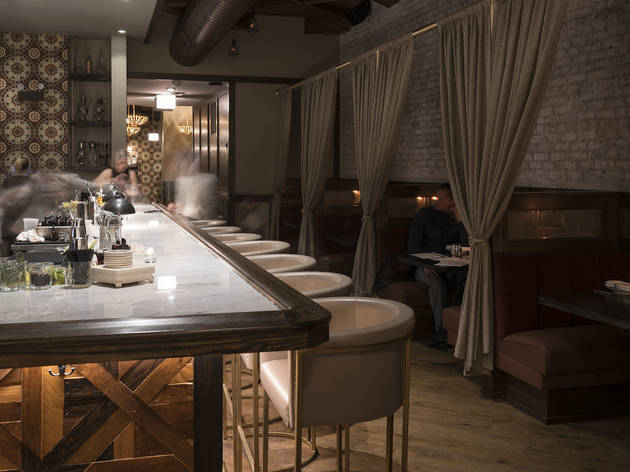 4/5
Photograph: Ben Macri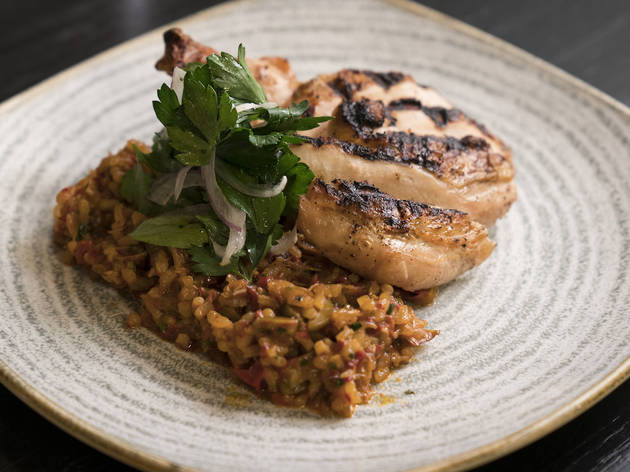 5/5
Photograph: Ben Macri
In a restaurant-heavy neighborhood like West Loop, you'll need more than a pretty facade to make it.
"Ooh, fancy," my date said as we walked into Ronero. Wearing a jersey pullover dress and leggings, I wasn't prepared for how underdressed I would feel at this Latin-inspired restaurant in the West Loop. But the sparkling chandeliers and long grey curtains hiding plush booths make the space feel luxurious. Ultra-dim lighting and a sleek black and grey color scheme boost the romance factor, which left us wondering if we'd walked into a Latin eatery or a French restaurant prime for first dates.
It's decidedly the former, and you'll know it as soon as you see the menu, which is punctuated with empanadas, ceviches and bolitos. The food here is dreamed up by chef Corey Morris (Mercat a la Planxa, Rural Society), who we've come to depend on for his grilled meats and perfectly cooked seafood. Here, though, the dishes aren't executed with the same precision. The bisteca, an 8-ounce hanger steak served with black bean crema, was tender but somehow totally absent of the rich, meaty flavor you'd expect with a grilled steak. Diver scallops, which should have been tender and delicate, were squishy and rubbery. Worth the $18 price tag? Absolutely not. However, you'll be just fine if you stick with the small plates. Tender ropa vieja with goat cheese and focaccia was flavorful, and rotating house-made empanadas (filled with potatoes the night we visited) were hearty and delightful. Drinks didn't disappoint either, with rummy classics and interesting house cocktails designed to grab your attention.
The verdict? If you're in the neighborhood, there's no harm in stopping by for small plates and a drink, like the spicy cadejo blanco made with rum and chimichurri greens. But when it comes to the main course, consider taking your business elsewhere. After all, if you're on Randolph Street, you can do better than a pretty face.
Vitals:
Atmosphere: Dress up a little for this one, and don't be surprised to see suits and cocktail dresses as the main attire.
What to eat: Stick to small plates like the ropa vieja and empanadas and skip entrees. Desserts are a sure bet, too.
What to drink: The ingredients on the house cocktail menu may seem a tad fussy, but rest assured, they're tasty. Our favorite was the cadejo blanco, but we also enjoyed the juan quinquín.
Where to sit: The tables in the front and back both look like great options, but you can't go wrong with sitting at the bar while waiting on a reservation elsewhere. Steer clear of the tables across from the bar—they're too dark, too loud and too isolated.
Venue name:
Ronero
Contact:
Address:
738 W Randolph Street
Chicago
60661

Opening hours:
Tues-Fri 5pm-2am, Sat 5pm-3am, Sun 5pm-2am
Transport:
El: Green, Pink to Morgan. Bus: 8.
Do you own this business?
Rating Breakdown
5 star:

0

4 star:

0

3 star:

0

2 star:

1

1 star:

0
I hope I caught Ronero on a tough night which also happened to be Valentine's Day. I decided I wasn't going to post any feedback online but after I emailed them very politely and received no response, they have left me with no choice.
I chose Ronero because it's new, in a location I like, and had a cool vibe per everything I saw/read online. When I booked, I believe I was told there would be a prix fixe menu that night which I said was fine.

I got a call at 8:10 (reservation at 9) reminding me that it was this menu and it was $85/pp and if there were any issues to call back to cancel. Strange that I have never walked in and was surprised this was the approach. My guess is the food was portioned out and some folks were unhappy. Not a big deal, kept the reservation and headed over at 8:30.

Getting there I was hoping to get a drink in the speakeasy (Escobar) only to find out it's only open Thurs-Saturday. Makes sense but nowhere on the site did it say that. I found this out after the fact through a website called dnainfo.com. Also fine...it is what it is. First thing I notice is that it was quiet in there (empty tables) which didn't help what is or would be an awesome atmosphere normally.

Digging more into the menu, we come to find we are given the prix fixe option due to making the reservation. Had I not made a reservation, I could have walked in and ordered off the menu which a table near us did and left us bummed we couldn't have the option to try the snapper I'd heard about and saw them eating.

The server didn't give us much about the place, what his name was, Happy Valentine's Day, not much at first which given it's new we were wanting to hear. He took our wine order without talking about the signature cocktails or rum options which we may have considered if he brought them up. It is a rum bar after all. We ordered a bottle of wine because we saw that all that came with the prix fixe was a drink at the end. When he brought it he did end up running us through the menu more.

The food overall was solid. Thought the appetizer was okay, salad was better, wagyu and scallop were done well and the desert was great. All in all I'm impressed with Chef Morris. We didn't get asked how we liked anything or what else we needed much but the rest of the staff was attentive with the meal timing, water, etc.
I wanted so badly for this experience to be world class and the toughest part is that it felt so close.