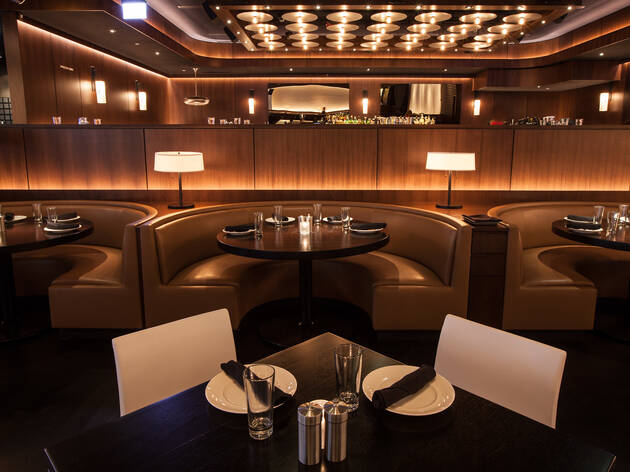 1/14
Photograph: Martha Williams
RPM Steak is a new spot in River North.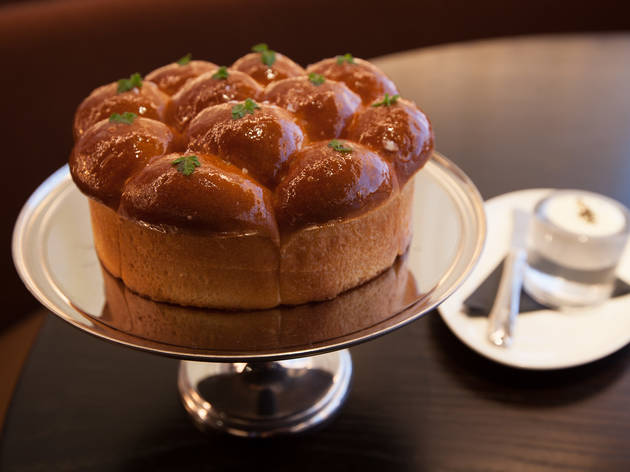 2/14
Photograph: Martha Williams
Parker house rolls are on the menu at RPM Steak.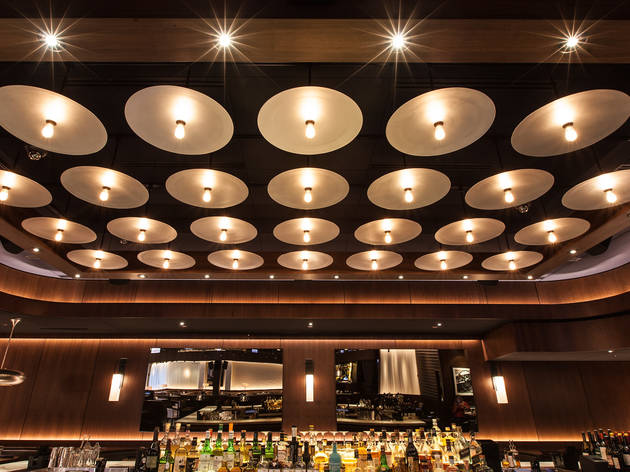 3/14
Photograph: Martha Williams
RPM Steak is a new spot in River North.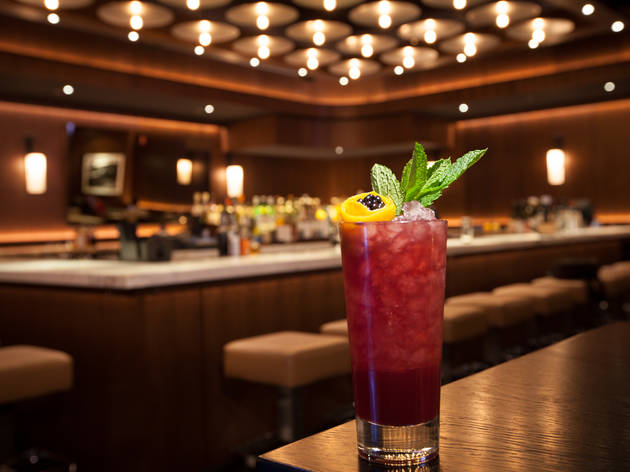 4/14
Photograph: Martha Williams
The Cobbler is a cocktail at RPM Steak.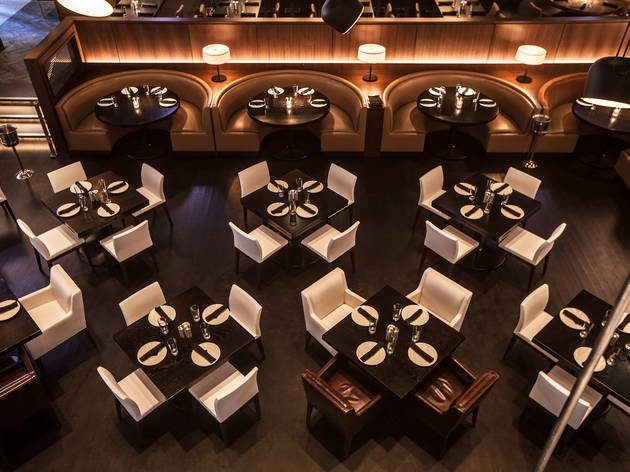 5/14
Photograph: Martha Williams
RPM Steak is a new spot in River North.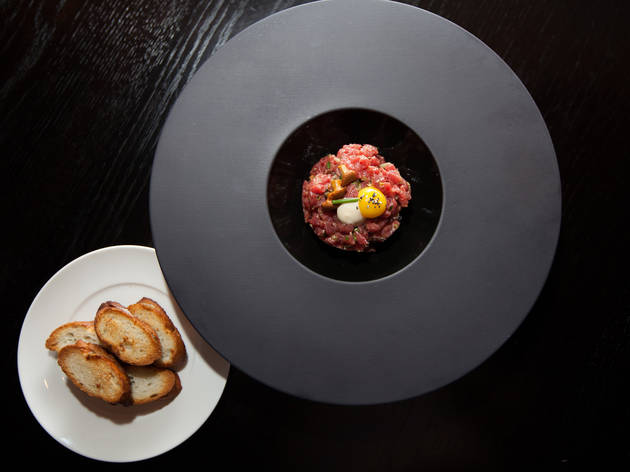 6/14
Photograph: Martha Williams
Steak tartare is on the menu at RPM Steak.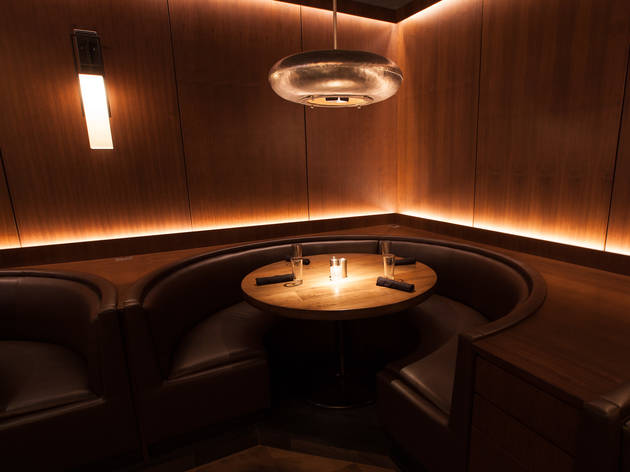 7/14
Photograph: Martha Williams
RPM Steak is a new spot in River North.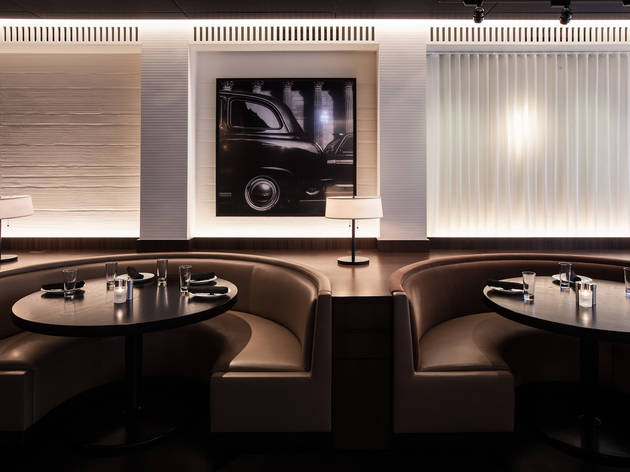 8/14
Photograph: Martha Williams
RPM Steak is a new spot in River North.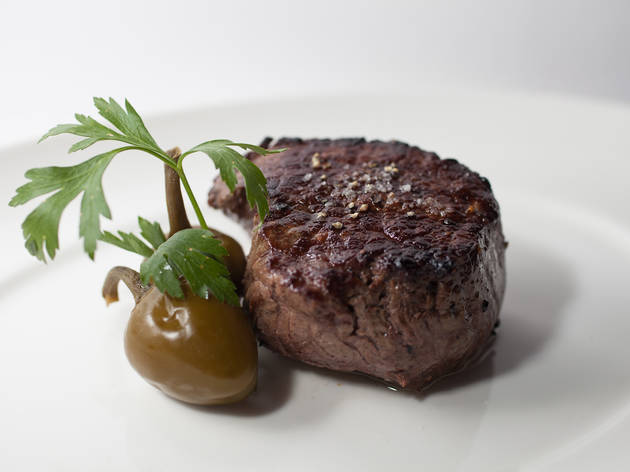 9/14
Photograph: Martha Williams
A bison filet is on the menu at RPM Steak.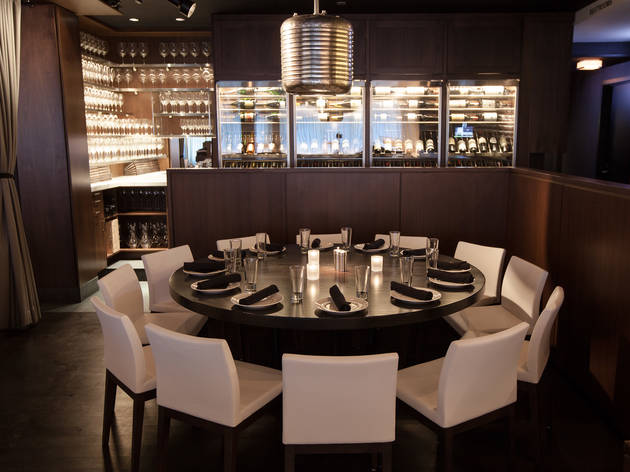 10/14
Photograph: Martha Williams
RPM Steak is a new spot in River North.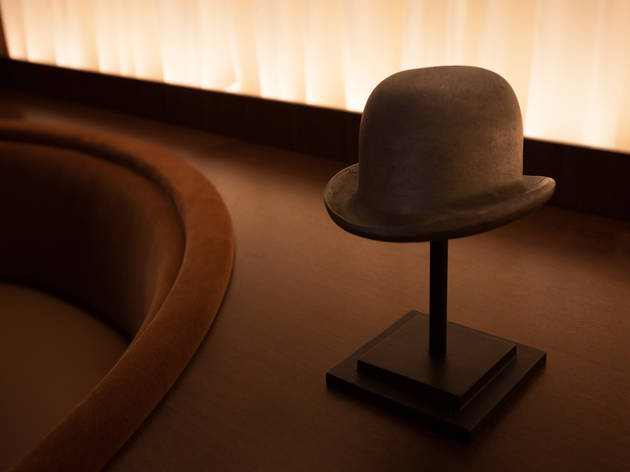 11/14
Photograph: Martha Williams
RPM Steak is a new spot in River North.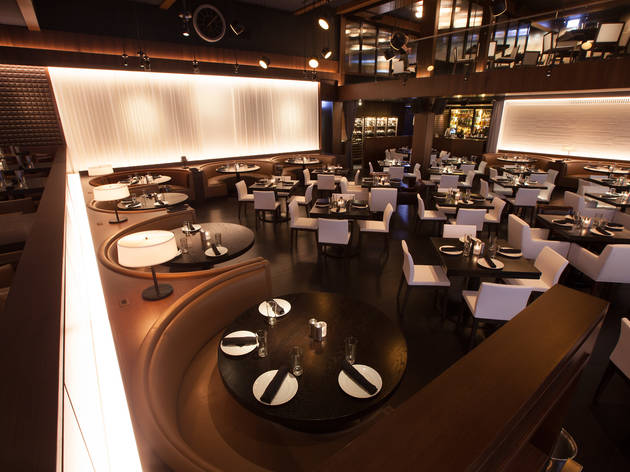 12/14
Photograph: Martha Williams
RPM Steak is a new spot in River North.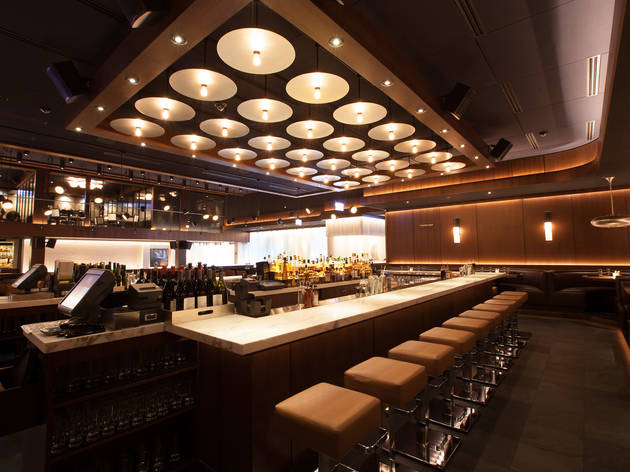 13/14
Photograph: Martha Williams
RPM Steak is a new spot in River North.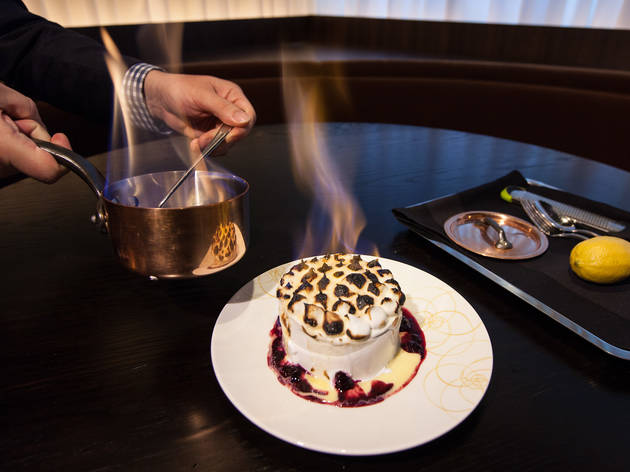 14/14
Photograph: Martha Williams
Baked Alaska is on the menu at RPM Steak.
Time Out says
Restaurant review by Amy Cavanaugh
The night before I dined at RPM Steak, President Obama had dinner there. If you had asked me which Chicago restaurant the President would be having dinner at, I would never have picked RPM—I imagine that Michelle would insist on somewhere lovely and vegetable-focused like Lula Café—but now that I've been there, it makes sense. He wasn't there with the first lady and, because he was sitting in a private room upstairs, he was shielded from public view. Plus, there's some glitz—it's owned by TV personalities Bill and Giuliana Rancic, as well as the Lettuce Entertain You prodigies Jerrod and R.J. Melman and chef Doug Psaltis, the crew also behind RPM Italian—and it's not news that the President likes a good steak.
So of course I seized the opportunity to ask our server an important question: What did Obama eat?
"A Grey Goose martini, Kansas City cut and a baked potato."
The latter was off menu, but that's a respectable order. I didn't have any of these things, but if his dishes were anything like mine, he had a perfectly fine meal, just not one that's vastly different or better than a typical steakhouse.
Since I wasn't dining with Obama, I sat at a rounded leather booth along the back wall, which faced out into a room mostly filled with groups in business attire. This is an expense-account restaurant, where you wouldn't think twice about ordering a $115 seafood platter, and where there's enough liveliness in the restaurant to feel like you're part of the scene, but it's still easy to hear your tablemates talk.
I didn't order that seafood platter, but other dishes from the raw bar were the standouts on the starter section. The well-seasoned steak tartare comes topped with an egg yolk and tiny blue cheese–filled crostini to pile it on, while slabs of yellowtail overlapped on the plate and were dotted with a spicy, peppery sauce. The roasted crab legs were another good starter—brightened with a squeeze of lime juice, they were plump and sweet. These were all more successful than a plate of Parker House rolls so cute I didn't want to eat them, and then wished I hadn't—they were extremely dry. Our server suggested we order the asparagus and shrimp, which were wrapped up separately in a crispy coating. The shrimp were too chewy and the wasabi aioli didn't provide enough spice to save the flavorless bites. Easing the challenge of the hit-or-miss starters is the cocktail list, developed by Paul McGee (Three Dots and a Dash), which are all proficiently executed. There's nothing super exciting or challenging here, but the drinks skew classic, like an old-fashioned and an airmail, plus there's a fresh, icy cobbler, packed with tequila, blackberry and mint.
If you're here, you're probably ordering steak. The menu has 16 steaks and a steakburger to choose from, ranging from filets to dry-aged steak to wagyu. If you're with a group, make one of them the bison filet, an 8-ounce cut that's very tender and lean. Compared to beef, there's a stronger, slightly sweeter flavor. The prime RPM cap steak was less marbled than our server suggested, but it had a nice char and juicy interior. If you're not a steak eater, you have 10 entree choices, from bacon-wrapped scallops to ravioli Bolognese. The spicy miso-roasted lobster, available in whole and half sizes, is half good—the tail meat was perfectly tender, and the butter and miso made a rich (if not at all spicy) sauce, but the claws were mushy and we left them uneaten. Because this is a steakhouse, you'll also need to order side dishes to accompany the entrees, and there's a rotating list of seasonal sides, a list of potato offerings (like a dry, hulking Millionaire's Potato twice baked with fontina and too much black truffle), and a mushroom list, with meaty lobster mushrooms tossed with chili and lime.
If I were dining with Obama, this is when I'd steer him toward the baked Alaska, which is flamed tableside—it's a cool, old-school dessert updated with lemon sorbet, a cross between baked Alaska and lemon meringue pie. After spying numerous tables with bowls of electric-blue cotton candy, we asked our server about this intriguing dessert that wasn't on the menu. Turns out the kitchen sends out cotton candy for birthdays, but for $5 you, too, can have fluffy blueberry cotton candy sprinkled with dehydrated pineapple. Pay the $5—it's whimsical and fun, exactly what you want just before the fat check arrives. RPM Steak calls itself a "modern steakhouse," but aside from dessert, the restaurant still has an old-school vibe. I wish the whole dinner had the same sense of fun, and I hope Obama's table let loose with a little cotton candy, too.
Details
Address:
66 W Kinzie St
Chicago
60654

Transport:
El stop: Brown, Purple (rush hrs) to Merchandise Mart. Bus: 22, 29, 36, 62.
Contact:
Opening hours:
Sun-Thu, 4pm-12am; Fri-Sat: 4pm-1am
Do you own this business?
Average User Rating
4.7 / 5
Rating Breakdown
5 star:

4

4 star:

2

3 star:

0

2 star:

0

1 star:

0
I had my birthday dinner here. We sat up in the mezzanine overlooking the rest of the restaurant. It was a great view. The service was appropriately attentive. We had a wonderful dinner here. The food was excellent and the drinks were spot on also. We had the thick cut bacon which was more pork belly like; it had a nice glaze. It was accompanied by some watercress which was partially irrelevant. We had the charred cauliflower, hen of the woods mushrooms and the intense dry-aged cowboy steak which was awesome. The cauliflower was great. It came with a lime yogurt sauce I really didn't like because it was salty and muddled the flavors of the cauliflower. The steak was simply awesome. One of the top 3 in Chicago. Perfectly cooked. Also the hen of the woods mushrooms were delicious. As for drinks, we had a manhattan and old fashioned. The Manhattan was perfectly balanced. The old fashioned was good but not the best we've had. The wines by the glass were nice accompaniments. I liked the Cabernet ($14) a lot! The crowd at the restaurant is very mixed, ranging from families, bachelor/ette parties, dates, folks from the suburbs, out of towners and a few from the city. Thank you to the front of the house to seating us right away at the time of our reservation. They seem to operate like a well-oiled machine.
I went on my birthday and it was nice. I am very much about the ambiance and this place is beyond decked out! The bar was long and sexy. The seating was unique, I love the booth seating which seemed to be endless throughout the inside and outside! My waiter was super attentive, even making special a request for my daughters meal, but this isn't a kids spot at all! Make it a trip for a special occasion with the hubby, or a few ladies on a Saturday. This is even the kind of place I would bring my parents when they come to visit! I loved my lobster although it was a bit small considering the MR, but tasty nonetheless! Can't wait to go back.
I went to RPM Steak last week for my birthday with my aunt & uncle. Amazing and swanky restaurant.
We started our dinner with The Bone Marrow which was to die for. Such a rich, flavorful dish.
For my entree I went with the 8 oz. Filet which did not disappoint!!
Definitely a great birthday experience to say the least. Keep up the fantastic work.