Six great falafel restaurants
The Middle East's gift to sandwiches is everywhere in this town.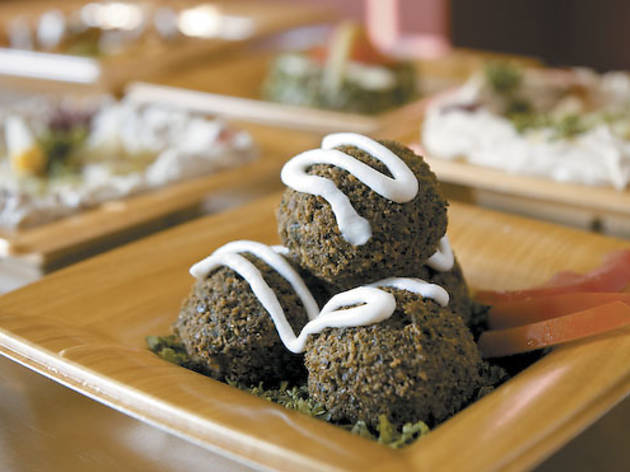 Falafel & Grill All exterior cues to the contrary, this is not your average gyro grease pit. The falafel is shaped and fried to order, the beef shawarma is rolled into a pita with a generous slather of tahini and a crunchy pickle…hell, even the fattoush salad—a rough chop of onions, lettuce, tomatoes and cucumber topped with whole olives and fried squares of pita—is a safe bet here. The one thing this place has in common with its more divey brethren? A 3am weekend closing time. 1317 N Milwaukee Ave (773-292-8888). Lunch, dinner. Average main course: $6.
I Dream of Falafel Loopers have wasted no time swarming this Middle Eastern joint, which offers a quick, assembly-line operation not unlike Chipotle. Perhaps appropriately, the restaurant's signature item, a Lebanese roll, looks like a Chipotle burrito. Here, the pitalike bread is filled with beef shawarma, kefta kebab or falafel, all packing a peppery punch. You can get those same items in a salad, if you want, or on rice. But for us, the roll is where it's at, and the only reason to forsake it is for the vegetarian plate, which has more of that spicy falafel, plus some smoky baba ghanoush to tame it. 112 W Monroe St (312-263-4363). Lunch (closed Sat, Sun). Average main course: $7.
The Nile Unless you're lucky enough to have a grandparent at home frying up fresh batches of falafel, this may be the freshest Middle Eastern food you'll find in Chicago. The refrigerated case is filled with rows of plump, glistening, marinated chicken and just-formed kefta kebabs waiting to be grilled to order. Freshly baked savory pies, bursting with spinach and big chunks of onion, sit on the counter. Behind that, a man drops falafel into a pool of bubbling oil. We don't care who your grandma is—she's not making anything like this. 3259 W 63rd St (773-434-7218). Lunch, dinner. Average main course: $5.
Oasis Café Pass up the cases of sparkling diamonds and watches that line the Jeweler's Mall, and make your way to the back for the real gem—a Middle Eastern takeout joint that's saved many a vegetarian stuck in the burger-heavy Loop. Best bets are smoky baba ghanoush, crispy falafel and any of the daily specials, especially Friday's Moroccan couscous packed with sweet potatoes, roasted eggplant and steamed spinach. Carnivores shouldn't miss Monday's Moroccan chicken pastille: flaky phyllo stuffed with saffron-ginger-cinnamon-laced chicken and chunks of carrots, green pepper and onions. 21 N Wabash Ave (312-443-9534). Lunch (closed Sun). Average main course: $5.
Sultan's Market Sultan's is a good metaphor for Wicker Park's gentrification. What was once a mom-and-pop Middle Eastern grocery with a lunch counter in the back has exploded into a jam-packed eatery in the last 15 years or so. But don't let the charming digs or the cute boys behind the counter distract you: You're here for the fresh salad bar, the zatter fattia (two spice-rubbed slabs of bread filled with feta cheese and hummus or baba ghanoush) and, of course, the falafel sandwich. 2057 W North Ave (773-235-3072). Lunch, dinner. Average main course: $6.
Zaytune Mediterranean Grill There isn't much competition in Middle Eastern food in Bridgeport, but Zaytune still operates as if it's in a race for first. The simple, casual carryout spot has a handful of tables, but most locals hover near the counter for a view of the action: Lebanese-style pita is stretched and baked daily, falafel is formed on the fly then dropped into the fryer, and sheet pans of honey-soaked kinafa are sliced into squares with Jack-the-Ripper precision. It's all flavorful, all fresh and all the area has of its kind—just don't tell Zaytune that. 3129 S Morgan St (773-254-6300). Lunch, dinner. Average main course: $6.