Smoked-whitefish quiche at GT Fish & Oyster | Brunch breakdown
Giuseppe Tentori handles a notoriously heavy meal with a light touch—and an arsenal of seafood.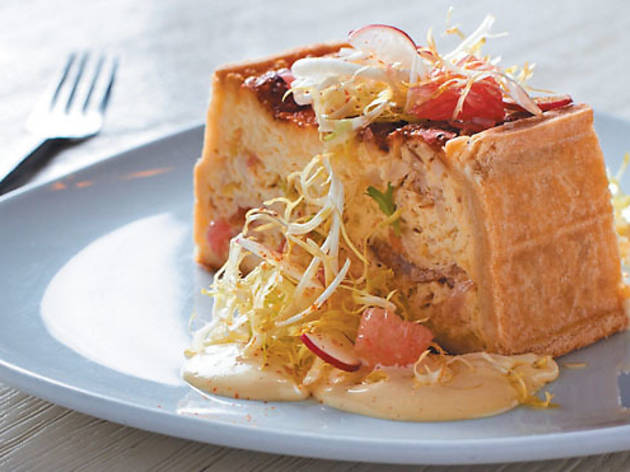 "At brunch, nobody wants to share." That's some conventional wisdom from Giuseppe Tentori, the chef of GT Fish & Oyster(531 N Wells St, 312-929-3501), where dinners are defined by passing small, shareable plates around the table. Thus, diners are entitled to their own plates at the restaurant's dignified brunch, which launched in November. Next time, we'll skip the overly thick Bloody Marys for a michelada, which—like most things at Tentori's brunch—can be described with one word: refreshing. Pastry chef Sarah Jordan handles the sweet side of the meal (tip: the pull-apart monkey bread is even better when drizzled with the Burton's maple syrup), and Tentori sticks to savory, delicately arranging house-cured lox on bagels and setting shrimp and grits in a roasted-tomato sauce. Bridging the gap between the two sides of the kitchen (and stealing the show): this refined smoked-whitefish quiche.
THE CRUST
"Usually when I make quiche, they're always round," Tentori says. "Here, we make a huge rectangular quiche, so [a slice has] crust on the left and the right, too."
THE FILLING
"We tried with smoked sturgeon. We tried with smoked trout. The trout was too salty. The whitefish was the best," explains Tentori, who orders the smoked fish from local purveyor Supreme Lobster. ("We tried [making] it in-house, but it was too strong," he says.) The fish is combined with sautéed leeks, crème fraîche and eggs, then baked to form the quiche's silky, creamy interior.
THE SALAD
A bright salad of frisée, grapefruit segments and thinly sliced radishes is dressed with olive oil and sherry vinegar.
THE SAUCE
Mustard, mayonnaise and white wine are whisked together to form a "very simple" sauce. "It's the acid for the dish," Tentori explains.