South Side food tour
Chef/artist Eric May pays tribute to his hometown food traditions—one curious sandwich at a time.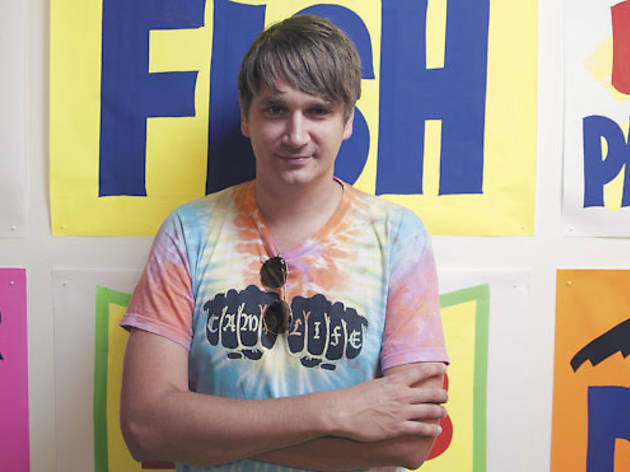 1/5
Photograph: John Sturdy
Eric May at the Hyde Park Art Center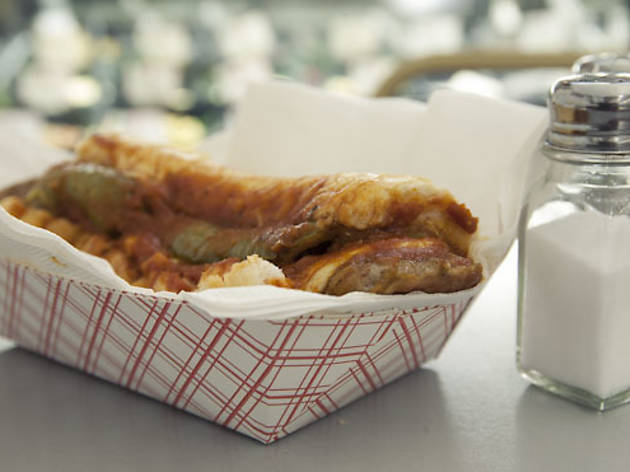 2/5
Photograph: John Sturdy
The Freddy sandwich at Stefanelli's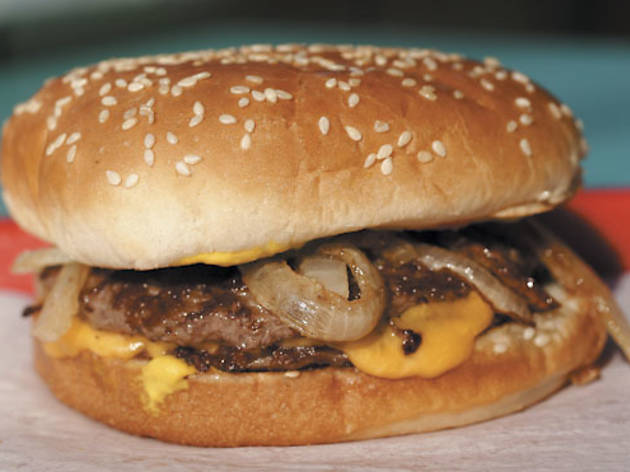 3/5
Photograph: Martha Williams
Big Baby at Nicky's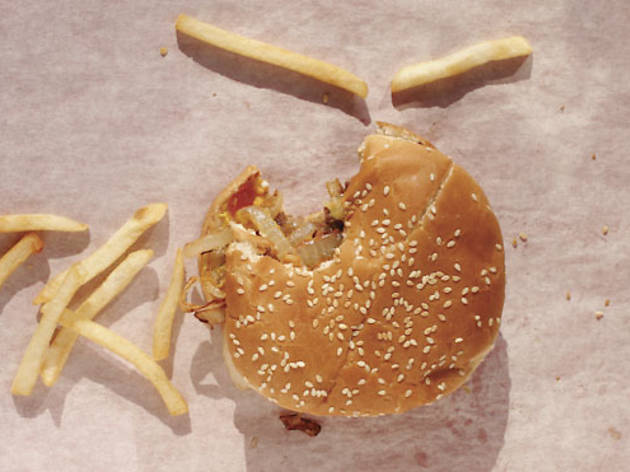 4/5
Photograph: Martha Williams
Big Baby at Nicky's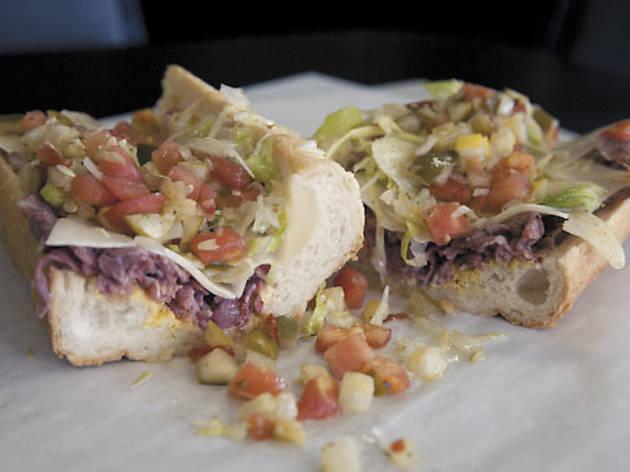 5/5
Photograph: John Sturdy
Sub sandwich with "guts" at Peppo's
"Secretly, I consider myself a chef and a food person before an artist," Eric May confesses. With his ongoing food trailer/art project E-Dogz Mobile Culinary Community Center, May, the director of Roots & Culture gallery and the chef at Ox-Bow (a seasonal artist residency in Michigan), is entrenched in—and fascinated by—food traditions that, as he describes in his zine Hot Mix, "evidence that the South Side truly has its own unique hybridized food culture."
The Palos Park native explores the lineage of those foods in a current exhibition at the Hyde Park Art Center, both inside the galleries (where his painted signs are displayed in the group show "Ground Floor") and outside, where he cooks and sells hot dogs, Italian beef and vegan versions of both from his E-Dogz trailer. In addition to the staple menu, May serves a weekly special, which began with a series of South Side–based obscurities (including the Freddy, a sausage sandwich that originated on the Southwest Side), moved into street foods unavailable in Chicago (such as London's salt-beef bagels) and will wrap up with experiments in "mongrelized" street foods (perhaps a cross between a banh mi and an Italian sub, May speculates). May took me on a tour of "street" foods that originated on Chicago's South Side, inviting Peter Engler, an intrepid researcher of Chicago food history, to join us.
Mother-in-law
"Both types of mother-in-laws are known to cause heartburn," explains Engler of this dish, in which, typically, a premade tamale topped with chili is served on a hot-dog bun. Tamales have been a popular street food in Chicago since the 1890s, Engler says, and he posits that the idea to put one on a hot-dog bun could have originated with Depression-era street carts. May and Engler's eatery of choice for the mother-in-law, which can be found in slight variations around the South Side, is a tiny shack called Fat Johnnie's. "It's a little piece of Chicago that's not going to be around for much longer," Engler says, noting the owner is trying to sell.
Try it at Fat Johnnie's (7242 S Western Ave, 773-737-6294)
Italian beef with "hot mix"
The title of May's exhibition comes both from his love for the Hot Mix 5 (a Chicago-based DJ crew) and this particular condiment, a vinegar-free take on hot giardiniera with "fresh, vegetal flavor" from the sliced celery and jalapeños. Italian beef, which originated as an Italian-American wedding or banquet food, didn't cement its reputation as "the great Chicago street food" until the '50s and '60s, Engler says.
Try it at Pops (original location at 10337 S Kedzie Ave, 773-239-1243)
Guts
"The number ten is what I always ordered" growing up, May says of the enormous pastrami-and-Swiss sub at Peppo's. But the meats and cheese aren't what intrigues him; he's here for the Guts. Engler says no other place serves the topping—chopped pickles, tomato and onion seasoned generously with celery salt—that Peppo's sprinkles on its sandwiches and hot dogs. Though it bears similarity to both, guts is not quite giardiniera and not quite pico de gallo—and that's exactly why May likes it.
Try it at Peppo's (10303 S Roberts Rd, Palos Hills; 708-237-1755)
Big baby
Yes, to the untrained eye, the big baby is just another name for a cheeseburger. But it's a particular style of cheeseburger, with its own moniker, that originated at the hot-dog chain Nicky's (as a response to the Big Mac, Engler suggests) and is now common on the Southwest Side. It's made up of a griddle-toasted sesame-seed bun, with ketchup, mustard and a few dill pickles on the bottom, topped with two griddled patties sandwiching a slice of American cheese, topped with sautéed onions.
Try it at Nicky's Hot Dogs (6142 S Archer Ave, 773-585-3675)
The Freddy
"Why do some foods like the buffalo chicken wing spread around the world…while others like the Freddy persist in a very small geographical and cultural area?" Engler asks in an interview in Hot Mix. He has traced the sandwich from its origin at Chuck's Pizza, where owner Benny Russo named the sandwich for his son, Freddy, to a few other South Side institutions, including this Italian deli. "It's really nothing out of the ordinary," says Engler of the sandwich, in which bulk sausage is patted flat, flame-grilled (at Stefanneli's) and topped with melted cheese (likely scamorza, a dry and salty mozzarella), sautéed green bell peppers and marinara sauce.
Try it at Stefanelli's (13012 S Western Ave, Blue Island; 708-389-0300)
E-Dogz is at the Hyde Park Art Center (5020 S Cornell Ave, 773-324-5520) Wednesdays, Fridays and Saturdays from noon–3pm through November 10.