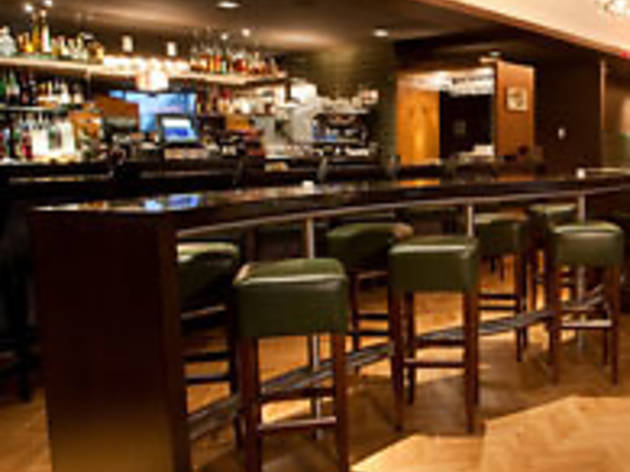 There's not much in the area surrounding Sugartoad—there are no bars, no clubs and the closest restaurants are all chains. What there is plenty of surrounding Sugartoad are corporate offices, which fill the surrounding blocks, and hordes of people who work in them.
Given that there's no competition, Sugartoad probably could get away with anything if it wanted to. Nevertheless, at the beginning of my meal, I saw little evidence of the restaurant dragging its heels. Instead, my dinner started with large squares of golden, house-baked brioche. That was followed by the restaurant's signature, namesake amuse bouche: Two bites of fried sugar toad (which is, in fact, not a toad at all, but a domestic blowfish with a buttery, slightly sweet flavor).
Next, there was butternut squash soup, notable for its supple quality and tempered sweetness (a welcome change from most soups of this ilk). Also, a dish called "cheeks and leeks"—lackluster halibut cheeks (they were fried and fishy) paired with leeks that had been cooked down to a luscious texture.
It was a good start, but when we got our entrées our meal started spiraling into typical hotel-food territory. Most of the entrées arrived with the same side, a handful of haricot verts. They were bright and crisp and delicious haricot verts, but they were not amazing enough to be on every plate. And I had to wonder: What's the point of retaining a somewhat famous chef—Virginia transplant Jimmy Sneed—if he's not going to push the envelope? Sneed sets up big expectations for his crab cakes, which are listed as "finally famous" on the menu. They were meaty, with an almost soufflélike middle. But at the end of the day they were still just crab cakes. The short ribs were impossibly tender, but they, too, didn't break any molds. (Unless you consider the fact that they were served with potatoes instead of green beans.)
And dessert? Well, I wasn't given a lot of choice. The manager, who had doted on us all night, came out of the kitchen bearing three of them. We hadn't ordered dessert. We hadn't even seen a dessert menu. But as the manager told us, the chef (not Sneed, but an assistant) was dying to get home (it was approaching 11pm). So he had whipped the desserts up for us before he left.
It was a complicated moment, an act of kindness and neglect all at once. As my companions and I dug into those boring desserts, I realized that maybe Sugartoad was getting away with something after all.
Venue name:
SugarToad
Contact:
Address:
2139 City Gate Ln
Naperville
60563

Price:
$31 to $50
Do you own this business?
You may be interested in: