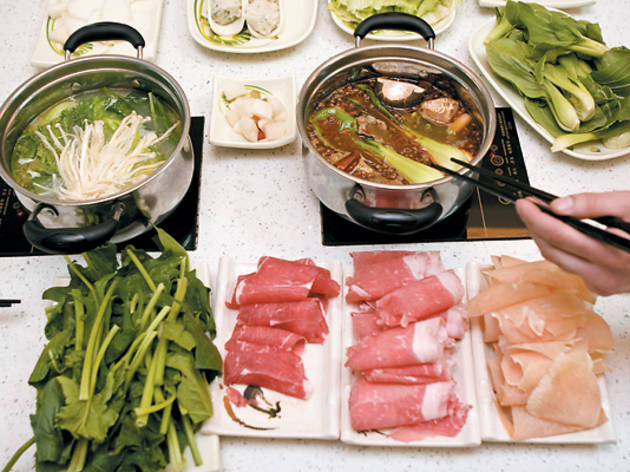 Blame it on one too many meals at mediocre Thai/sushi/crab Rangoon restaurants: I tend to be a little skeptical when I scan a menu set to three time zones. But that skepticism gets checked at the door when entering a Taiwanese restaurant. A 30,000-year-old island that's changed hands more times than I have fingers is bound to get its culinary lines a little blurry.
So given that Chinatown newcomer Tao Ran Ju has a chef from Taiwan (although it's owned by the Yunnanese owners of Spring World) it's not a surprise to see tables packed with Mongolian-style lamb skewers encrusted with cumin, bamboo baskets of Shanghai's famed xiao long bao soup dumplings, classic Japanese miso broth and a beef noodle soup proudly claimed as purely Taiwan. Those skewers are fine, although a bit gristly, but the soup dumplings—an ingenious invention whose evolution led to Grant Achatz's famed black truffle "explosion"—are probably the best you'll get in town, the thin pouches of dough packing a sizable shot of warm broth and minced pork, offered with or without a little dose of crab roe tucked inside.
It's easy to get distracted between dunking the xiao long bao in ginger-spiked black vinegar and nibbling gratis snacks like blistered peanuts with shimmery slivers of dried fish. But the slick, modern tables outfitted with individual heating elements are a reminder that hot pots, or huo guo, are the star of the show here. The learning curve for those who didn't grow up with hot pots seems multiplied by menus that offer no guidance and a staff that speaks little English, so just follow this plan of attack: First, pick a broth. If you can handle a little heat, the sour and spicy is amazing—tart from hunks of pickled daikon, fiery from charred chiles and dotted with tongue-tingling Szechuan peppercorns. (The heat-phobic should opt for the chicken broth, which tastes as much of slow-stewed bird as the baby chicken special.) Next, order a good mix of vegetables, like tong ho (chrysanthemum greens), hearty Chinese cabbage and mushrooms both the earthy black caps and the delicate enoki or "golden needle." (Portions are sized so that a pot with four vegetables plus two meats, one seafood and noodles should feed four people.) Also order the razor-thin beef, the shell-on shrimp, an order of housemade rice noodles and the fish tofu, spongy squares that marry tofu's texture with sweet and salty fish. (True to Taiwanese culinary tradition, there are also plenty of offal options, from chicken gizzards to goose tripe, but I'll assume if you're drawn to that sort of thing, you don't need any prodding from me.)
Now take a stroll to the condiment bar, recently labeled in English to alleviate traffic jams. Add-ins like minced garlic, ginger, scallions and "sesame chili" (toasted chiles crushed into sesame oil that carry some serious heat) are meant to flavor the broth, while the sauces are intended for dipping your vegetables and meat just after you cook them. Don't miss the sha cha (labeled as "satay sauce"), a faintly funky paste of pulverized dried shrimp, brill fish, soybean oil, garlic, shallots and chiles. Also try combining a touch of intensely salty chive flower with the tahini-like sesame sauce—like the sha cha, this adds an extra jolt of flavor to anything you pull out of the broth.
Back at the table, it's anything goes. Season your broth to your heart's content, drop in whatever looks good to you, keep an eye on it, fish it out when it's done, get to dipping and repeat. Final tip: Save the noodles for last. After cooking a meal's worth in that broth, you're going to want every last drop of it, so dump in the noodles to let them heat through, then pour everything into a soup bowl for the finale. And to really eat the soup like a regular, start slurping loud and proud.
By Heather Shouse
Venue name:
Tao Ran Ju (CLOSED)
Contact:
Address:
2002 S Wentworth Ave
Chicago


Cross street:
between Cullerton St and Archer Ave
Opening hours:
Lunch, dinner
Transport:
El stop: Red to Cermak/Chinatown. Bus: 21, 29, 62.
Price:
Average main course: $9
Do you own this business?
You may be interested in: