Heads up! We're working hard to be accurate – but these are unusual times, so please always check before heading out.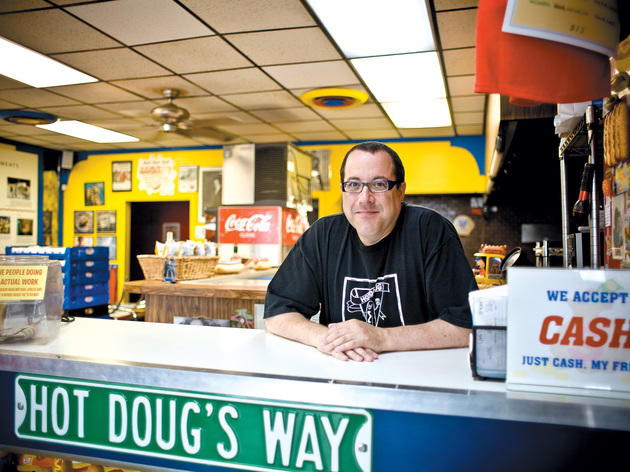 The best Twitter reactions to Hot Doug's closing
Chicago mourns the loss of its favorite purveyor of encased meats. These were our favorite reactions.
closing his deservedly beloved Hot Doug's
on October 3. Here, the best Twitter reactions to this terrible news.
"D'oh!" - That guy with the Hot Doug's tattoo ensuring him free Hot Doug's for life.

— Richard Giraldi (@rgiraldi) May 6, 2014
Considering how distracted everyone is with Hot Doug's closing, now'd be the perfect time for a politician to sneak out some bad news.

— Andrew Huff (@me3dia) May 6, 2014
I'm sorry that Hot Doug's has ruined everyone's life.

— dulce calor (@dulcecalor) May 6, 2014
Next: Hot Doug's

— Josh Steinfeld (@jesteinf) May 6, 2014
WHOAH. Chicago food earthquake. Hot Doug's closing? According to website, permanent vacation starts October 4. http://t.co/xM6AL7UndI

— Chris McCreight (@chrismccreight) May 6, 2014
Wait no what why Hot Doug's what is happening please god no I hope May 6th is the equivalent of April Fools in wherever Doug was born.

— My Name (@StevensBoudreau) May 6, 2014
Hot Doug's is closing on October 4th, per their website. Who gets custody of the line?

— Rob Hart (@RobHart1980) May 6, 2014
We're all going to see what I'm like without @hotdougs in my life come Oct. 3. It isn't going to be pretty.

— Michael Moreci (@MichaelMoreci) May 6, 2014
"Goodbye to Hot Dougs, You held this city's heart between your buns."

— Patric King (@patricking) May 6, 2014