The real cost of shared plates
"All our plates are meant to be shared." Except when they're not.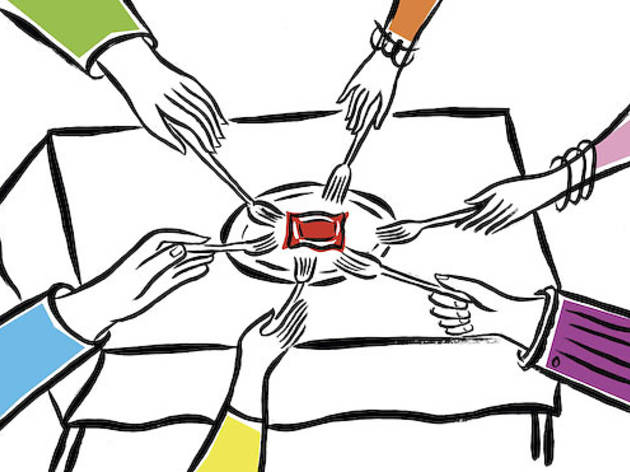 In the beginning, there were small plates. Bacon-wrapped, chorizo-stuffed dates at Avec; patatas bravas at [node:148477 link=Café Ba-Ba-Reeba!;] Things easily and obviously divisible that you'd be ill-advised to consume solo. Some appetizer-entrée traditionalists thought these small plates were "rip-offs." Others opted to eat "family-style": the Maggiano's method by which each plate of pasta ordered easily serves 12. And then it happened. [node:149239 link=The Bristol;], [node:150001 link=the Publican;], [node:150291 link=Purple Pig;]. Then [node:213239 link=Gilt Bar;], Girl & the Goat, [node:176525 link=Maude's Liquor Bar;]. And then, all of a sudden, if you were eating where you were supposed to be eating, you were eating "shared plates."
Have you dined with us before? This is how it starts. Then you know all our plates are meant to be shared, and we recommend you order two to three per person. If you haven't heard this phrase lately, thank you for making the waits at the city's most popular restaurants one person shorter. It's not that there's anything wrong with this concept. It works pretty close to perfectly at the Publican (where the big food—whole fish, sausages, chickens—is served on big platters) and at the Purple Pig. But along the way, shared plates started to signify casualness, lack of pretentiousness, youth! Whatever food a kitchen was putting out now had to fit into the "shared-plate" framework, rather than the other way around. And so dishes that were not naturally share plates—dishes typically categorized as "appetizers," "salads" or (how banal!) "entrées"—became things not that you could elect to split but that you would.
To wit: At [node:211019 link=Paris Club;], I ordered chicken. My companion ordered steak frites. The server brought out the chicken first, setting additional little plates (for sharing, naturally) in front of each of us. Quite a few minutes later: the steak. Finally, we could discard the little plates and claim our main courses from the purgatory in the center of the table. I hadn't paid much attention to our server at the beginning of the meal, when she had delivered the line—you know, the ubiquitous one regarding the inanimate plates' intentions. I now realized she, like other servers in the city, had forgotten to add: "Whether you like it or not."
Another night, I went to Girl & the Goat and ordered somewhere around 15 dishes for a group of six. Instead of enjoying any of them, I made a mental note of the ones I wanted to come back and actually eat based on the bite or two of each of the fairly small dishes that I was able to finagle. It's not that there aren't things to share at G&TG—the whole goat leg requires about six people, I learned on a subsequent visit—and it's not that I don't see the virtue in sharing them, with, say, one or two other people. It's just that the idea that it is somehow comfortable or desirable or logical for a big group of people who are interested in food to make a meal out of sharing little plates—each quite carefully composed, few easily divided in the manner of bacon-wrapped dates or bruschetta—is a cruel fiction.
And this particular fiction has its own logic: In the world of shared plates, there are no "sides." And since the world of shared plates is a mere appendage to the culture of chef worship, diners will happily cede control over the pacing and order of the meal to the kitchen. When the kitchen orders the meal appropriately, you don't even notice that this is happening. Mike Gebert, who writes and shoots video for the blog Sky Full of Bacon, tells the other side of the story: "The order of our dishes [at Maude's] was the fries first (so they accompanied nothing and filled us up quickly), the brussels sprouts (likewise a side dish without a main), the cassoulet, the salad (at least that had some resemblance to the French practice of eating salad after the entree)—and then the grease bomb [pig's trotter]," Gebert recalled in a blog post. "Almost none of this was in an order that made for a satisfying flow of dishes; we started out snacking on fries like teenagers and ended stuffing ourselves with entire pig parts like Mr. Creosote. (Or would have, if we'd finished much of it.)" Gebert later likened the experience of receiving one dish at a time to binge eating: "You eat all of one thing, then you eat all of another, until finally you're stuffed. The only difference is you're not picking the fridge clean yourself."
Speaking of not getting to make your own decisions: Remember how going to a restaurant was great because you actually got to pick what you wanted to eat, as opposed to being subject to a friend or family member's grocery list? Not so with shared plates, which must be ordered by committee, often afforded little clue by the menu what size a dish will actually be, the risk of under- or over-ordering lurking with the server's every suggestion. I mean, does anyone know what a "mid-size" plate is? And, call me a glutton, but does this whole shared-plates thing not affix to anyone else's meals the nagging anxiety of taking too much or getting too little?
I reached out to Gebert to make sure I wasn't penning a dispatch from a baffled grandfather. We agreed there was no harm in shared plates pro forma; I am as down for passing mortadella "smears" at the Purple Pig as the next Bannos fan. But Gebert already had his plan in place for Girl & the Goat: "The next time I go, I will listen politely to the spiel about how I'm supposed to order, and then order [however] the hell I like," he wrote in an e-mail. This is what it's going to take to bring down the shared-plates trend, and it starts by demanding a single fork.