Three spots for a grass-fed burger
When it comes to commodity beef, these spots just say no.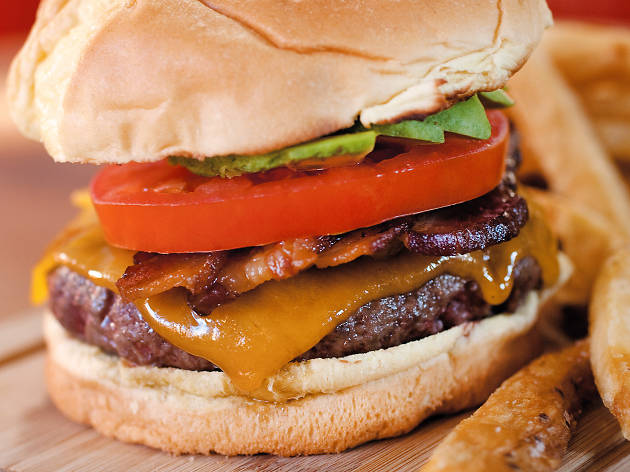 RECOMMENDED: Best burgers in Chicago
The Burger Point The burgers at this South Loop spot, named for its location at the "point" of Archer and State, take ten minutes to prepare, and if you read the menu, you'll know the restaurant owners are not sorry for it. On that piece of paper, you'll not only learn they do not apologize for slow food, but the beef is all grass-fed, never frozen and ground fresh daily. But what no one tells you is that the burgers are de facto cooked to medium-well, and that the signature item—the Burger Point Burger with roasted chili peppers—is hot enough to burn your face off. You've been warned. 1900 S State St (312-842-1900). Lunch, dinner. Average main course: $8.
Butcher & the Burger Allen Sternweiler's adorable burger joint doubles as a butcher shop. It's a DIY affair: Customers pick their meat, their bun, their spice rub and their toppings before the burger is made to order. It's possible to make mistakes (we found the pork patty a little lackluster), but if you stick to grass-fed beef, go with "Grandma's onion soup" rub and flank your burger with an order of the accomplished fries, you'll be happy. Tack on a scoop of the housemade custard, and you'll be even happier. 1021 W Armitage Ave (773-697-3757). Breakfast, lunch, dinner. Average main course: $10.
Poag Mahone's It's a perfectly good place to have a beer, but what this Irish(ish) tavern is really known for is the food. The burger, widely proclaimed as one of the best in town, is indeed a great example of the form. Ditto for the Guinness stew and—especially—the delicious bread pudding. Sound like unhealthy food? Well, perhaps it is. But this place also uses only grass-fed, ethically raised meat—so it's not all bad. 333 S Wells St (312-566-9100). Mon–Fri 10:30am–9pm (closed Sat, Sun). Average main course: $9.