Unexpected restaurants for great fried chicken
You wouldn't think to order the fried chicken at these restaurants, but that's exactly what you should get.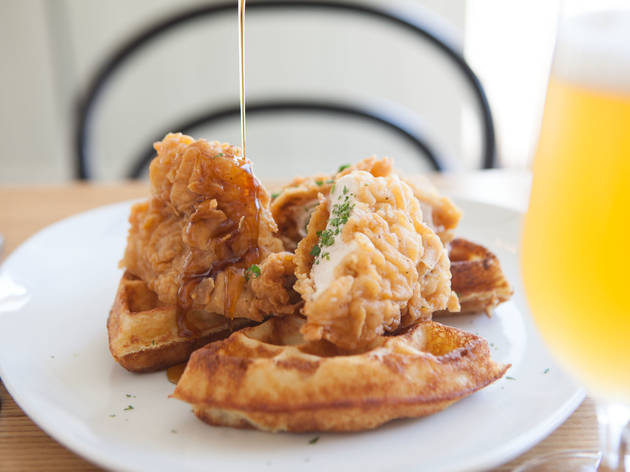 1/6
Photograph: Martha Williams
Fried Chicken and Waffles ($11) at GT Fish & Oyster Hidden amid a menu bursting with East Coast seafood staples, a somewhat traditional Southern fried chicken sneaks onto the weekend brunch menu at this River North restaurant. The chicken is plump and tender thanks to an initial soak in brine and amplified by the Japanese chili powder togarashi, which provides a touch of heat. The substantial batter covers the meat in pleated folds and is dotted with bright pops of flaked sea salt. Three generous boneless pieces of chicken rest on an impossibly light puff of Belgian waffle, finished with a drizzle of syrup from Burton's Maplewood Farm in Indiana.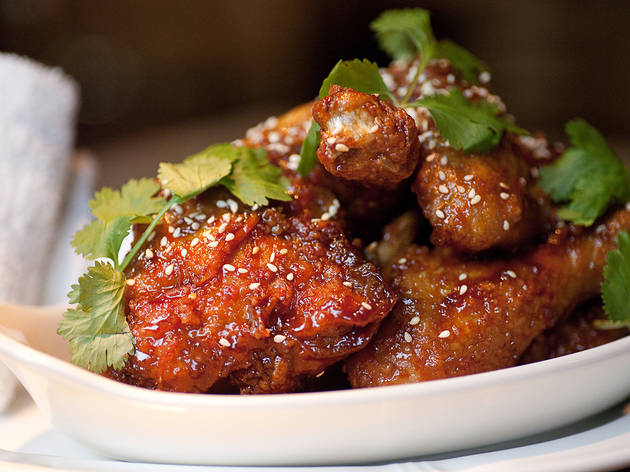 2/6
Photograph: Kari Skaflen
General Jane's Honey-Fried Chicken ($18) at Au Cheval Step into this packed upscale diner and you'll be surrounded by locals and tourists ordering burgers upon burgers upon burgers. But don't overlook their riff on General Tso's chicken: dark meat wings and thighs glazed with a softly spicy and sticky-sweet sauce. Fresh chilies, slivers of orange peel and a handful of cilantro provide a bold herbaceousness to the dish. With the skin fried to a perfect crispness, you'll hardly notice that your face, hands and pint glass are sticky with caramelized honey.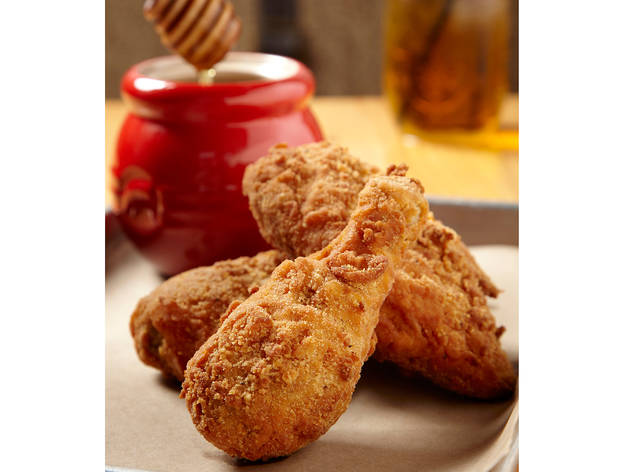 3/6
Photograph: Neil Burger/Stronghold Photography
Smoked Fried Chicken ($18) at Lillie's Q A trip to Lillie's Q without ordering a heap of slow-smoked chicken seems almost unethical. The chicken is smoked before being battered and fried, and the resulting meat has the texture of a braised bird that's spent hours in the oven. The signature spice of Lillie's Q sauces are apparent in the breading, which has an airy, light and almost wafery texture-nothing you'd expect from a restaurant that embraces traditional Southern barbecue. The generous portion of bone-in chicken is presented with an individual pot of tupelo honey, allowing you to drizzle as much or as little as you want onto the dish.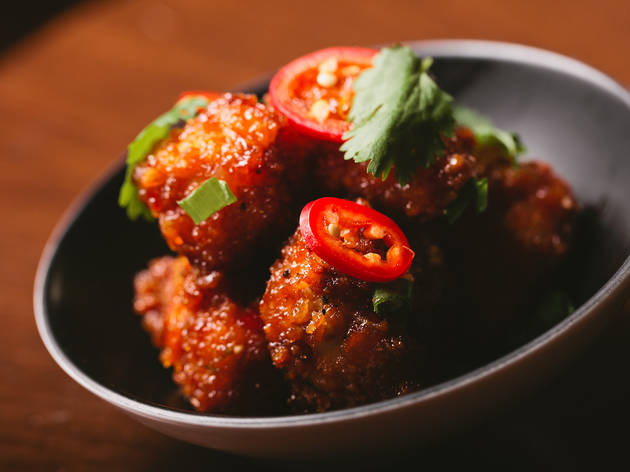 4/6
Photograph: Anjali M. PInto
Thai Fried Chicken ($10) at Three Dots and a Dash At Paul McGee's long-anticipated bar in River North, you'll need something to soak up the assortment of island rums and classic tiki drinks. Here, the boneless nuggets are dipped in buttermilk and breaded in flour and panko before they're deep fried and tossed with a slick of garlic chili sauce that borders on being overly sweet-fresh cilantro, lime and scallions provide much needed balance. It might not be fussy fried chicken, but it could be the perfect late-night drunk food.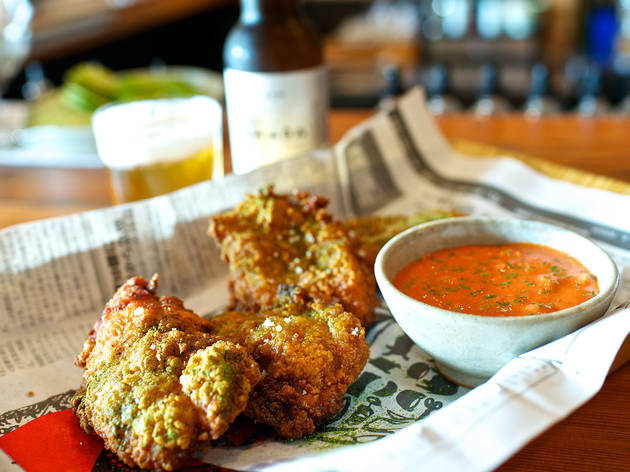 5/6
Photograph: Matthias Merges
Twice Fried Chicken ($12) at Yusho Logan Square's yakitori grill Yusho devotes a quarter of its ever-changing menu to winged creatures. The fried chicken here features a seemingly international smorgasbord of culinary inspiration. Thin pieces of meat brined in a mixture of buttermilk, miso and honey are egg battered and coated in a combination of tempura and corn flakes. The finished dish is reminiscent of Japanese wienerschnitzel or high-end chicken nuggets, and makes us crave a side of buttered ramen. Topped with a scattering of lime zest and matcha green tea, the chicken is served with a slightly spicy, creamy dipping sauce.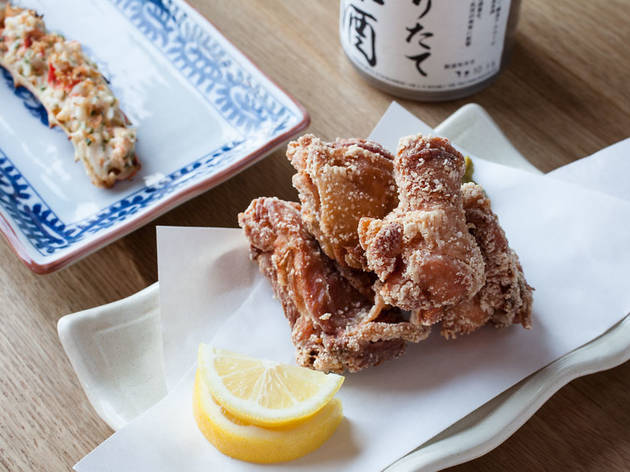 6/6
Photograph: Martha Williams
Jidori Karaage ($10) at Sumi Robata Bar This tiny, modern Japanese grill is the last place we expected to find quite possibly the city's best fried chicken. Here Jidori Karaage, the Japanese version of fried chicken, is a revelation. Coated with tissue-paper-thin breading and accompanied by lemon to squeeze over the crispy pieces, it's almost reminiscent of Italian fritto misto. A dab of vividly green paste made from shishito peppers for dipping provides a slightly bitter note. The chicken is simple and juicy and, most importantly, it tastes like chicken and not a slew of spices-reminding you what you came here for in the first place.
It seems like the entire city is queuing up for the fried birds at Parson's Chicken & Fish, Crisp and Pecking Order. And with the highly anticipated openings of both Honey Butter Fried Chicken and Leghorn around the corner, the fried chicken craze won't be dying down anytime soon. But if you don't feel up to a two-hour wait, some of best chicken in the city can be found where you least expect it. Here's where to go.