Vera's new daytime service includes coffee, tea and great doughnuts
With tea and sherry pairings and pastries, the West Loop Spanish restaurant is our favorite new daytime hangout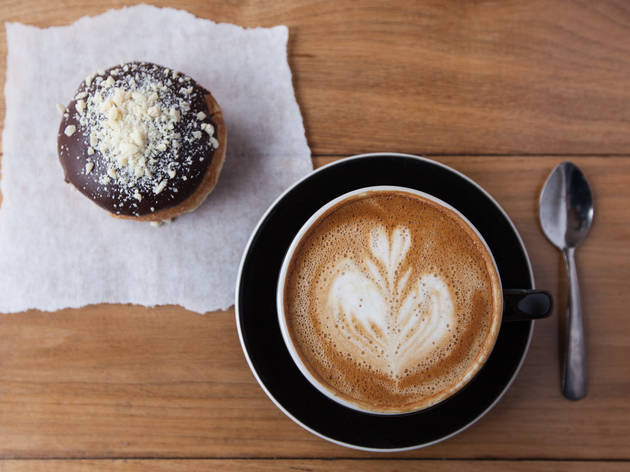 The best new doughnut in Chicago is at a rather unlikely place—Vera, the Spanish restaurant in the West Loop. A couple months ago, Mark and Liz Mendez expanded beyond dinner and focus on two of their other interests—coffee for Mark, the chef, and tea for Liz, the sommelier. Now, each weekday, you can stop in from 8am-3pm for coffee, tea and snacks, including baked treats from pastry chef Hanna Kresa (Taxim).
RECOMMENDED: The best donuts in Chicago
I hardly recognized the doughnut I ate as Boston cream, because Kresa's version improves on the original so much—it has a lightly sweet vanilla-bean filling, while the thick chocolate layer on top provides a contrast to the soft doughnut. It's outstanding. The doughnut variety changes regularly, but I'd bet on anything Kresa is making.
The rest of the menu is short, but there's plenty for breakfast, a light lunch or snack, like the tortilla española, a potato omelette that's served with dressed ribbons of kale and a pile of olives. For something more substantial, there's the Spanish board, with Serrano ham, Manchego, bread and an egg. And then there are pastries, including an English muffin and a daily pastry, which included a coffee cake and a cinnamon roll on my visit.
For the beverage program, Liz and Mark are trying to bring in notable coffees and teas. On the coffee side, that means beans from independent roasters like Chicago's Metric Coffee Co., Vancouver's 49th Parallel Coffee Roasters, and Berkeley's Supersonic Coffee, which are available as a pour-over, Chemex or in espresso drinks.
I chose tea, partly because I gravitate toward tea and partly because they'll pair tea with sherry or vermouth, which I couldn't say no to (they'll also pair coffee with digestifs like Pacharán, a Spanish sloe berry liqueur). The tea is from In Pursuit of Tea, a New York company, which Liz picked because they're not found much in Chicago.
"They're the Riesling of tea," she says. "The teas are nuanced and range from dry to sweet."
I went with one of the sweeter options, Scarlet Glow, a blend of hibiscus and stevia, which has a black cherry color and light fruits and floral notes. It's paired with Atxa Vermouth Rosso, Spanish vermouth with similar herbal notes. Tea shows up frequently as a cocktail ingredient, but when you taste them side-by-side, you can pick up on the similarities between the two.
"Tea and sherry both have oxidative qualities," Liz says. "Tea's flavor profiles and aromas are similar to sherry's—we talk about black tea leaves in sherry."
Some of the tea and coffee is available during dinner service, but to get the pastries, you'll need to pop into Vera before work or sneak out during lunch. I promise, it's worth it.
Read more about Vera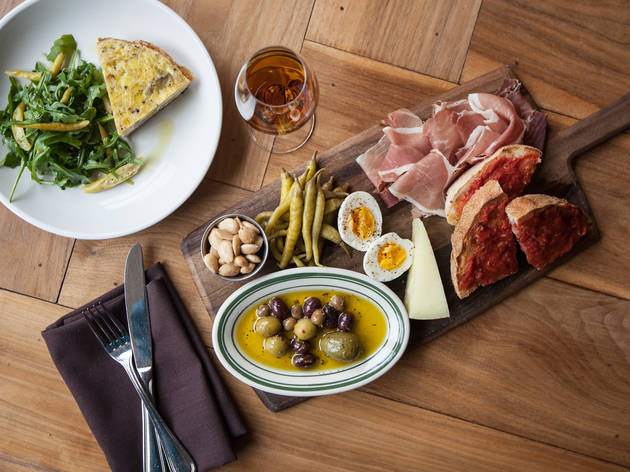 Mark and Liz Mendez, both formerly of Carnivale, escape the trappings of their former employer with this quiet spot. It's a wine bar, so drink up—Liz has assembled an excellent sherry program, and all the servers can direct you toward a glass. Mark handles food, and we're fans of the hearty paella, perfectly seasoned meatballs and the generous cheese and charcuterie plate. A new daytime menu features coffee and tea paired with sherry, plus snacks like doughnuts, English muffins and a tortilla espanola.