Heads up! We're working hard to be accurate – but these are unusual times, so please always check before heading out.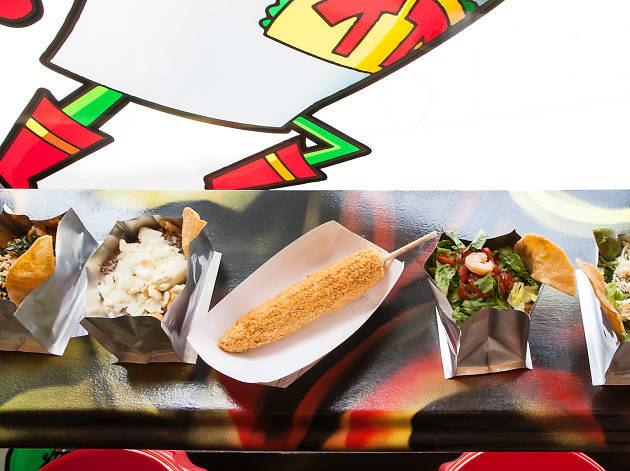 We ate all of the tacos at Taco in a Bag
We ate all 13 tacos at Taco in a Bag. And the five doughnuts in a bag. And corn on the cob. And survived.
When two competitive eaters team up to open a restaurant, it's safe to assume the result will be something like Taco in a Bag, which serves a play on the walking taco, a regional food of the Southwest that consists of taco fillings stuffed into a bag of Fritos. If it's possible to make a high-brow version of the food, that's what Pat "Deep Dish" Bertoletti and Tim "Gravy" Brown did to win Food Network's Food Court Wars. They opened the original Taco in a Bag at Spring Hill Mall in West Dundee before relocating to Lincoln Square last month.
These are more like nachos than tacos, but our favorites included lots of fresh lettuce, so they resembled taco salads. We tried all 13 versions available (the 12 standard offerings, plus the taco of the month), plus five doughnuts (also served in a bag) and the corn on the cob, which is dipped in chipotle mayo and coated with Parmesan. While the doughnuts were heavy and the corn on the cob had a ridiculous amount of cheese, some of the tacos were really, really good. Here's a rundown.
13 Taco in a Bag tacos, ranked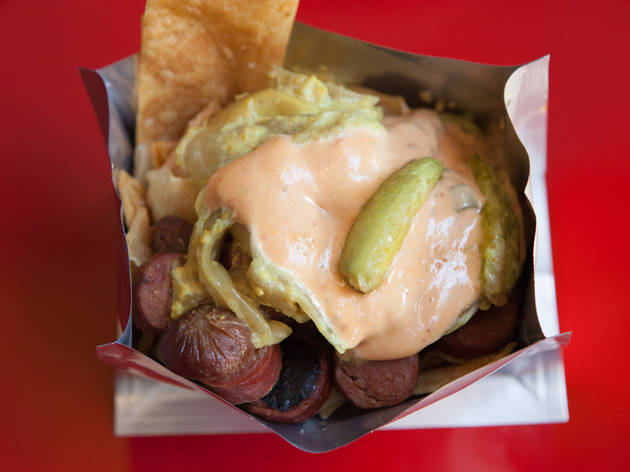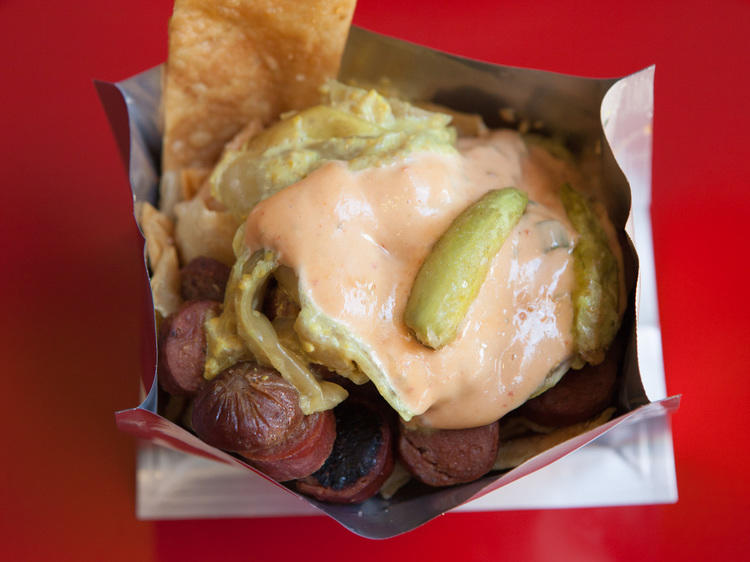 Photograph: Martha Williams
The monthly special taco bag, based on the Maxwell Street Polish, didn't quite come together, in part because the beer-braised Polish was cold. The rest—chipotle sauce, caramelized mustard onions and deep-fried sport peppers—struck us as too heavy on the whole.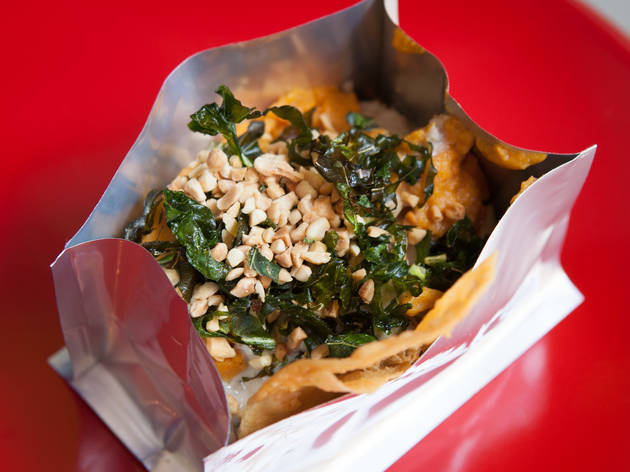 Photograph: Martha Williams
One taster called this the "pumpkin beer of taco bags," which is pretty accurate—there's a huge, saccharine scoop of creamy sweet potato, and the country sausage gravy, crispy collards and peanuts don't quite balance it out. This is practically a dessert taco, so if you're in the mood for that, this is your taco bag.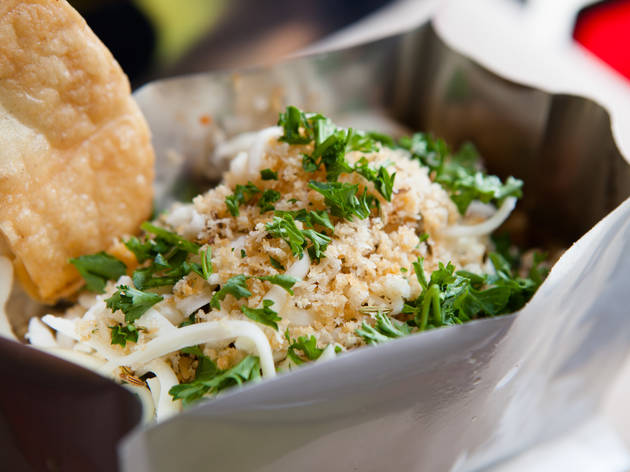 Photograph: Martha Williams
11. The Chicken Parma-Jon
This taco had flavorful elements—braised chicken thighs, peppers and onions, red sauce, mozzarella, a toasted fennel and Parmesan crust, and parsley—but without much sauce, it just wound up tasting dry.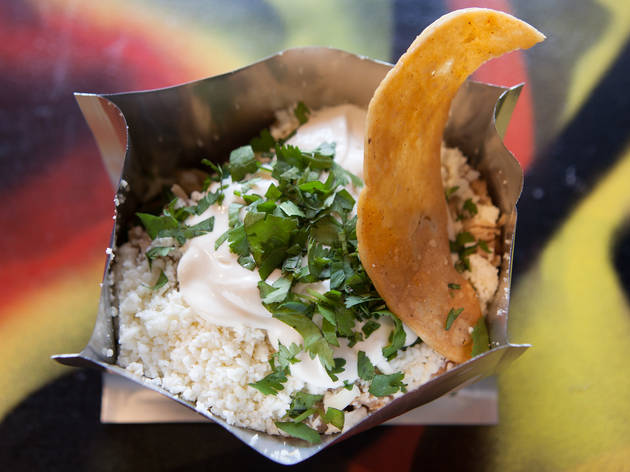 Photograph: Martha Williams
The chicken thighs, queso fresco, roasted garlic sour cream and cilantro didn't add up to much in terms of flavor, and there was too much sour cream.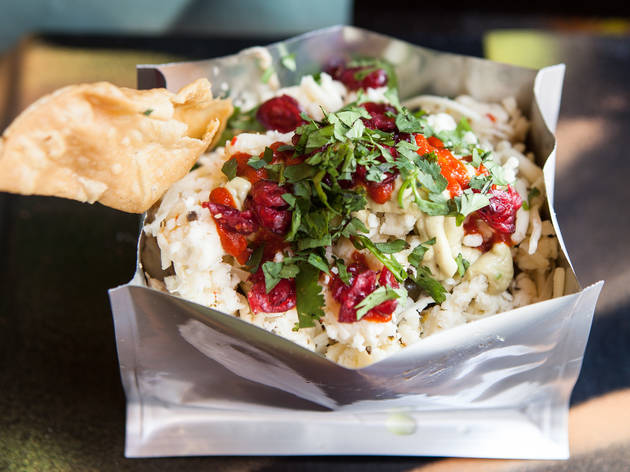 Photograph: Martha Williams
Although it's composed of spicy braised chicken, pepper jack, sriracha and avocado-jalapeno sauce, there's not enough heat, and the dried cranberries in here seem a little out of place.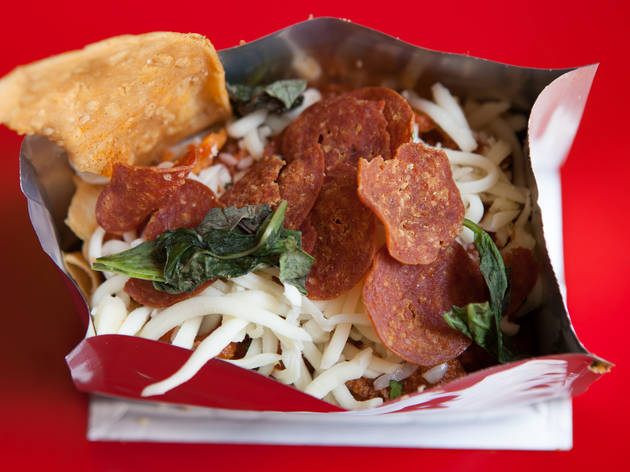 Photograph: Martha Williams
If you ate Pizza Rolls as an after-school snack when you were a kid, you know what you're signing up for here—the combination of bolognese sauce, mozzarella, Parmesan and fried pepperoni tastes exactly like those tiny pizza bites. One taster loved this bag, but she also snagged one of the few basil leaves, so the rest of us felt like we missed out.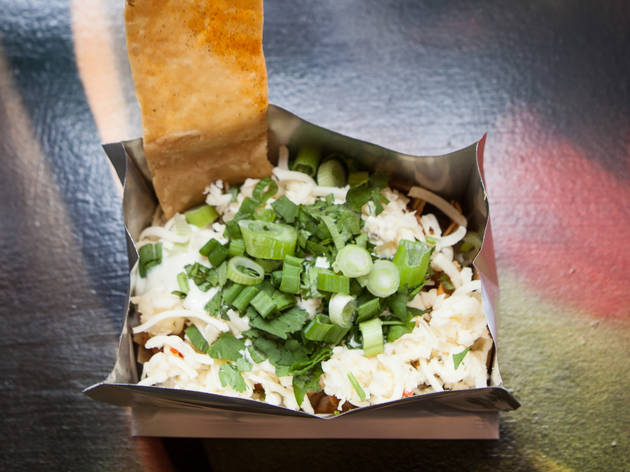 Photograph: Martha Williams
This is the original Taco in a Bag, and there's loads of pepper jack cheese, tomatillo sour cream, fresh cilantro, onions and chorizo gravy. It's a little too salty, but other than that, it's a pretty good balance of flavors and textures.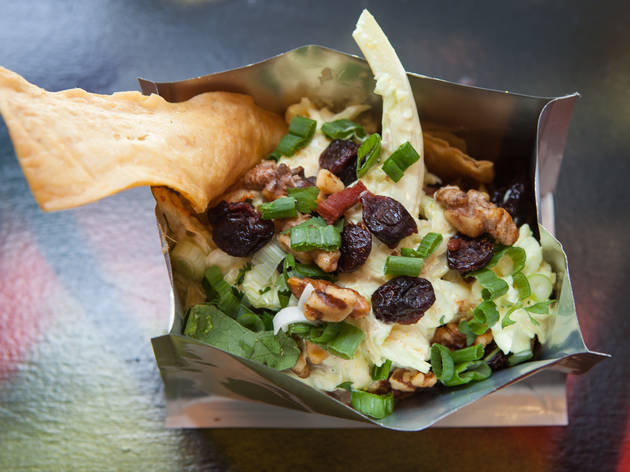 Photograph: Martha Williams
While our tasting group of six pretty much agreed on which tacos we liked the best, the group was divided on the BBQ Beast. With pulled pork, mustard slaw, dried cherries, green onion and walnuts, there was a lot going on in terms of texture and flavor. Half of the tasters liked the crunch from the walnuts, while the other half felt the toppings would work better in a sandwich.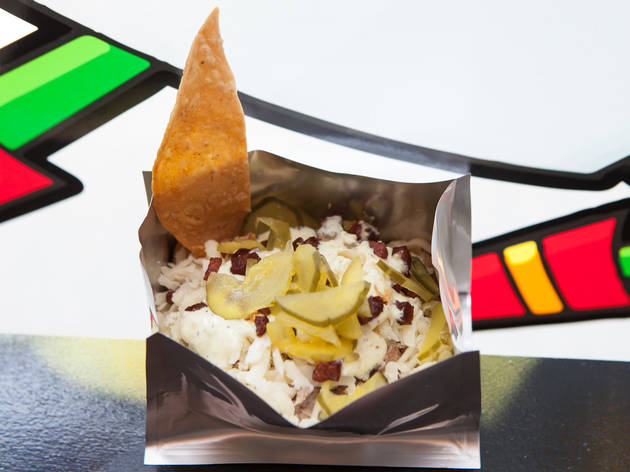 Photograph: Martha Williams
Fans of Cuban sandwiches will want to try this one. With citrus-braised pork, Swiss, pickles, dijonaise and crispy ham, this bag is pretty spot on in terms of replicating Cuban sandwich flavors. There's a ton of pork, but the flavors are balanced, and it's super-creamy.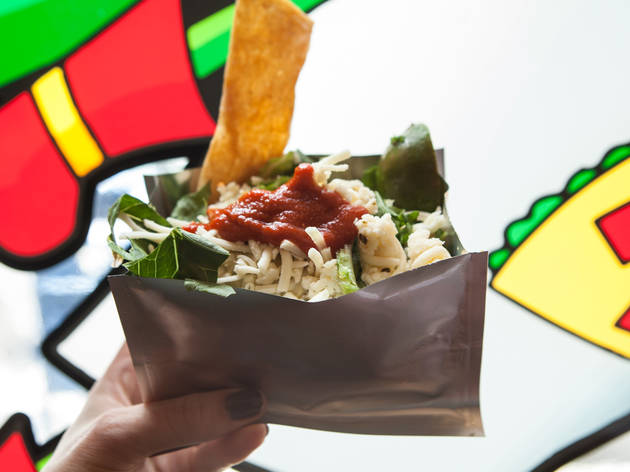 Photograph: Martha Williams
Relax—there's no vegemite in here. Rather, this is one of two vegetarian taco bags (the Coney is the other), and it happened to be one of our favorites. With black bean and corn salsa, pepper jack, avocado-jalapeno sauce, romaine and a ton of sriracha and fresh lime to squeeze over the top, this is a nice, light taco salad.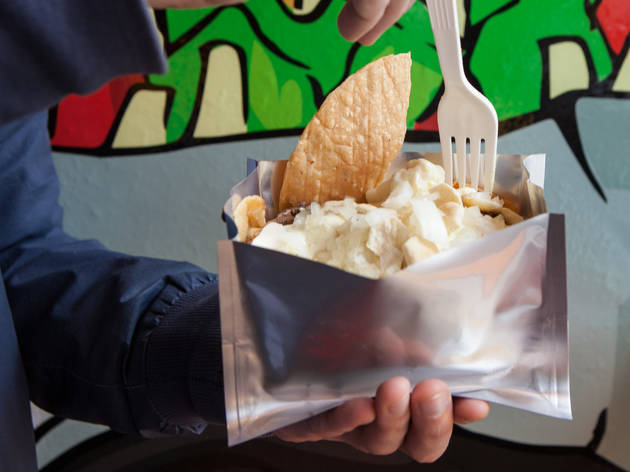 Photograph: Martha Williams
While we will always believe that Chicago-style hot dogs > Coney dogs, we'll admit the Michigan dog style probably works better as a taco bag. There's three-bean Coney sauce, Cajun cheese curds, raw onion, yellow mustard cream sauce and oyster crackers—it's well-seasoned with lots of different textures.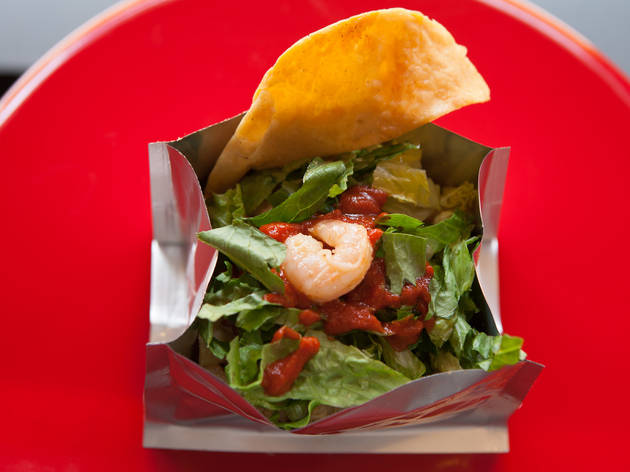 Photograph: Martha Williams
Named for a competitive eater, this bag is actually one of the lighter versions. Topped with black bean and corn salsa, citrus-marinated shrimp, romaine, cilantro and a healthy dousing of sriracha, the bag is really just a taco salad. Spritz the lime over the top for some brightness, and you have yourself a really good lunch.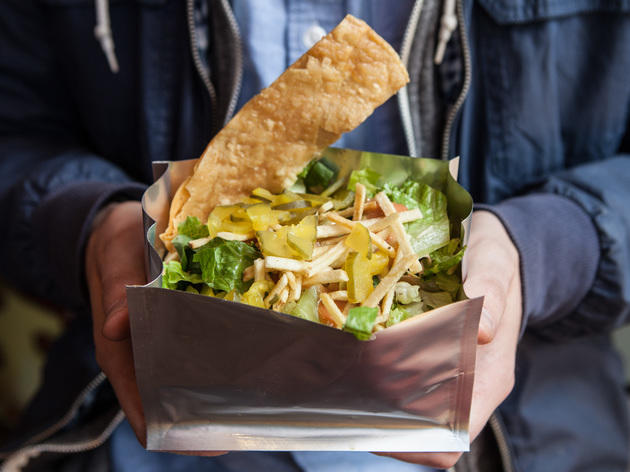 Photograph: Martha Williams
This is the best taco in a bag. It's packed with flavor, thanks to beer-braised ground beef, cheese sauce and special sauce, and then lightened up with lettuce and pickles. We brought an extra one back to the office with us, and the bag was scraped clean in seconds.