We tried all the juices at Owen + Alchemy
The Logan Square juice bar opened this week, so of course we drank all 22 juices to find the best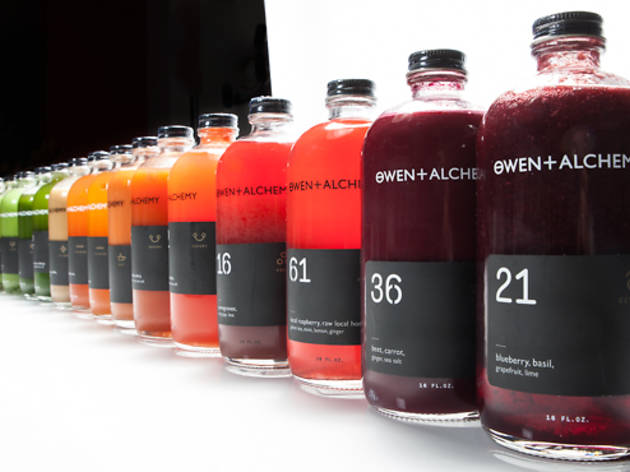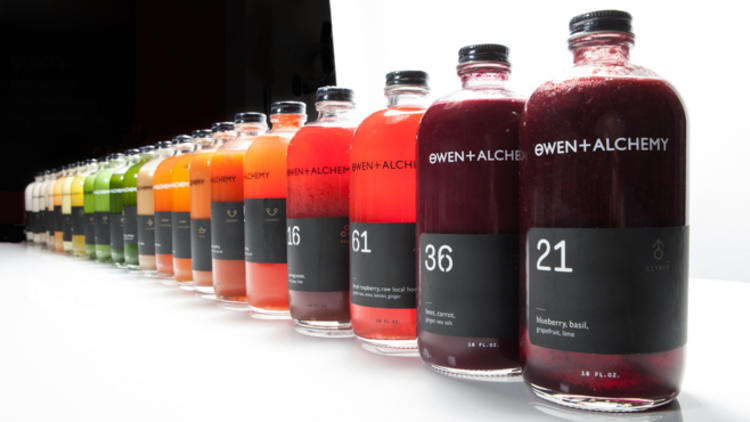 1/8
Photograph: Martha Williams
Owen + Alchemy, a new juice bar from Anne Owen and Jared Van Camp (Nellcote, Leghorn, Old Town Social), opened this week after months and months of hype. The premise: cold-pressed juices and nut milks. Strangely, the space has a gothic vibe, which challenges our idea of bright, airy juice shops. Given all the attention around this opening (and that the juices cost an eye-popping $9–$12 for a 16-once bottle), the TOC staff put these juices through the paces to find out if they're worth all the hype. We tried 22 juices, all the ones currently available. (There are four on the menu we didn't get, because, as O+A told us, "Due to the changing season, we are unable to source melons and grapefruits that meet our strict standards.") We tasted them in the categories they're listed in on the menu: green, fruit and citrus (we combined these since only one citrus offering was available), root, savory, nut/seed and fermented.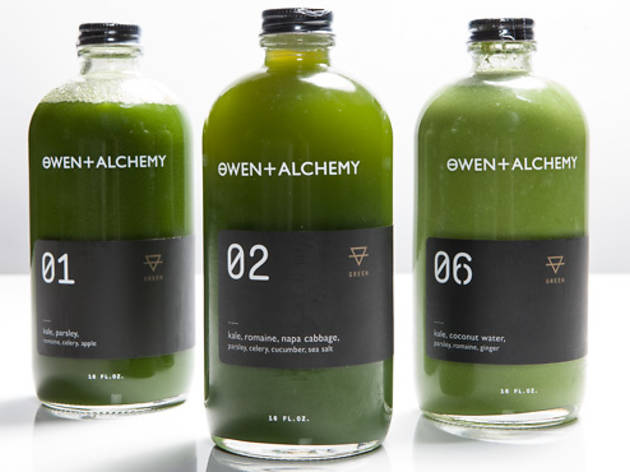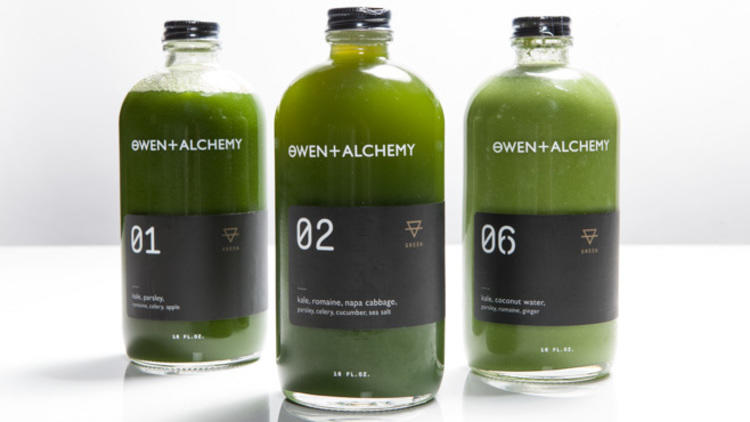 2/8
Photograph: Martha Williams
Green No. 01: Kale, parsley, romaine, celery and appleWe tasted a lot of salt and savory notes, and overall this is a basic green juice. No. 02: Kale, romaine, napa cabbage, parsley, celery, cucumber and sea saltThis juice tasted much thinner and flatter than the other two green juices, and there were some bitter notes. It's definitely our least favorite in the category. No. 06: Kale, coconut water, parsley, romaine and gingerThe coconut adds creamy roundness and while the ginger doesn't come through, it's nicely flavored and easy to drink. Winner: No. 6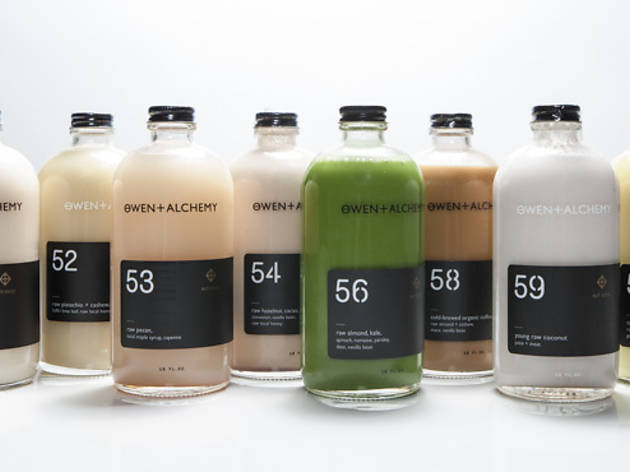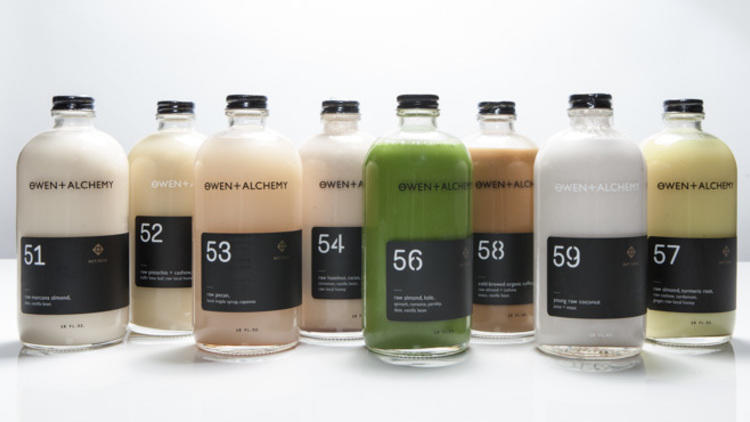 3/8
Photograph: Martha Williams
Nut/Seed No. 51: Raw marcona almond, date, vanilla beanTwo tasters wrote "boring" on their tasting sheets and overall there wasn't much flavor. No. 52: Raw pistachio and cashew, kaffir lime leaf, raw local honeyWe were torn on this one, since the pistachio was the only flavor we could taste. But we love pistachio! So we weren't upset about it, but did wish the kaffir came through. No. 53: Raw pecan, local maple syrup, cayenneThere's a tiny pinch of heat that comes through at the very end, and on the whole the flavor was very thin. No. 54: Raw hazelnut, cacao, cinnamon, vanilla bean, raw local honeyThis one basically tastes like a Nutella milkshake from Edzo's. Not everyone on staff loved it, since there's some bitterness that comes through, but this is your dessert bottle. No. 56: Raw almond, kale, spinach, romaine, parsley, date, vanilla beanThis was our least favorite bottle of all. Too green with an almost medicinal taste—you'd do better drinking anything else. No. 57: Raw almond, turmeric root, raw cashew, cardamom, ginger, raw local honeyThis one needs a heavier hand with the seasoning—the basic building blocks are there, but it was a little bland and needs more ginger and cardamom. No. 58: Cold-brewed organic coffee, raw almond and cashew, maca, vanilla beanThis is a little bitter for a cold brew, but would we grab a bottle if we needed a caffeine boost? Yes, we would. No. 59: Young raw coconut juice and young raw coconut meatThick, fresh and creamy, this is exactly what you want if you have a hangover. The $12 price tag is a little high, but it's delicious. Winner: No. 54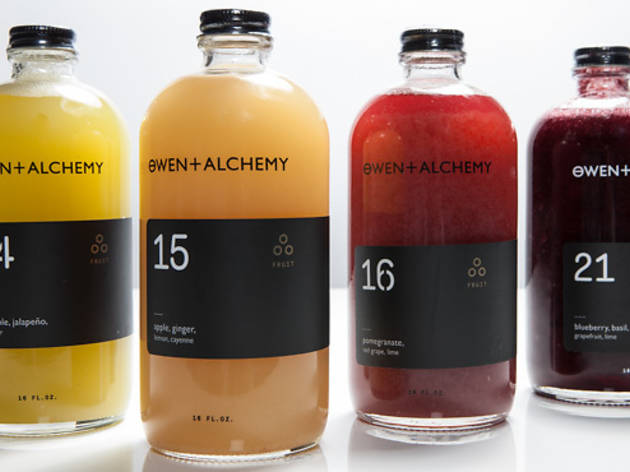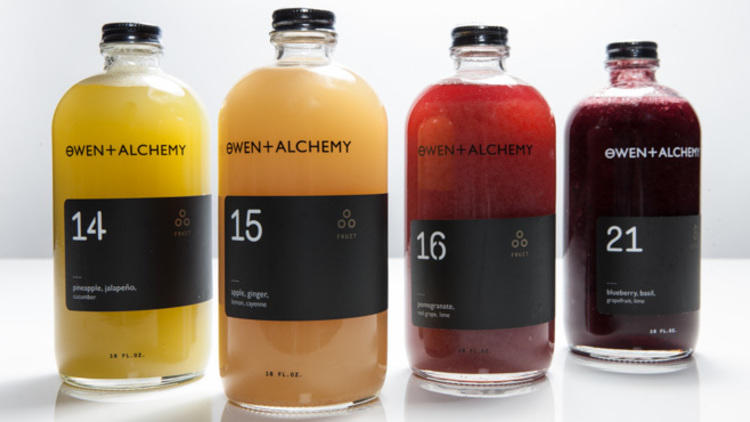 4/8
Photograph: Martha Williams
Fruit & Citrus No. 14: Pineapple, jalapeno, cucumberThe jalapeno is a little too strong here, and we'd love more bright pineapple. No. 15: Apple, ginger, lemon, cayenneThe most balanced juice, every flavor comes through, and it's bright and refreshing. No. 16: Pomegranate, red grape, limeThe most kid-friendly juice, this tastes like artisanal Welch's. It's good, and if you love grape juice, this is for you. No. 21: Blueberry, basil, grapefruit, lmeThis one is thick and basically a blueberry puree. The basil is really strong, too. Winner: No. 15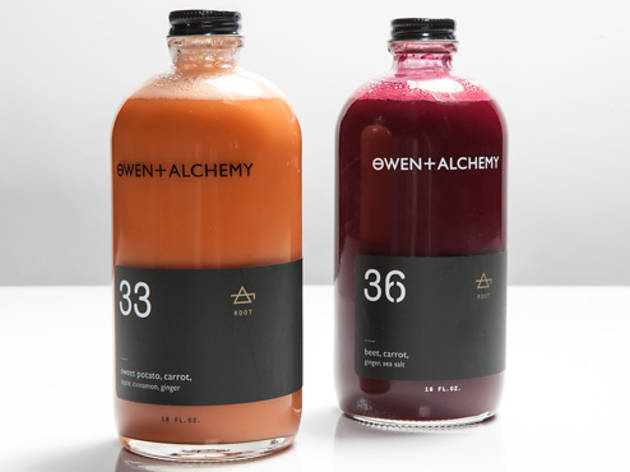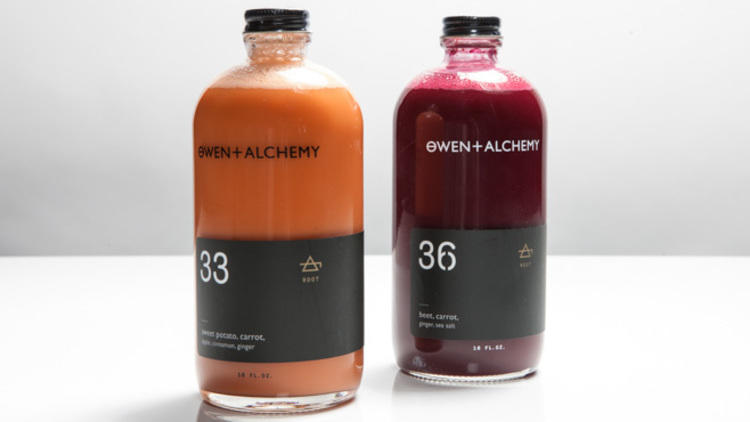 5/8
Photograph: Martha Williams
Root No. 33: Sweet potato, carrot, apple, cinnamon, gingerSweet, milky and tasty, this wouldn't be out of place on Thanksgiving. No. 36: Beet, carrot, ginger, sea saltYou basically just taste beet, which is fine, but if the other flavors came through, this could be something special. Winner: No. 33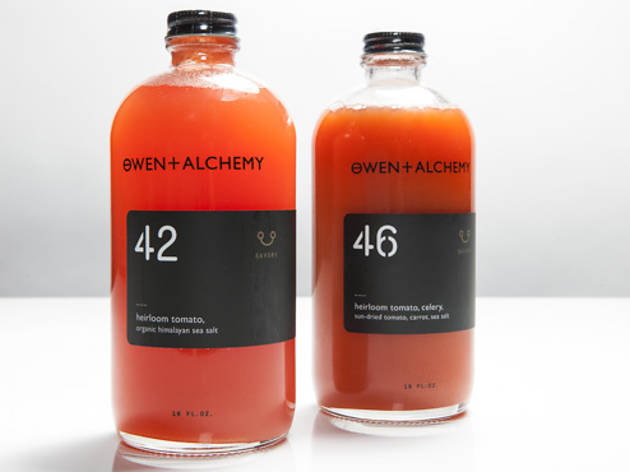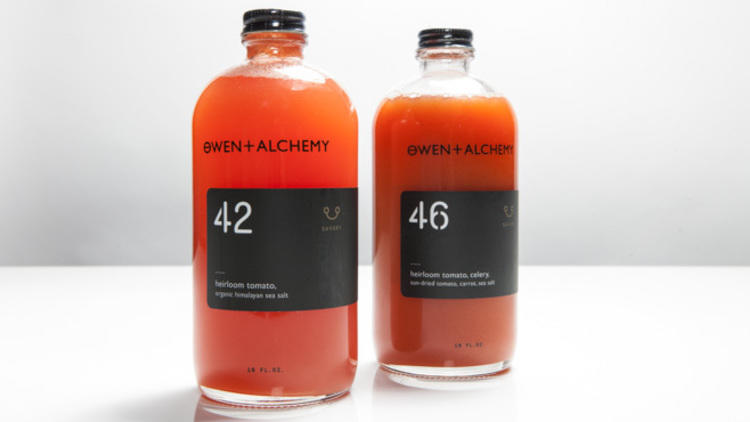 6/8
Photograph: Martha Williams
Savory No. 42: Heirloom tomato, sea saltWith just two ingredients, this one tastes like tomato water. Bright, refreshing, delicious tomato water. No. 46: Heirloom tomato, celery, sundried tomato, carrot, sea saltWe also liked this one a lot, and the sundried tomato comes through nicely. We added some vodka to it, and with a squeeze of lime, this would make a nice Bloody Mary. Winner: No. 42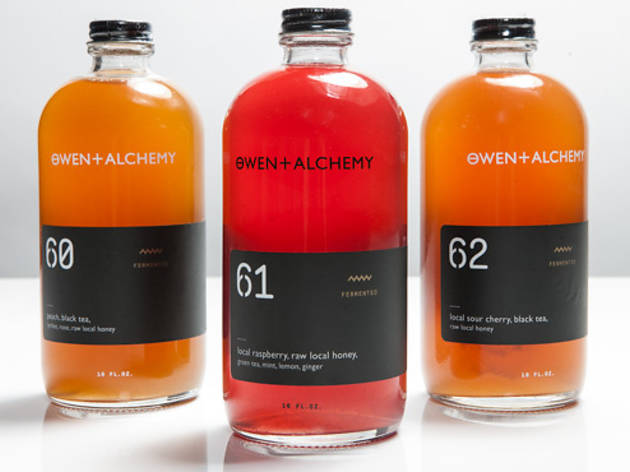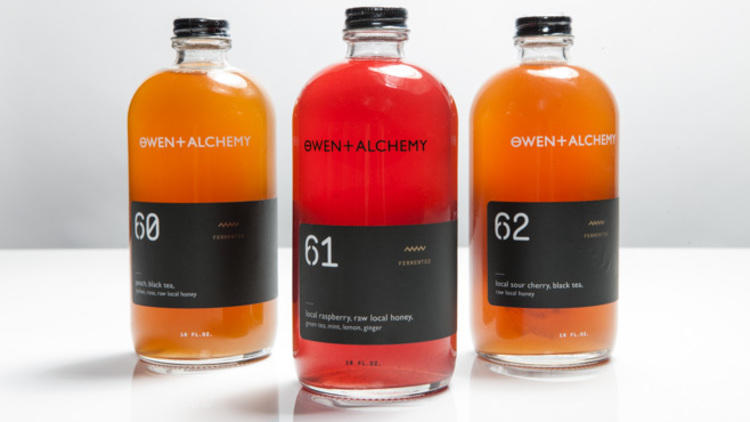 7/8
Photograph: Martha Williams
Fermented No. 60: Peach, black tea, lychee, rose, raw local honeyThese aren't fermented like kombucha, but rather iced teas. One taster said this one reminded him of "artisanal Snapple," and it does. It's pretty sweet. No. 61: Local raspberry, raw local honey, green tea, mint, lemon, gingerBright and fruity, this one is also really sweet, but balanced with ginger and mint. No. 62: Local sour cherry, black tea, raw local honeyThe cherry flavor isn't really strong here, and it mostly tastes like black tea. Winner: This category was tough, since we weren't nuts about any of them, but we'll give it to No. 61.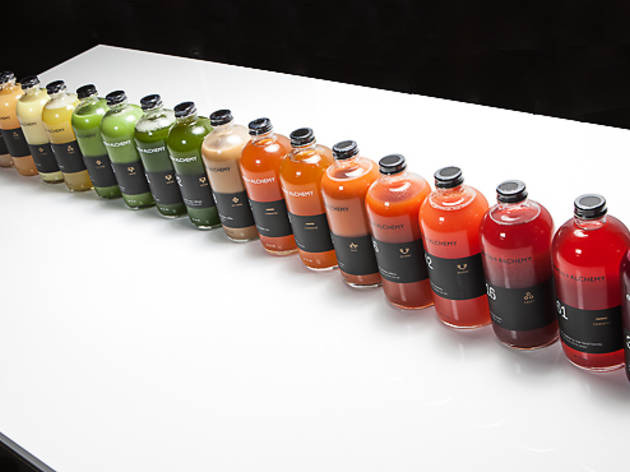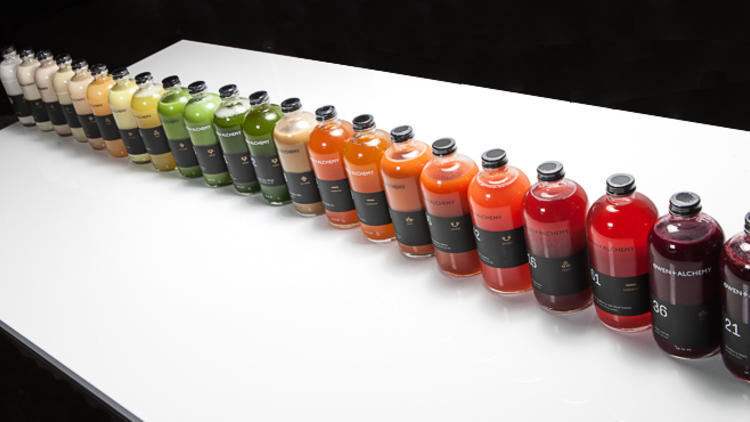 8/8
Photograph: Martha Williams
Overall, the root and savory categories were our favorites—there are no misses here. We also played alchemists and mixed up flavors: add coconut to the pineapple/jalapeno/cucumber blend for a pina colada. Mix the pomegranate/grape juice with the hazelnut/cacao blend for peanut butter and jelly. Throw some vodka into the tomato juices for a Bloody Mary. While we'd drink any of the category winners again, overall we'll pick two must-try bottles: No. 15 (apple, ginger, lemon, cayenne) and No. 42 (heirloom tomato and sea salt). If you want something sweet, get 15, but for something with a savory edge, 42 is the way to go.