Dirty dining
In a city renowned for its restaurants, it's no surprise Chicagoans like to bring the eats between the sheets.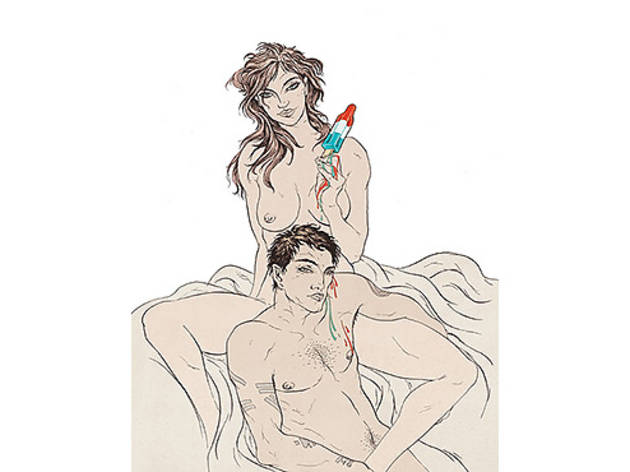 Two great tastes that taste great together? For many Chicagoans, the answer is food and sex. "I love sex, and sweets are my weak spot, so it was only natural to try and enhance both pleasures by combining the two," says Anna Goldman, project director for Wicker Park sex shop g boutique (2131 N Damen Ave, 773-235-1234). "[When] I was a teenager, I started bringing strawberries and whipped cream and chocolate into the bedroom. Now I've branched out to things like Popsicles, frozen grapes, sorbet, anything sweet."
Goldman and her boyfriend—a waiter at the foodie mecca HotChocolate—aren't the only ones mixing sex and sweets. Though no formal sex studies indicate how many people like to bring edible fun into the bedroom, Andy Smith, a doctor of clinical psychology at the Center for Personal Development (444 N Michigan Ave, 312-755-7000), says anything from cucumbers to condiments can act as a sexual enhancer.
"When we talk about food in sexual terms, we usually think about something insertable—which would make sense for partners of either orientation—something with texture like honey, or something that we can insert ourselves into and reach orgasm with," Smith explains.
He cites stereotypically "romantic" treats like strawberries, Champagne and chocolate as foods first-timers often use, but virtually any edible oddity can get an X-rated twist.
"Really almost any [food product] can work, as long as both partners agree that it's something they share, they're both having fun with it, and it's not something they depend on," Smith says. "If someone is coming in and saying, 'Hey, I can only orgasm if we have zucchini in the bedroom,' then we're looking at something that goes beyond fun. Then we have a problem."
It's not what's used, but rather when it's used that unites most freaky foodies. According to Noel Paul Hertz, owner and sex therapist at Noel Paul Hertz Psychotherapy (5215 N Ravenswood Ave, 773-525-0753), food usually comes first, intercourse after.
"Lots of folks talk about using sweet things like certain kinds of syrups during sex, but most of these things don't really taste very good for very long," he notes. "People try things like whipped cream or honey as a way of getting aroused, but they usually stop using it pretty soon and go into being sexual in other ways."
Goldman and Smith advise bringing up the idea of turning your date into a human dinner plate within a nonsexual conversation. If you don't, there could be an awkward confrontation.
"One of my exes was lactose intolerant, but I had no idea," Goldman says. "I bought some whipped cream and strawberries as a surprise. The idea wasn't welcomed. And being rejected because of indigestion just isn't sexy."