1871
Chicago's newest tech space helps digital entrepreneurs get up on their feet and out the door.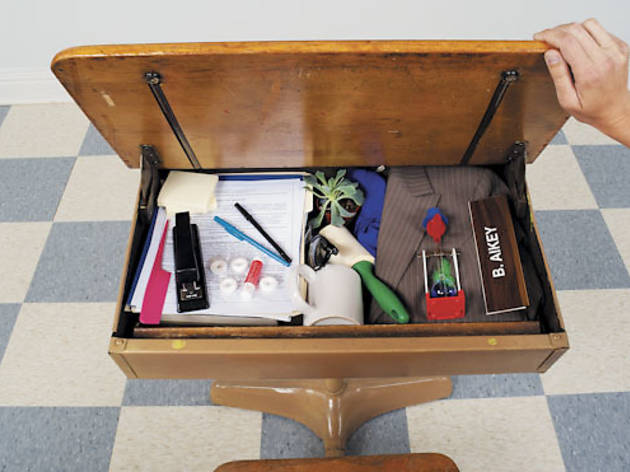 The buzz factor around 1871 is almost as high as the hopes for the new tech community. But 1871 isn't looking for loads of publicity and praise. The goal is much more ambitious: to arm entrepreneurs with tangible skills and connections that will help transform Chicago into the next Silicon Valley. The tech hub, which opened in May, is off to a good start. In less than three months, it has already welcomed 117 digital start-ups to work (and to learn) in its space on the 12th floor of the Merchandise Mart.
Though 1871 resides among the high-design showrooms in the Mart, it is not a haute hangout. Sure, you'll see a few dressed to impress in suit jackets and jeans, heels and flared midi-skirts, but you'll also see more than a few Zuckerberg-style hoodies—the melting pot of entrepreneurs leans more geek than chic. That's an accurate reflection of the vision of Kevin Willer, president and CEO of the Chicagoland Entrepreneurial Center, which manages operations at 1871. A ten-year veteran of Google, Willer is uncompromising when it comes to 1871's ultimate mission. "This is pure economical development. We're trying to build a bunch of great companies in Chicago," he says.
The space itself is bright, modern and at 50,000 square feet, feels like a cheery industrial office akin to Google (but less tricked-out). Walls are mostly painted white with occasional pops of color, the vaulted ceilings reveal electrical work, the floors are cement, and there's not a traditional cubicle in sight. Membership is for companies, not people. Once you're in, everyone in your company is, too, with the option of a few types of memberships. "Reserved" members pay $400 a month to get their own desk and lockable cabinet in a large workroom. "Shared" members pay $250 a month and are free to set up their laptops in the open communal areas laden with chairs, high-tops, long tables and couches. You can come and go as you please, but most members are there most days, and you can see people from different start-ups chatting with each other, sharing information, tips or just a really funny joke. On Fridays, 1871 hosts TGIF socials in the afternoon.
Beyond the solid schmoozing opportunities, members have access to myriad business-building tools included with membership. Two-hour workshops taught by experienced professionals who donate their time cover topics such as organizational effectiveness and social media analytics and take place almost daily. For instance, Cayse Llorens, CEO and founder of the new online comedy roasting site CelebTango, wanted to learn how to reach moms, so he signed up for "Target Market: Moms." "I wanted to understand how moms think and got it spoon-fed to me. The value ad is ridiculous here," Llorens says.
While workshops are limited to around 20 people to foster interaction between members and teachers, frequent evening seminars are held in a large event space. Here, speakers from successful local digital companies, including GrubHub and OpenTable, answer questions about their businesses. But possibly the most popular perk at 1871 is "office hours," 30-minute meetings that accomplished professionals like Leo Burnett advertising stars take with member companies to offer advice on specific topics. The time slots are so coveted they usually book up five minutes after they've been announced.
Even searching for financing becomes less of a headache with 1871 in your corner. Venture capitalists like Sandbox Industries and New World Ventures have small offices at 1871, and others from around the country visit to meet with members to offer advice and look for potential investment opportunities. Steve Gradman, president of KBooM! Games, an educational iPad app company, joined 1871 partly because he wanted more access to capital. "We want to bring in other investors, and there are plenty of them lurking around here," Gradman says. "We've started those conversations, and it's been pretty easy."
Not just anyone can join. Willer says they've received 526 applications so far, and there's still room for more start-ups. "We want to keep the bar high. If you have awesome people hang out with each other, then awesome things happen naturally. We don't do speed networking," Willer says. So how do you get in? Go through the application process on the 1871 website at any time; there is no restriction on when you can apply or who can apply as long as the company is primarily digital. Willer looks at a few key factors: Have you raised any capital? Are you technical? Who are your advisers? While candidates may not have all the answers figured out, it's important to show forward thinking and reflection. The applicants who impress the team with their application are invited in for a 30-minute interview. A nine-person independent community panel makes the ultimate decision.
There are a couple of other ways you can make it into 1871, too. Three times a year an independent business accelerator, an organization that offers strategic business planning and support, will hold an intense three-month incubator aimed at getting your business humming. While each accelerator program works differently, those accepted will work out of a separate, glass-enclosed space at 1871 and can expect sizable financial support. This summer's accelerator, Excelerate Labs, gave its ten participants $25,000 each in exchange for a six percent stake in the company. You can also take classes with Code Academy, a code-teaching group that occupies lab space at 1871. During the 12-week course, you'll have full membership benefits, including access to the city's only in-house Intelligentsia coffee bar. But Willer says the mission of 1871 is not to serve the same start-ups indefinitely. "We want to get people in here and give them tools to help their businesses," he says. "Eventually, we want the members to grow out of this space and get out there on their own."