An artist decorates with repurposed items | House call
An artist who repurposes vintage items, Ted Harris takes his work home with him.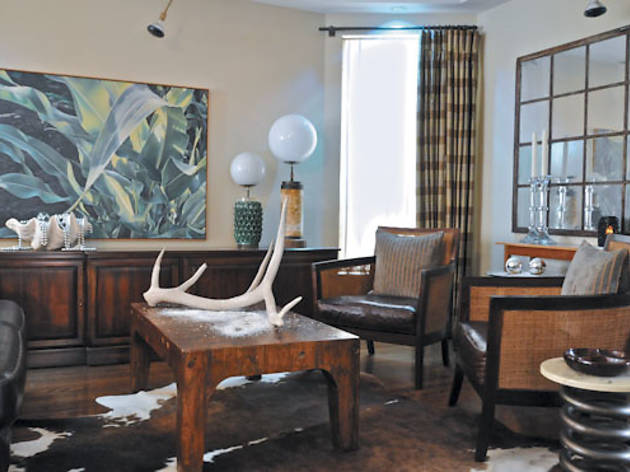 "Home is very personal, and I have the ability to make it even more personal," Ted Harris says. The artist/designer backs up this statement by pointing to a pair of light fixtures he made from fluted decorative columns. They flank the front window in the dining room of the 1,500-square-foot apartment he shares with his partner, Paul Cantrell. Harris makes his living by transforming vintage and industrial pieces (think globes and thermoses, coils and gears) into one-of-a-kind light fixtures that are sold at trendy design shops such as Scout in Andersonville and Sojourn in Sawyer, Michigan. Harris's apartment—the two-level owner's unit of a three-flat in Edgewater—includes many of his pieces that were originally saved from a Dumpster or a junkyard and repurposed. "I want to take things that have been cast off and make them into things you'd actually want in your home," Harris says.
Those repurposing skills came in handy when he bought the building in 1990. For the first couple of years, he lived in the second-floor apartment while he gutted the first-floor unit, relocating the entrance to create a small entry foyer, eliminating the original decorative moldings and tearing out walls between the living and dining areas. "It's kind of a small space, and I thought less trim and moldings would give it a more open feel," he says. He also finished the basement with drywall and carpeting and incorporated a formerly enclosed back porch into the kitchen proper, swapping out its small windows with three large picture windows that flood the space with natural daylight.
This more contemporary interior architecture suits Harris's aesthetic—a medley of art, objects and furnishings that represent different eras of his life. He bought a painting of a cornfield that hangs over the sofa in the living room from Julie Keifer-Bell, one of his favorite teachers at the School of the Art Institute of Chicago. "I was actually saving [for it] in one of those plastic bottle piggy banks," Harris says. Likewise, he bought the original Lee Goudy sketch hanging in the front foyer from the artist herself.
When Harris and Cantrell, a Texas native, decided to move in together in 2000, Harris incorporated several pieces of Cantrell's Western-inspired decor, including a cowhide rug in the living room, horns on the coffee table and a giant set of antlers hanging in the stairwell. "I had already been living here for 10 or 11 years, and I wanted Paul to feel that he was part of it—a Texas-sized part of it, at that," Harris says. The pieces combine easily with items he collected during his "driftwood phase," which include a sculptural tree branch he retrieved from his neighbor's yard after a strong thunderstorm and two pieces of weathered barn wood, which he hung prominently in the stairwell. "They looked very modern to me," Harris says. The items circle back to Harris's love of giving discarded, old things a new life.