Anna Jane Wisniewski | Meet the blogger
The creator of seejaneworkplaylive likes functional fashion.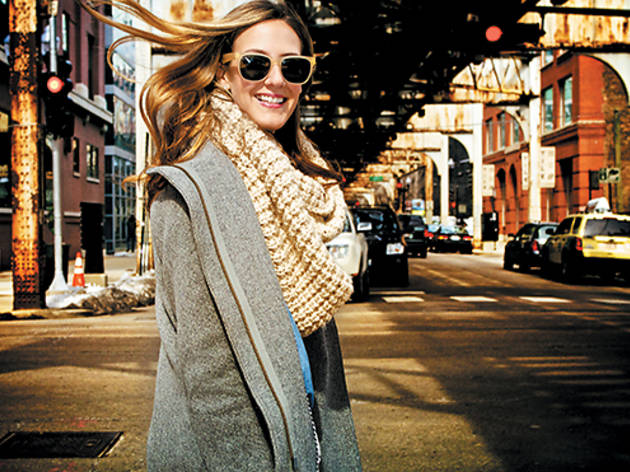 I started my blog March 2010
My first post A generic welcome post saying who I was and what I did. I started my blog on a complete whim while bored at my parents' house one weekend. I had no idea blogs were such a big thing as I only read a few interior-design blogs at the time; I just wanted to post about things I loved, like fashion findings and food.
My day job Sales director at Trunk Club
Why my blog is popular Is it that popular?!? I've been told by people that know me that they can hear me saying my blog prose out loud as they read, so I'd say I have a pretty authentic voice. I post about life's happenings and things I love, which just happen to largely be personal style and food (okay, fine, and my English bulldog). Perhaps that resonates with people?
First reader encounter While visiting my brother in L.A. a couple years ago. She asked if we could touch base and I met her for a cocktail­—she was awesome and we chatted for an hour or so.
The celebrity I want to read my blog Joanna Hillman [of Harper's Bazaar]. Not quite a celebrity but an editor I really admire and I look up to.
Best reader comment I get some anonymous commenters razzing me for various things (one in particular told me I needed to get my roots done, and hey, they were right). To be honest, it keeps me humble and I appreciate it. Having someone call me out keeps me on my toes!
Other blogs I read I'm a big fan of the Cut, Design Sponge and way too many fashion blogs.
Trend I wish would go away Fashion items that serve no functional purpose. Examples: fake glasses (I've needed glasses since second grade so I'm passionate about that one), hats/boots in the sweltering summer months, baggy cargo shorts on seemingly urban guys (do you really need all those pockets for a CTA card and keys?)…I could go on, but won't.
My top three must-have products Rag & Bone distressed jeans, Dr. Hauschka Daily Revitalizing Eye Cream (for all those days/nights squinting at the computer screen), and I'm dying for a super-supple leather duffle bag for weekend trips.