Barnaby Struve at Metal Haven
Whether heavy metal is your passion or guilty pleasure, this music mecca can meet all your head-thrashing needs.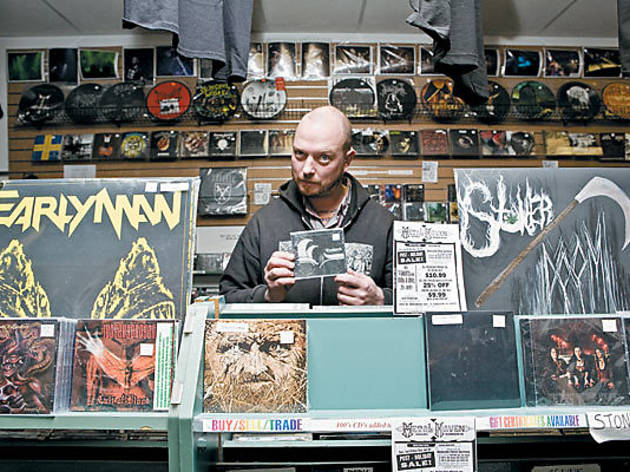 Metal Haven is not the sort of store you'd expect to stumble upon while strolling down Montrose Avenue in Ravenswood. A quarter-mile east and west in this family-heavy residential 'hood, you'll find only a couple of boutiques and a few restaurants. And then there's the aptly named specialty music shop—all heavy metal, all the time.
Owner Mark Weglarz opened Metal Haven in 1999 in Lakeview. He moved two years ago, partly to escape the congestion of Broadway and Belmont, and partly because his inventory was expanding and he could get more retail space for lower rent in Ravenswood. "I like it here," says the long-haired Weglarz, 39. "It's quieter. That's pretty funny, 'cause I'm a heavy-metal store."
If the sight of Metal Haven seems unlikely from the outside, the interior is exactly what you'd expect. Yep, lots of black: dark-colored vinyl and CD covers in the racks; black T-shirts hanging from the ceiling; black garb on Weglarz. Some of the customers fit a stereotypical image too, such as the guy with the nose ring who came from Joliet; others—like the bespectacled middle-aged guy with a trim goatee—don't. Then there's affable, tattooed Barnaby Struve (pictured), a resident of Little Village on the South Side who, like so many regulars, makes this one-of-a-kind joint a destination.
A Haven customer since he moved to Chicago seven years ago, the South African–born Struve works as a brewer for Three Floyds, a small beer company in Munster, Indiana. He has three favorite pastimes—reading, music and beer. Two of them combined to help him find his dream job: Struve met brewery owner Nick Floyd at a beer festival in Downers Grove. Not only did they share a passion for fermenting hops, they have similar taste in music, too.
While scoping the store's two main aisles ("I'm shopping for local metal today," he announces with glee), Struve mentions that the shop is widely known in the niche community of metalheads. While in Philadelphia recently for a brewers convention, he visited Relapse Records, where an employee told Struve that he visited Chicago specifically to check out Metal Haven.
Of course, some folks in Ravenswood who stumble across the Haven initially form a different impression. "Believe it or not, people are intimidated to come in here," Weglarz says. "There's no reason to be. We're friendly guys. We're definitely not having satanic rituals in the back." Ever affable, he chuckles about the stereotype, then shrugs. "[But] it doesn't bother me that people think that."
Metal Haven, 2003 W Montrose Ave, 773-775-9202.
Three Floyds Brewery & Pub, 9570 Indiana Parkway, Munster, IN 219-922-4425.
1 Leviathan/Crebain double album, $19
"There's a famous [tattoo artist] in San Francisco who is Leviathan. He's a one-man black-metal band."
2 Dio: Light Beyond the Black biography, $18
"Everybody should be familiar with Dio. He's the second lead singer of Black Sabbath, and his voice is still amazing."
3 Iron Maiden "Phantom of the Opera" collectible, $20
"It's not a doll! It's an action figure. He's going up in the brewery, next to Bob and Doug McKenzie."
4 Bible of the Devil, Minsk, Lair of the Minotaur, Nachtmystium CDs, $14 each
"All local metal bands—their most recent releases. That's actually a pretty wide range of metal there."
5 Carcass T-shirt, $17
"The band is great—these little skinny English guys! Visually, [the shirt] definitely backs up the music."