Barre classes
Two editors take barre classes for the first time.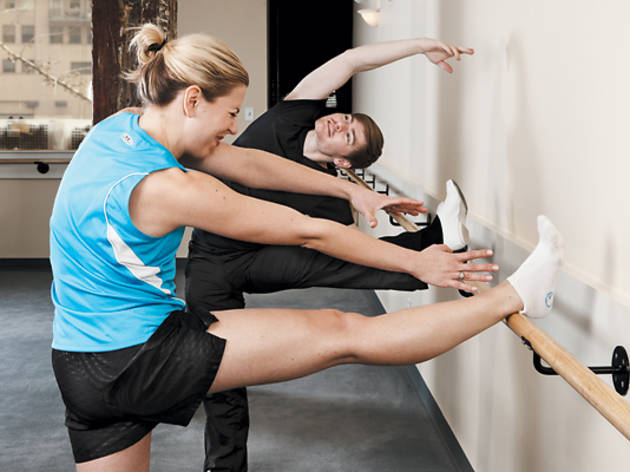 TOC Features editor Laura Baginski, a runner who's as flexible as a steel beam, and Dance editor Zachary Whittenburg, a lithe dancer with years of intense stretching under his belt, try body-chiseling and core-strengthening barre classes for the first time. Guess how it went…
THE RUNNER AT AKEMI FITNESS METHOD
I can't touch my toes. No, I'm not nine-months pregnant, and I don't have stubby T. Rex arms—my hamstrings are tighter than Nicole Kidman's face due to my three-times-a-week running habit (not to mention twice-weekly kickboxing). So I'm more than a little nervous when walking into Akemi's carpeted Evanston studio for a Saturday-morning barre class devoted to stretching and strengthening muscles, especially when I notice that buff instructor-owner Jocelyn Davis has set me up with a mat, light weights and yoga blocks near the front of the class, putting my freak-show inflexibility on display. This is also when I notice I'm the only one wearing running shorts—all the other fit-looking women are wrapped in stretchy yoga pants and tanks. One wears ballet slippers.
We start with variations on the plank, push-ups and weight work—no problem. But as we move to the barre—two horizontal wooden rails attached to the mirrored walls—the hurting starts. We're instructed to hoist one foot onto the barre so we're facing the mirror and fold our torso over our extended leg. While everyone makes like a spread scissors, I move my chest about 10 degrees toward my thigh, and that's as far as I can go. The rest of the class continues along the same lines: We hold stretches for an eternity while I whimper; we're asked to do eight more glute lifts after seemingly thousands, and I glance around hoping to exchange a conspiratorial "Are you kidding me?" look with fellow classmates and come up empty-handed. The ab work leaves me sore for days. But I walk out feeling taller, leaner. Perhaps if I take this class more often, I'll be able to touch my…lower shins. —Laura Baginski
THE DANCER AT BAR METHOD
Decorated in warm earth tones and bathed in natural light, the Bar Method's Loop location is immediately calming. I change in the restroom—no men's area—and, when I emerge, the lunchtime mixed-level class has begun trickling into the carpeted studio. I'm the only guy. I find a spot on the floor; a back corner by the door seems safe.
The next hour is a blur.
Instructor-owner Lis Settimi warned me she'd use my first name and, sure enough, corrections directed to me frequently come through her headset, slightly louder than the driving pop megamix. I mirror Settimi's wide lunge stance, left hand on hip and, with my right arm, move a three-pound dumbbell behind my back in a one-inch L-shape, elbow straight. "Right shoulder just a little higher, Zac," she says. I make the minuscule adjustment.
Then I'm doing push-ups. Then I've got my leg up on a ballet barre, folded over it with a variety of torso rotations. Then I'm sitting on a mat, one leg in front and one behind me. My TFL (a small muscle on the hip) charley-horses; I massage it while the women around me do their micro-movements, as focused as lab scientists. We stretch so briefly it's useless. We do crunches.
Although at times my legs are shaking like jackhammers, I don't break a sweat. The next day, my hamstrings are on fire and my calves are somewhere in the vicinity of my neck. As someone who went through 11 years of serious ballet training, I dig the focused, disciplined environment, but the exercises change so often I only feel their effects on the surface. —Zachary Whittenburg
BEGINNER TIP
Resist the urge to get all aggro-competitive in your first couple of barre classes, unless you're angling for a torn ligament. Take it slow, stop when the pain is too intense and soon you'll be as bendy as the rest of the class. —Laura Baginski