Bust a move
Shake your moneymaker at these dance-based classes.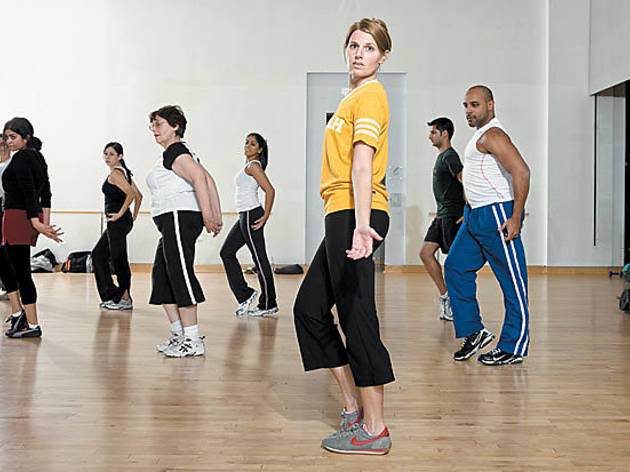 BEST
Tango Salsa Caliente, Holmes Place Health Club
It's hard not to feel sexy when a hard-bodied Latin man on a Britney Spears–style wireless mike shouts "Don't be afraid to show off those curves!" while Brazilian beats blare in the background. Designed to "unlock your Latin soul," instructor Jorge's (one of Chicago's hottest instructors, see next page) class mixes high-energy salsa, merengue and rumba moves with low-impact aerobics.
After a ten-minute warm-up, dancers learn a series of short Latin-style minidances we combine into one comprehensive routine at the end of class. Simple moves—there's a lot of cha-chas, box steps and basic pivot turns—take on new meaning when Jorge adds techniques such as "Do this walk as if you are mad with your boss" or "Try this like you are seducing someone."
While the class is undeniably a strong cardio workout, what separates it from the rest of the pack is Jorge's emphasis on having fun, feeling good about your body and loving the art of dance rather than nailing the moves. Fellow dancers range from amateurs to wanna-be pros. Regardless of their age, ability level or body type, Jorge encourages all dancers to shake their assets with abandon. This is one of the few exercise classes where I actually felt more attractive walking out of the class than I did walking in. Mondays, Thursdays 6:30–7:30pm.
Body Movin Hip-Hop, Bally Total Fitness Century City
Ever wanted to dance backup for Justin Timberlake? Start here. Mixing jazz, funk and breakdance moves, this class is fertile ground for those seeking MTV fame. Regan's classes begin with a cardio-focused warm-up to mainstream hip-hop songs, then dancers spend the remaining 45 minutes working on a tiny piece of a fast-paced routine that takes the remainder of the eight-week session to learn. You'll repeat and perfect the same moves time and again, but you'll walk away from Body Movin with a routine that looks damn near professional. Thursdays 6:30–7:30pm.
Ballet, Lakeview Athletic Club
Get ready to feel the burn. Focusing on balance, flexibility and muscle control, Lauren's hour-long ballet class is for those looking to develop grace and a firm bod. Half the class is spent at the barre learning ballet foot positions, basic moves like the plié, and how to fluidly stretch your muscles. From there, dancers hit the open floor and work on an ongoing routine set to classical piano music. For those seeking an alternative to fast-paced, techno-blaring aerobics classes, this is the place. No tutu required. Tuesdays 6:30–7:30pm, Fridays 6–7pm.
Belly Dancing, Flirty Girl Fitness
One of Flirty Girl's tamer classes (the lap-dance class starts 45 minutes after this one ends), Belly Dancing focuses on honing muscle control. After a 15-minute warm-up in which instructor Summer teaches new dancers how to isolate each muscle group the dance requires, the rest of the class focuses on how to move two muscle groups at the same time and then how to do both and walk simultaneously. While the class sounds easy, it's not. Try moving your pelvis in a backward figure-8 while shaking your shoulders—just your shoulders, not your torso—and you'll see what I mean. The class is all women, most are first-time belly dancers, and the instructor has the patience of a saint. Wednesdays 6:30–7:30pm.
Zumba, East Bank Club
Toeing that fine line between vigorous and HOLY MOTHER OF GOD MY BODY MIGHT COLLAPSE, Zumba is designed for those who are already very physically fit. Class starts with a ten-minute warm-up, and then instructor Rebecca—whose energy level is borderline obscene—leads dancers through a mishmash of Latin moves set to upbeat international tunes. East Bank's instructors and facilities are top-notch; however, class is conducted at such a breakneck pace, several participants exchanged frightened "help me" glances about 40 minutes in. Come prepared to sweat and be sore the following day. Mondays 5:30–6:30pm.