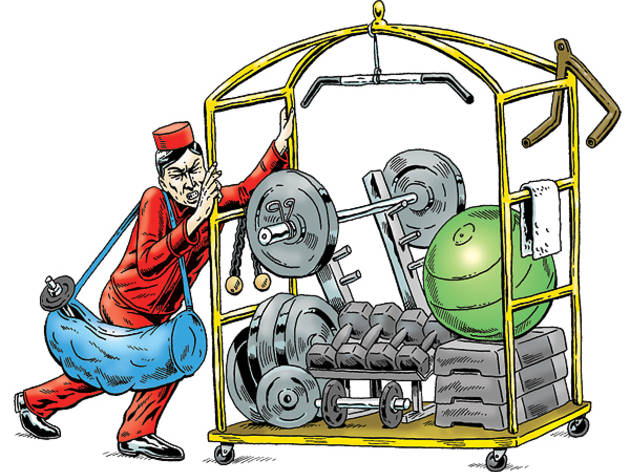 Check in, work out
You don't have to book a room in order to visit these hotel gyms.
Health Club at Trump International Hotel & Tower
(401 N Wabash Ave, 312-588-8126)
Membership rates Start at $190 per month
Equipment A long line of TV- and iPod docking station–equipped cardio machines offer a panoramic view of the Chicago River, Wabash Avenue and Lake Michigan.
Classes Everything from aqua aerobics to yoga and Pilates to kickboxing and spinning
Locker-room notables An attendant provides towels, lockers and robes. You'll want to spend all day in the color therapy-incorporated Deluge showers.
Member perks Complimentary workout clothes, one-hour suit press and shoe shine, overnight laundry service, headphones and iPods and an unlimited number of guest visits. Not to mention, enjoy 20 percent off all spa services Monday through Thursday.
InterContinental Hotel
(505 N Michigan Ave, 312-944-4100)
Membership rates Start at $91 per month
Equipment Standard cardio machines, weights and the famous 25-meter swimming pool where Johnny Weissmuller (a.k.a. the original Tarzan) swam back in the day
Classes None
Locker-room notables Sauna
Member perks Count on 17 percent off the room rates, 10 percent off food and non-alcoholic beverages at the hotel, and discounted laundry service
Spa Chakra at Palmer House Hilton
(17 E Monroe St, 312-726-7500)
Membership rates Start at $85 per month
Equipment A few novel additions, such as a resistance-training circuit, spice up the selection of cardio machines and weights.
Classes The variety pack includes boxing, Pilates, yoga and strength training.
Locker-room notables Steam rooms
Member perks One complimentary personal-training session for new members
Penthouse Fitness Center at Swissotel
(323 E Wacker Dr, 312-565-0565)
Membership rates $99 per month
Equipment New Precor upright and recumbent cycles, low-impact treadmills, ellipticals, weights and strength-training equipment
Classes Yoga for an additional $20 per class
Locker-room notables Sauna and hot tub
Member perks Complimentary towels, 24-hour access and an amazing view of the lake
Buckingham Athletic Club and Hotel
(440 S LaSalle St, 312-663-8900)
Membership rates Start at $75 per month
Equipment Standard treadmills, elliptical machines and weights
Classes Spinning, water aerobics, kickboxing, yoga and Pilates
Locker-room notables A locker…with a personalized nameplate. Members can also sign up for laundry service for an additional charge.
Member perks Did we mention racquetball, basketball courts and an indoor golfing range?
The Peninsula
(108 E Superior St, 312-573-6860)
Membership rates $190 per month
Equipment Personal TV-equipped cardio machines, weight machines, plus a Power Plate and a half-Olympic-size pool
Classes Specialized yoga (power, vinyasa and sunrise), Pilates, strength conditioning and aqua Pilates
Locker-room notables Workout attire provided, a variety of personal-care products, hair dryers and curling irons, steam room and hot tub
Member perks 20 percent off spa treatments, 10 percent off the hotel's restaurants and 10 percent off the lowest room rate. Not to mention access to the sundeck. Bring the fam in for free on Sundays.