Chicago prints
Posters offer a different view of the city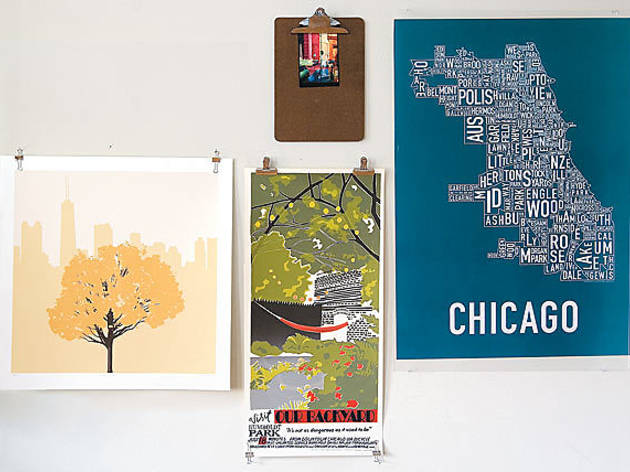 From left to right
A composite depiction of a few photographs of Chicago—an orange-colored tree off the I-90/94 and the view of the city skyline from the artist's studio—the limited-edition "Chicago in Fall" represents oil painter Ryan Kapp's first foray into silk screening. $65 at beholder-art.com .
While most art made by Gallery 37 students ends up in their own homes, a handful of postcards by local teens, such as these two paintings of downtown Chicago scenes, offer gallerygoers the chance to take some homegrown art on the road. $1 each at Gallery 37 (66 E Randolph St, 312-744-8925, egov.cityofchicago.org/gallery37center)
Based on 1920s and '30s South Shore Line travel posters, this first print from the Lady Dissident Chicago Travel Auxiliary (LDCTA) Publications Series— a bike guide to Humboldt Park —isn't just a pretty picture. The goal is to get Chicagoans to thinking about issues like gentrification and the ramifications of the city's bid for the 2016 Olympics. Available for $100 by e-mailing dissidentladiesofchicago@gmail.com
Chicago-based graphic designer Jenny Beorkrem's screenprinted, typographic neighborhood poster defines the city by enclave. The Ork posters are printed with soy-based ink in red, blue and black versions on recycled paper. Other versions depict urban hot spots like San Francisco, Brooklyn and Boston. $22 at orkposters.com.