COOP
Free agents meet, work and break bread in this West Loop shared work space.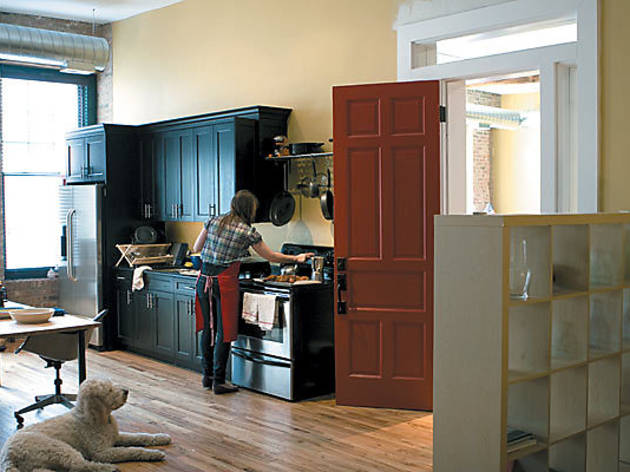 Walk into places such as Alliance Bakery or Swim Cafe on a weekday afternoon and you'll find the place full of people typing away on their laptops. They're the ones who spend their workdays at coffee shops rather than the confines of their apartment in search of Internet, strong coffee or simply company. One thing they won't find, however, is a communal lunch.
That's where COOP comes in. Open since February, the West Loop shared work space offers a desk, high-speed Internet and kitchen access to anyone who cares to pay on a daily ($20), weekly ($90) or monthly basis ($300). A few times a week, workers sit down for a communal, locally sourced meal of ahi-tuna tacos with fish from Isaacson & Stein Fish Co. or made-from-scratch pizza topped with pepperoni from West Loop grocery store JP Graziano. COOPers donate a suggested few bucks to the cash jar on the kitchen counter, and director Linsey Burritt takes care of the cooking. But there's more to COOP than lunch.
As a member of design collective the Post Family, COOP's 23-year-old co-founder, Sam Rosen (his partner is Patrick Griffin), is no stranger to collaborative efforts. The idea of a cooperative office came to him while visiting Brooklyn in January. He needed a place to work for a day.
"[My co-workers and I] found out about this place called The Change You Want to See, attached to a gallery," Rosen says. "It was just a bunch of dorky-looking people sitting around a table working together...designers, programmers and political acitivists, but they all wanted this community place. We worked there for the day and met all these cool people who told us where to go and what to do."
Back in Chicago, Rosen had recently moved out of his apartment—which was the loft adjoining the office of his four-year-old Web-design company, One Design—so he was already sitting on unused rented real estate. It made perfect sense to transform the space into something he could both share and use to turn a profit, feeding any money made from rent back into One Design. Barely two months later, after clearing out the remains of his living area—old yearbooks, bar mitzvah cards and outdated Time magazines—the space had begun hosting a rotating cast of renters, from an SEO expert to a professor of microfinance to graphic designers. Those who rent on a daily and weekly basis (as many as 12 people can fill the space comfortably) are free to come between the hours of 9am and 8pm, while a month's rent avails 24-hour access and a personal set of keys. While most of the COOPers come from Chicago, at least a handful have stopped in from other cities. (They're part of an international network of co-work spaces).
"The idea is that as the Internet comes to fruition, more people don't have to work in an office," Rosen says. "You have this freedom that people didn't necessarily have before, which is to pick the environment in which you get to work."
Not to mention, sharing a space inevitably provides networking opportunities. Pretty much everyone keeps their ears covered with headphones, but when they want to communicate, for work or pleasure, they can. One Design has already hired a front-end HTML/CSS developer from the crew, and it is bidding on a prospective job with a renter as well.
At the very least, the quiet space affords renters like Disa Johnson, a search engine optimization expert, extra impetus to power through more work. She knows that she's committing a small but notable portion of her pay to an office. "I go to a cafe or work from home, but that gets to be drag real quick," she says. "When I thought about working from a shared space, I thought I'd get more done, and right away it was true. On the first day I earned more than an entire month's rent...and yesterday I arranged for interviews [about projects] with folks here."
The space itself is simple, requiring as little overhead as possible. Furniture—four wood desks, a dining table and a few shelving units—includes One Design castoffs, leftovers from Rosen's old room and donations from friends. The biggest splurge, and only purchase, is a handful of leather desk chairs.
In addition to the mustard-yellow paint, exposed brick and the assortment of glass bottles decorating the bookshelf, work by local artists, such as this month's photography from Stephanie Bassos, adds life to the otherwise bare room. It's a win-win situation: Artists have a chance to reach a wider audience, and the COOP inhabitants can enjoy looking at new bodies of work every month. An empty keg in the corner and a bag of potato chips in the back of the room are remnants of the first artist-of-the-month party, a monthly social-meets-art-opening for the current artist's exhibition, which this month alone brought in more than 100 guests.
"People come from different places, have different goals and plans, and this is a middle ground where people can hopefully work together," Rosen says. "And if we can't, have lunch."
Interested in renting a desk? Call 312-602-3335, e-mail info@coworkchicago.com or visit coworkchicago.com.