Costumes fit for a maverick
What's the difference between Palin and The Joker? Lipstick.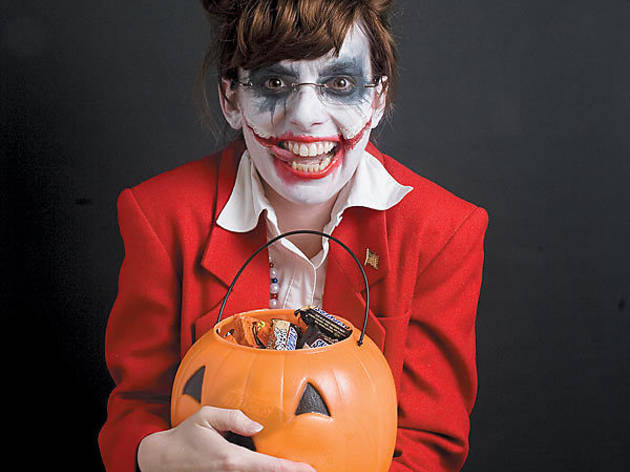 For more pictures from this photo session, read the TOC blog.
This Halloween, it's all about Heath Ledger and Tina Fey. Or, to be more specific, the characters each actor made into the icons of 2008: the Joker and Sarah Palin. We predict you'll see plenty of them tricking and treating between now and November 1. But just because everybody else is doing it doesn't mean you shouldn't. With a little cash and imagination, you can set yourself apart from the other wanna-bes. Just don't skimp: It'll take creativity to outshine rival killer clowns and hockey moms. To help out, we paid a mid-October visit to two popular Halloween-oriented outlets to assess your options. (Here's a big tip: If you haven't shopped already, do it now.)
The Joker Old-school Joker—think Cesar Romero or Jack Nicholson—demands a purple suit. But Ledger's clown is all in the face (and the voice!) and his makeup's so jagged, anyone can do it. For the outfit, thrift a long-sleeve shirt and pants in dark colors; a vest, jacket or tie will seal the deal.
Sarah Palin Like the Joker, Sarah's also all about the face (and the voice!), so you need to nail the hair and get some glasses. Except for the mandatory heels, the outfit's negotiable, but aim for a matching skirt and jacket, preferably in Republican red.
Fantasy Costumes Hdq., 4065 N Milwaukee Ave (773-777-0222)
If you're shaggy enough, green hairspray is just $3; a dirty-green wig runs $50. A pre-assembled makeup kit ($10) comes with white, red and black makeup, plus latex scars to adhere to your cheeks—but the Mehron-brand clown white ($7) is better quality. Next, use Mehron red and black grease-makeup crayons ($2.50 each) to draw on lips and eyes. The friendly makeup guy advises powder ($5) to fix that white base, but we say screw it: Smearing is part of the aesthetic.
Get creative Easier than gluing pre-made scars is painting a few stripes of collodion ($7) on your cheeks. It puckers your skin convincingly—just don't paint it right next to your mouth. Meanwhile, if you're stumped for an outfit, opt for a prison-orange jumpsuit ($40) and be Joker in jail.
Unless you're already a shoulder-length brunette, you need a wig. Fantasy has a large, impressive wig room, which is why we think it's strange it doesn't already have a Palin updo. Instead, it just has a bunch of brown wigs prebagged with a Xeroxed pic of Sarah (wearing her hair down) for $50. If you order early enough, the store's in-house stylist can set it in the classic Sarah signature bridesmaid style for an additional $35. To finish the look, choose from a variety of faux glasses for $8.
Get creative Sarah needs some accessories! How 'bout red, white and blue beads with Republican elephants or American eagles ($5)? Or perch those glasses on a Pinocchio nose ($6) and keep telling everyone how you said "Thanks, but no thanks!" to that Bridge to Nowhere.
You can score some dapper Joker duds here: It's got a wide selection of garish 1970s pants ($16–$24) and orange tux shirts ($18–$36). Makeup-wise, paint your hair with liquid green Ben Nye–brand Magicolor ($6), then smear your freak face with Ben Nye porcelain cream foundation ($8) and black and red crème ($4 each). No textured scars here: Beatnix was all sold out of the wax for creating that chilling rictus grin.
Beatnix, 3400 N Halsted St (773-281-6933)
Get creative With a variety of medic wear to choose from (white vest with a Red Cross emblem or white "gynecologist" and "proctologist" coats, $18 each), you could channel Ledger's hot tranny-nurse mess. Snap on some rubber gloves and you'll be a huge hit.
Beatnix is clearly ready for the Palin invasion: A prêt-à-porter wig sits on display with Sarah's name on it. At $62, it's considerably more expensive than most of Beatnix's other hairpieces, but that's (partly) because it's really two wigs pinned together to create her signature bun with bangs. The faux glasses cost $8.
Get creative Beatnix's jovial wig expert suggests going as Palin in Miss Alaska pageant mode, complete with bathing suit and sash. If that's too revealing, you can still glam up your guv with fancy red and blue lashes ($6), or go full-on patriotic (drag) queen with red, silver and blue foil lashes ($4). If your veep wanna-be needs some boots made for walkin', it's got star-spangled platforms for $42. Take that, Obama!