Heads up! We're working hard to be accurate – but these are unusual times, so please always check before heading out.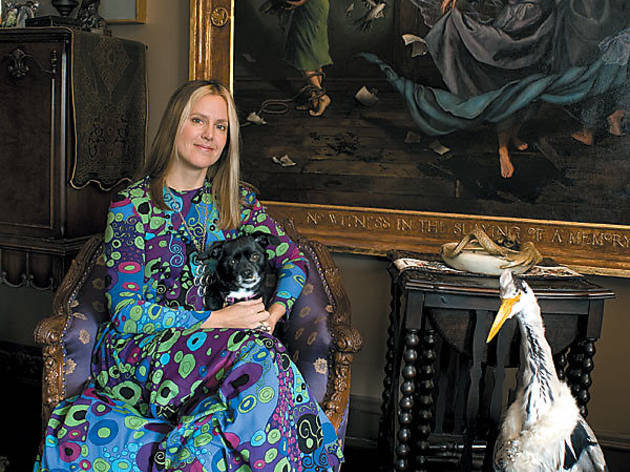 Death becomes her
The surreal world of Gail Potocki's paintings seeps into to her real-life Rogers Park home.
Seated on a floral-fabric–upholstered chair in the middle of her living room, surrounded by taxidermy animals, Gail Potocki looks like she's taken a dip in the fountain of youth. Between her creamy, wrinkle-free skin and silky blond locks, the 47-year-old painter appears a good 15 years younger than she is—a sparkling, vivacious contrast to the stuffed coyote, Chinese pheasant and peacock resting in peace just a few feet away. Here, it's impossible not to focus on the distinctions as well as the gray area, between what's dead and alive.
As early as age five or six, Potocki recalls picking up dead pigeons and live snakes on her grandmother's farm in Michigan. And that fascination with animals never waned: By the time she moved to Chicago in her twenties, she found herself drawn to taxidermy. "I feel like I'm honoring [the animals], like I'm recycling them to a degree," Potocki says. "I find them in dusty antique shops and garage sales and clean up. I appreciate the animals they were."
But it's less the proliferation of dead animals—more than 50—than the whole picture of Potocki's home that's so striking. Tucked in the northwest corner of a 1920s building in West Rogers Park, the apartment seems to spill right off her oil paintings. (Her moody, figurative landscapes and portraits, painted in the vein of 19th-century Belgian symbolists, speak to man's footprint on nature.) The dim lighting emanating from Middle Eastern and Art Nouveau accent lamps and the swaths of rich color saturating the walls lend a kind of mystical vibe. And then there are the animals on the floor, walls and fireplace mantel donning lavish accessories like lace collars, rhinestone brooches and fur wraps.
At one end of the living room, a door opens onto a narrow closet, where seven shelves are filled with hundreds of oversize art books arranged by artistic style and time period. The room is just wide enough to accommodate a stack of seat cushions, where Potocki reclines with her reading material under the light of a single bulb.
Despite her general repugnance toward the term "collector" in relation to her stable of animals, Potocki resigns herself to the word as she pauses in front of a glass case housing Alice in Wonderland paraphernalia—everything from illustrated acid blotter paper from the '60s to Victorian-era hardbound books.
Every aspect of every room is designed for visual stimulation. Instead of using the dining room for its intended purpose, Potocki transformed the space into a Turkish sitting room. It's brilliant to look at—with layers of Oriental rugs covering the hardwood floors, Egyptian lanterns suspended from the ceiling and a peacock feather tapestry on the wall—but not exactly comfortable for hanging out. (Instead, she dines on the kitchen floor.)
Even in the small, sea green and lilac-colored tiled bathroom, a beaded candleholder and Middle Eastern lantern hang from the shower-curtain rod, and a traditional Indian jacket is draped as decor on a hook.
"If I find anything that feels like it has a story or there's a story I can make up about it, then I'll buy it," she says.
1 Using hand-cut stencils based on images from Turkish and Victorian ornament books, her ex-boyfriend painted the walls and ceiling in the sitting room to look like wallpaper and stone.
2 A trio of alligator heads hangs out on an ornate Middle Eastern conversation chair in the bedroom.
3 Shortly after moving in, Potocki single-handedly restored the fireplace to reveal its ornate original carvings.