Decorate with wallpaper
Paint, er, paper your place pretty with creative wallpaper solutions.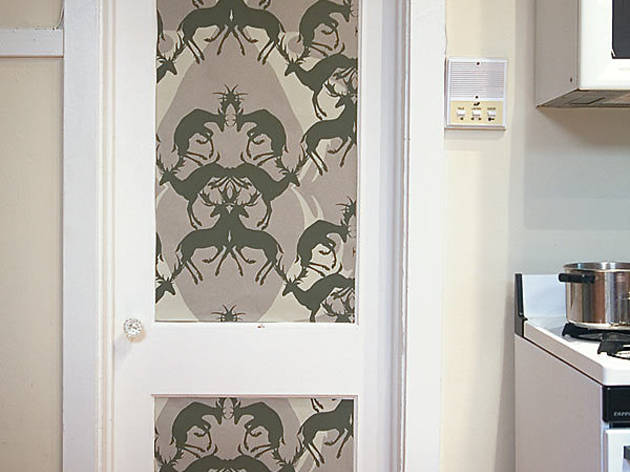 The explosion of stunning, often handmade, wallpapers over the past few years made us want to go wall-to-wall crazy, but—to our landlord's delight—the thought of having to tear it down when we move out scared us away. However, we've seen a few friends' and colleagues' creative takes (visit timeoutchicago.com/home-living for a link to Time Out New York's directions on plastering the front of your fridge) with wall coverings. So we asked two local experts, Rose Tejeda-Navarre and Jennifer Rossignuolo, owners of Ukrainian Village–based interior-design studio Urban Source (1432 W Chicago Ave, 312-455-0505, urbansourcechicago.com), how to incorporate wallpaper into the home with some extra flair. The ladies offer three clever ideas:
1 Come and knock on our door
Choose a door and cover the recessed panel. In addition to looking pretty, it will protect the edges.
2 By the books
Sure, your books look pretty on their own, but you can doll up their home by applying paper on the back of a closed bookshelf or on the wall behind an open case.
3 Bed head
If you don't already have a headboard, create a faux version by applying a section of paper behind the bed. Dress it up with a wood trim.
On a technical note: You'll need to treat the surface where you apply the paper with a primer, then use a paste—clear, heavy-weight clay or prepasted activator, depending on the type of paper—to adhere it. Remove with hot water or an enzyme solution, such as Dif.