Diet delivery and new fitness DVDs
Get fit at home with these new exercise DVDs and low calorie meal delivery services in Chicago.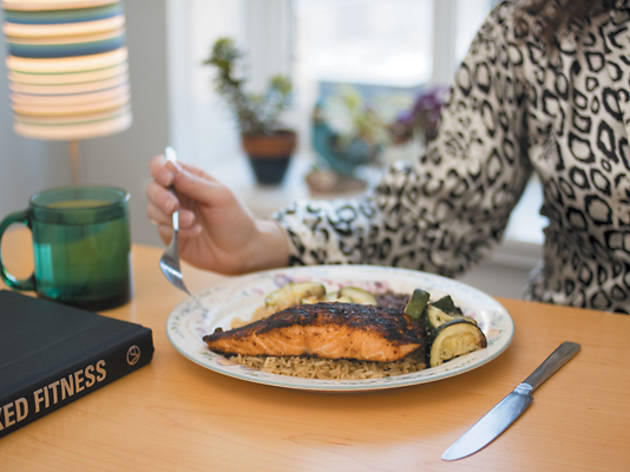 The Fresh Diet Chefs whip up meals that focus on low-glycemic whole grains, veggies, lean meats, fish and healthy fats. Every day you get a delivery: three meals and two snacks. Each meal contains a balance of 40 percent fat, 30 percent carbs, and 30 percent fats and protein. Typical meal Jumbo lump crab meat omelette with portobello mushrooms, spinach and fruit. Sign up at thefreshdiet.com. Prices begin at $350 for seven days of food.
Choice Eating This Chicago-based service lets you choose how extreme you want to go—starting with a stringent, 1,000 calories-a-day plan up to a 2,000-calorie maintain-your-weight program. Customize your meals by opting for low-carb, low-fat, meatless or high-protein dishes. If you think you can handle cooking low-cal meals for yourself over the weekend, you can save some cash and opt for the five-day plan. Typical meal Herbed roasted chicken breast, vegetable soup, crisp zucchini salad. Sign up at choiceeating.com. Prices begin at $100 for five days of food.
Eat Like the Pros This company began delivering meals to some White Sox and Blackhawks players in 2005, but now shares its manna with the masses. You'll begin by filling out a questionnaire that experts in the kitchen will use to suggest a calorie-controlled menu tweaked for optimal protein, fat and carb content. You select the meals (and à la carte add-ons) you want online a couple days before the food goes out, and the all-organic meals are dropped off three times a week. Typical meal Turkey meatloaf, sesame snow peas and scallion mashed potatoes. Sign up at eatlikethepros.com. Prices begin at $100 for three days of food.
Personal Training With Jackie: Xtreme Timesaver Training ($11 on amazon.com)
Bravo TV star Jackie Warner leads you through a 30-minute circuit workout that sculpts while it slims. Her rockin' bod will keep you inspired, which is good, because you'll be seriously huffing and puffing a few minutes into the workout.
Jillian Michaels: 6 Week Six-Pack ($10 on amazon.com)
We've never been disappointed by Michaels' hardcore home workouts, and this newbie is no exception. She takes you through heart-pumping cardio drills and gives you "respite" with ab training. (There's a level one or two workout depending on how aggressive you feel.) This one's legit.
Insanity 60 Day Total Body Conditioning ($144 at amazon.com)
P90X junkies looking for the next big thing will dig this ten-set of DVDs: You work out—hard—for six days and then chillax on the seventh day. Then it's on to the next disc. The routines are composed of floor exercises using your own body weight with lots of plyometric, cardio and core work. (Lots of core work.)
Exhale: Core Fusion Yoga Energy Flow ($17 at collagevideo.com)
If you can't make it up to Exhale's Gold Coast digs, this is the next best thing. The opening three segments use yoga stances to target muscle groups from head to toe. Then it's a Chi Gong/yoga blend followed by a Pilates core/glute series. The grand finale is a soothing stretch section. Ahhh.
BEGINNER TIP
Bring a water bottle and towel into your living room and take rest breaks whenever you need to (pause the DVD or just let it continue to play and jump back into the routine when you're ready). You may be working out at home, but you need to hydrate and catch your breath just like you would at the gym.