DIY Design: Two projects
Make your own art, liven up your pad.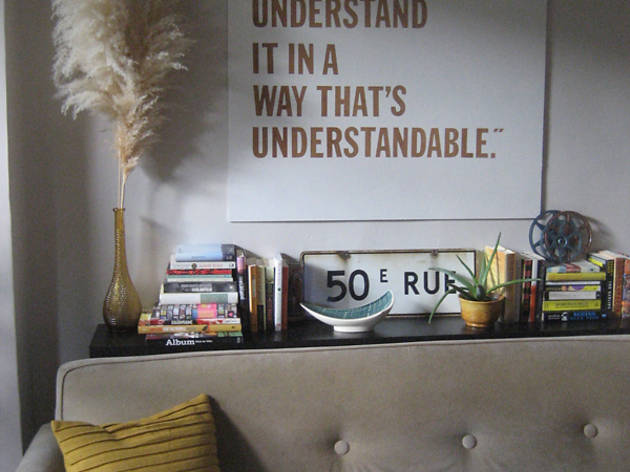 One thing that made some of this week's featured homes so memorable is the way residents showcased their personalities and personal histories with handcrafted design elements. We loved the quick-and-easy word art we saw in Stacey Marquardt of the Metro's Humboldt Park walkup, as well as the tiny, beautiful worlds the Aluminum Group's Frank Navin created in the shadowboxes displayed in his Ukrainian Village apartment. Both aesthetically gifted residents were kind enough to share novice-friendly instructions on how to re-create their personalized design elements at home.
Frank Navin's shadowboxes
Art Institute grad Navin started creating shadowboxes ten years ago, during a major effort to pare down his belongings. He says the boxes, reminiscent of famed shadowbox artist Joseph Cornell's, were a great way to showcase his most beloved collected items that might otherwise clutter up a drawer or shelf. While several of his pieces appear in this week's magazine, he sat down with me and helped me make my own, pictured here. —Martina Sheehan
1. Make a box, or find one at a craft store like Michaels or Jo-Ann Fabrics. Also, pick up mounting hooks that will be able to handle the weight of your box.
2. If you'd like your shadowbox to have a glass cover, pick up a sheet of glass at a hardware store and have them cut it just larger than the box's opening. Buy four small screws and rubber plumbing washers here, too, to secure the glass to the box (the clerk will know what you're talking about).
3. Consider the box size as you gather things you love that you've collected. You might think your ephemera is nothing special, but something as simple as placing it in a frame as part of a composition will elevate your items to art.
4. Decide on a theme and curate what you'd like to include from your collection accordingly.
5. You could now either paint the box or decoupage it like the one pictured using fine paper from a store such as Paper Doll (2048 W Division St, 773-227-6950) or the Paper Source (multiple locations, paper-source.com).
6. Now decide how you want to arrange your items in the box, keeping in mind factors such as composition balance, dimension and which colors will pop in contrast to your background. Try stacking items or hanging things using thread, tacks, nails or glue (a hot glue gun works best).
7. Use tiny nails to attach the mounting hooks to the back of the box.
8. Happy with your composition? If you are, and you decided against a glass cover, stop here—your box is ready to be displayed. If you want glass, continue to step nine.
9. Place a sheet of glass over the box opening—use two pieces if you'd like to add more dimension by placing photos, pictures or stamps (pictured) in between the sheets.
10. To fasten the glass to the box, drill two small holes into the wood just above the glass on top as shown, and two small holes just below the glass on bottom.
11. Put the washers on the screws, and then use a screwdriver to fasten them. Voila! Your shadowbox is now ready to hang, or rest on a shelf.
Stacey Marquardt's quote painting
Moments of verbal absurdity—we all have them. Mine came during a conversation regarding bad art displayed in a particular sandwich shop. It was while pontificating the magnitude of atrociousness that my quote was captured. Although it made perfect sense to me, my boyfriend dropped his jaw in befuddlement and without a word, grabbed his phone and tweeted it to the masses. It happens just that quickly, friends. Since then, this quote has inspired art all its own and is featured on permanent display in our apartment. We like to tell people it's an old Winston Churchill quote.—Stacey Marquardt, floorthirtyfour.com
Create your own:
1. Select a sheet of underlayment plywood to your size specifications. (Home Depot, $6.97)
2. Select stick-on vinyl letters to your size specifications. (Blick Art, $4.89)
3. Thoroughly adhere the letters on the plywood, spelling out your quote.
4. Choose a color and using a small foam roller, paint over the entire board (including the letters) with 2–3 coats. (Home Depot, Behr Paint, $13.98, mini foam roller, $4.27)
5. Once dried, carefully remove the letters (using a tweezers works well). Removing the painted letters will reveal the natural wood grain of the plywood.
Total project cost: $30.11. Having your own silly words immortalized for posterity: priceless.