Drag Race's Courtney Act talks fall fashion trends and reality TV​
As gender-bending performer Courtney Act (a.k.a. Shane Jenek) proves, this season's biggest trends are strong enough for a man and fit for a queen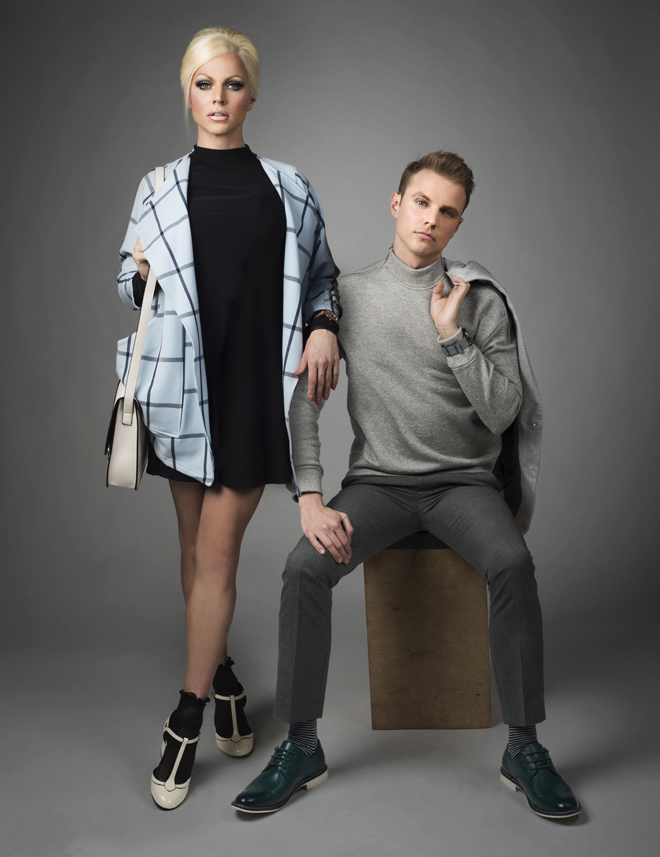 Photographer: Luke Fontana
On Courtney: River Island black turtleneck swing dress, $56; River Island light-blue check oversize waterfall coat, $130; RumbaTime Orchard Mirror watch, $45; Forever 21 Faux leather flap satchel, $25; Topshop Joyful Glitter T-bar Heels, $75.
On Shane: H&M Studio sweater, $40; Topman skinny-fit trousers, $50; Forever 21 Men cotton-blend pique blazer, $45; H&M two-pack socks, $6; RumbaTime Brooklyn watch, $95; Forever 21 Men Turquoise oxford shoes, $35.
RuPaul's Drag Race
contestant Courtney Act
(courtneyact.com)
has been a Hell's Kitchen resident for a few months now (she moved here from L.A.). Fans of the reality-TV show are probably wondering: Is she, you know, a bitch? "People always say I'm actually nice and not a bitch at all," she insists, claiming she wasn't edited favorably on the series. And we didn't detect a catty vibe at all during her shoot, during which she (and her alter ego, Shane) had a ball playing dress-up. "I was giving my Julia-Roberts–meets–Taylor-Swift realness in my
Western
look," she shares. "And I love the mod looks! I don't get too dressy as a boy that often." Act's advice for trying a new trend: "Don't be afraid! I know Coco Chanel said to look in the mirror and take one thing off, but I say, 'Put all the things on!'"
The Drag Race fans are very loyal, right?
Yeah, and it's interesting because before
Drag Race
, I'd say that 99 percent of my audience was gay males. And since
Drag Race
, it's like 30 percent straight girls.
Drag Race
is watched by just as many women as it is by gay men. The meet-and-greets at the end of the show are about 70 percent straight girls, including young ones like the 11- and 14-year-old girls. My show isn't quite appropriate for an 11-year-old girl, because it's all about my journey of living life on the gender divide, sometimes as a girl and sometimes as a boy, and how that manifests with people I have sex with. Those girls went back to school on Monday real educated. They'll get an A in sex ed.
Reality TV isn't new for you, right? You were on Australian Idol?
Yeah, back in 2003, I went to
Australian Idol
the first day as a boy, and I got knocked out. So I went back the next day in drag and made it into the Top 12 and got a record deal and toured around Australia. But that was a good 11 years ago.
What reality show would you want to do next?
Dancing with the Stars
! I'm good friends with Chaz Bono, who was on the show. And I went with him to watch a couple of tapings, and I'm like, "These people aren't stars! I could be a star!"
Has anyone from Drag Race been on the show?
No. I want to be on, obviously in drag, but then the rehearsals would be like two men dancing together. And then a controversial moment would be one week—I could do the tango as a man with a man. That would be really good TV.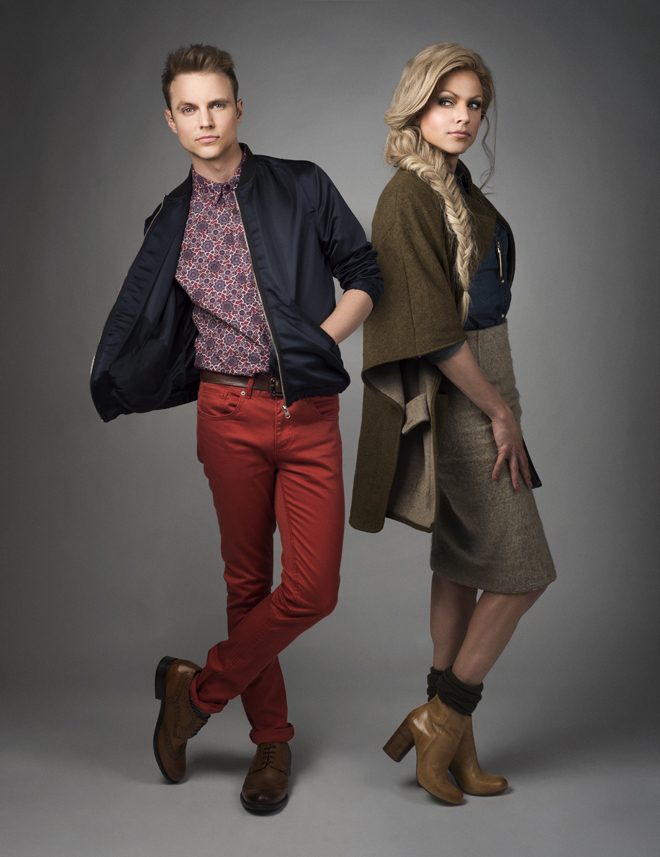 Photographer: Luke Fontana
On Courtney: Uniqlo denim, long-sleeve long shirt, $39; Zara gray tube skirt, $60; Zara dark-green/brown poncho, $169; Stella and Dot Rebel pendant necklace, $79; Hue ribbed over-the-knee socks in army green, $12; Chinese Laundry Battle Field boots, $130.
On Shane: Forever 21 Kaleidoscopic print shirt, $20; Forever 21 long-woven pants in brick, $20; H&M satin pilot jacket, $60; River Island dark-brown lace-up brogues, $70; Belt, model's own.