Educational Tours
Chicago's crop of adult educational tours can help you get ahead.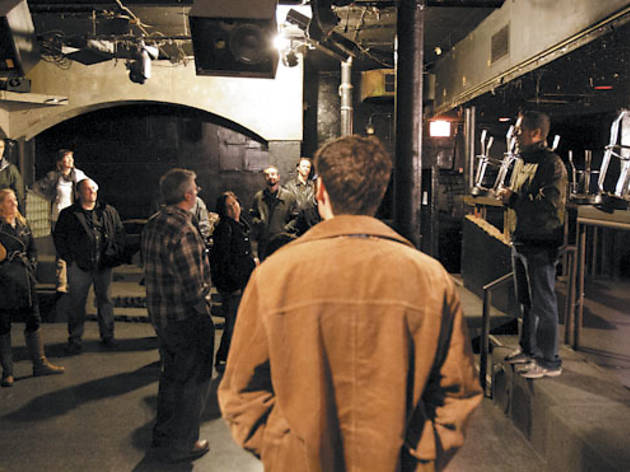 If travel truly broadens the mind, then taking an educational tour in Chicago just might broaden your career options. But not just any tour will do. Niche tours that dive deep into a rich subject matter can help you increase your professional IQ, whether you're a midcareer manager or just need an occupational jump start.
For music-industry types:Chicago Music Tour
You can't excel in today's music scene without knowing a thing or two about Chicago's history as a pioneer of alternative rock. Via tour bus, visit music clubs, record studios and hear guide Phil Rockrohr (yes, that's really his name) tell the twists and turns of the city's legends like the Smashing Pumpkins and Liz Phair. Time and tours vary. $35–$40.
For bankers-to-be:Federal Reserve Bank of Chicago Tour
This 45-minute tour at the bank's Money Museum offers a quickie primer on how the Federal Reserve System functions and what the Chicago branch actually does. Got questions for your tour guide? Let 'em rip post-presentation. 230 S LaSalle St (312-322-5322). Mon–Fri at 1pm. Free.
For inexperienced interior designers:Downtown Deco by Chicago Architecture Foundation
Learn to identify the design motifs associated with Art Deco like flashy materials and geometric ornamentation. While walking through the Loop on the tour, which lasts two hours and 15 minutes, see how the early-20th-century style complements the masterful architecture of some of the city's most elaborate buildings. 224 S Michigan Ave (312-922-3432). Mon at 5:30pm; Tue, Thu, Sat, Sun at 11am. $17.
For aspiring location scouts:Chicago Film Tours
See 30-plus locations used in films shot in Chicago, from The Fugitive to The Dark Knight, on this two-hour tour. Watch how the gritty, the beautiful and the grave were transformed into movie magic on the video screens from inside the luxury bus. Meet at Clark St between Ontario and Ohio Sts (312-593-4455). Thu–Sun at 10:30am, 12:30pm. $30.
For politicians in the making:Disaster! Tour by Chicago Elevated
Comedian Margaret Hicks narrates the 90-minute tour about the city's unfortunate unnatural disasters. Floods, capsized boats, the Chicago Fire—Hicks's tour covers major gaffes. Learn how to avoid past mishaps and how to respond well to future ones. Meet at Wacker and Wabash Aves. Fri, Sun at 1pm. $20.
For future city planners:Historic Hyde Park by Bobby's Bike Hike
Hyde Park is more than the President's former 'hood; it's pretty darn close to an urban utopia. Bike four hours through the area and see an embarrassment of city riches: Jackson Park, the Japanese Gardens, the University of Chicago and Frank Lloyd Wright's Robie House. Learn how such a diverse, beautiful neighborhood came to be. 465 N McClurg Ct (312-915-0995). Fri–Sun at 8:30am. $35 for students, $45.
For uninspired landscape architects:Graceland Cemetery
The cemetery is well known for the luminaries buried there (Marshall Field, Louis Sullivan, Potter Palmer), but it's the gorgeous grounds that are really worth a visit. Take a self-guided tour to explore 100-plus Victorian-era acres designed by landscape architects and see why the cemetery influenced how cemeteries and public parks were built. Walking maps are available in the office. Open daily 8am–4:30pm. Free.
For burgeoning brewmasters:Hops & Barley: Pubs & Micro-breweries by City of Chicago
Beef up your beer-making know-how with this behind-the-scenes tour. Glean the secrets of artisanal beer making from successful brewmasters when you visit several pubs, such as Haymarket, Revolution Brewery and Goose Island, for tastes and a lesson on this four-and-a-half-hour tour. Meet at the Chicago Cultural Center, 77 E Randolph St (312-742-1190). One Saturday at 11am monthly through November. $55.
For novice food bloggers:Chicago Food Tours
If you're going to write about food, you better know your choy sum from your lotus root. These three-hour walking tasting tours visit one of three 'hoods (Near North, Bucktown or Chinatown), where you'll visit specialty food shops and ethnic food stores and get the lowdown on the quirks and history of Chicago's foodie scene. 830 N Michigan Ave (212-209-3370). Tours run daily. $15–$60.