Fashion Focus 2012 runway shows
There's a lot going on during Fashion Focus week, but the highlights are always the runway shows.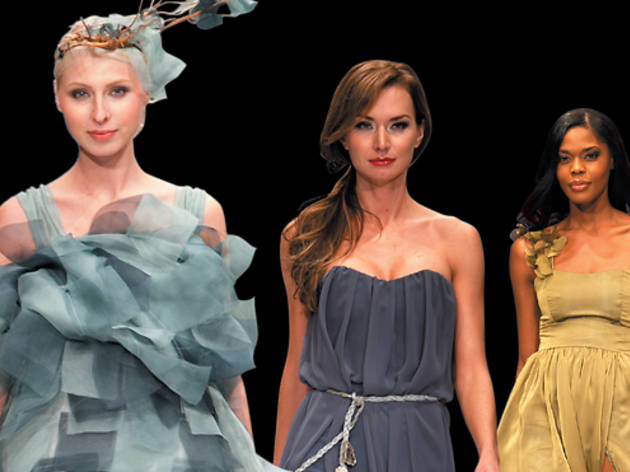 Dress Code
WHEN
Monday 15 at 7pm
WHERE
Sidney Yates Gallery, Chicago Cultural Center (78 E Washington St)
PRICE
Free
WHY YOU SHOULD GO
Love avant-garde fashion? You'll find a lot of it at this presentation by the city's best and brightest fashion students. Participating schools include Columbia College, the Illinois Institute of Art, the School of the Art Institute and more. Student fashion usually means more experimental looks, so expect, well, the unexpected during this show.
Next Fashion Chicago 2012
WHEN
Tuesday 16 at 6:30pm
WHERE
Germania Place (108 W Germania Pl)
PRICE
$20–$85
WHY YOU SHOULD GO
If you like fashion, but really enjoy fashion parties, this show is your best bet. Scenesters Marcus Riley and Candace Jordan host this show, which includes a VIP pre-show reception and after-party. A portion of the proceeds will benefit PAWS Chicago.
The Designers of the Chicago Fashion Incubator Presented by Macy's
WHEN
Wednesday 17 at 7:30pm
WHERE
Millennium Park, Chase Promenade North
PRICE
$35–$95
WHY YOU SHOULD GO
Launched in 2005, the CFI has helped nurture the careers of many Chicago designers and lines such as C/Fan and Miriam Cecilia. Some of the program's alumni will be showing their spring 2013 collections at tonight's show. It's nice to see how far they've come, but it's also cool to see the up-and-comers, and the six designers (such as Sarah Church and Rachel Frank) enrolled in this year's program have a lot of promise.
"Fashion Takes Flight" Presented by Mario Tricoci Hair Salons & Day Spas and vitaminwater
WHEN
October 18 at 7:30pm
WHERE
Millennium Park, Chase Promenade North
PRICE
$35–$95
WHY YOU SHOULD GO
Fans of TV shows like America's Next Top Model, this one's for you. Not only does this runway show feature collections by designers such as AZZA and Imaginary People, but it also doubles as a competition among the models. It's the fifth year for the "Mario, Make Me a Model" program, where five finalists compete on the runway for a chance to win a trip to Mexico and other fab prizes.
The Art of Fashion 2012 Presented by StyleChicago.com
WHEN
October 19 at 7:30pm
WHERE
Millennium Park, Chase PromenadeNorth
PRICE
$35–$95
WHY YOU SHOULD GO
StyleChicago.com has made a name for itself with shopping parties (filling the void left by GenArt's Shop Chicago), and it puts on a sleek runway show as well. Check out the spring 2013 collections by established designers such as Lara Miller, Barbara Bates and others. Plus, you can shop the collections that day at the website's FashionChicago shopping event in Millennium Park.
Fashion Forward!
WHEN
October 20 at 7pm
WHERE
The Fashion Market (216 S Jefferson St)
PRICE
Free
WHY YOU SHOULD GO
While most of the shows this year focus on spring looks, Fashion Forward! is all about clothes you can wear right now. Check out fall and winter merch from six Chicago designers.