Five shops near Chicago El stops
Shops near El stops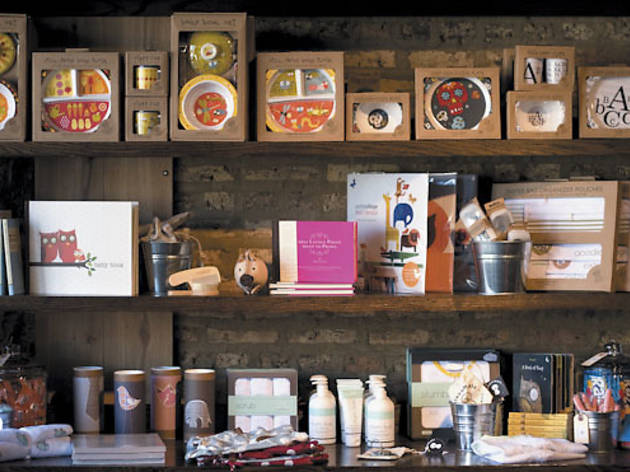 Armitage (Brown): Art Effect You're just as likely to find a great hostess gift (see: Portuguese body wash) or personal-accomplishment reward (hello, Alexis Bittar necklace) as you are to find a wardrobe staple (e.g. your favorite new seamless bra). Items run the gamut from essentials to accessories, and with three separate rooms of merch, you can easily browse for hours. 934 W Armitage Ave (773-929-3600).
Logan Square (Blue): Shop 1021 Owner Ann Kienzle first cornered the kids' market in Logan Square with her sweet shop Play. Last year, she expanded her repertoire, opening up this gift shop for grown-ups that features an eclectic selection of everything from coffee-table books to cocktail accoutrements and greeting cards. For your custom-invitation needs, schedule a consultation with Spilled Ink Press, the husband-and-wife duo who set up a shop in-store a few days a week. 2650 N Milwaukee Ave (773-235-1021).
Belmont (Red/Brown/Purple): Belmont Army Surplus These days the 35-plus-year-old store is more trendy-garb surplus than army surplus. The sprawling two-story shop purveys studded skateboards, party dresses, hoodies and backpacks, plus an extensive shoe selection including our favorite: high-tops. 855 W Belmont Ave (773-549-1038).
Western (Brown): Merz Apothecary More than likely, you never found shopping for toothpaste terribly interesting. That is, until you stepped foot in Lincoln Square's Merz Apothecary. In addition to stocking a wide variety of elegantly packaged, unusually flavored toothpastes, such as licorice and jasmine mint, the shop sells thousands of lesser-known bath, body-care and homeopathic items from Europe and the U.S. In a testament to Merz's long-standing history in Chicago after more than 130 years in business, the mayor even declared a special Merz holiday when the shop opened a downtown location in the Palmer House Hilton Chicago. 4716 N Lincoln Ave (773-989-0900).
Damen (Blue): City Soles As Wicker Park and Bucktown have evolved over the last decade into a shopping destination, City Soles has maintained a strong foothold (forgive us) as one of the neighborhood's best independent shoe shops. Some tried-and-true brands such as Chie Mihara have stuck around, but the selection for men and women changes fairly often. Mark the biannual nickel sale in your calendar for serious deals. 2001 W North Ave (773-489-2001).