Five winter races for brave Chicago runners
Brave the winter weather and sign up for these Chicago winter races.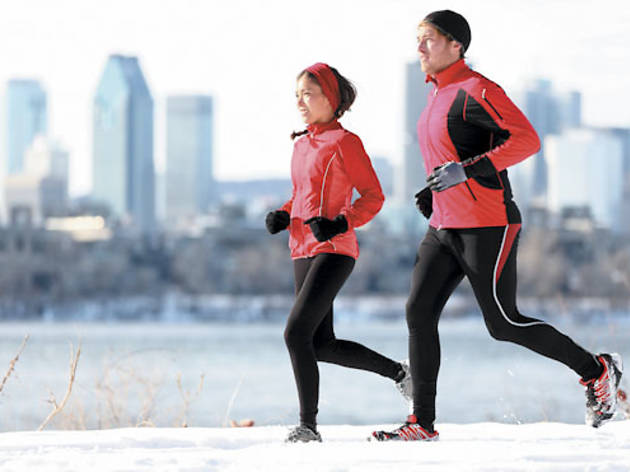 1. Frigid Fanny 5K trail race Running through a forest preserve has to be less windy than running along the lake this time of year, right? Race registration includes a long-sleeve T-shirt, race bib and a free post-race beer. Sundown Meadow Forest Preserve, Countryside. Sun 20 at 11am. $28.
2. Frozen Zucchini 5K Snowshoe Adventure Leave the tennis shoes at home, because this "race" is all about snowshoes (available for rent for $10). Enjoy the winter scenery as you clomp through Citizens Park in Barrington. Proceeds from the event benefit Smart Farms. Citizens Park, 511 Lake Zurich Rd, Barrington. Jan 27 at 10am. $30–$40.
3. Chi-town Big Game 5K/10K Super Bowl Sunday usually includes a day full of overeating (snack stadium, anyone?) and lots of beer. Be proactive about those extra calories and participate in this race (either the 5K or 10K) at Soldier Field in the morning. Registered runners receive a fleece hat and technical T-shirt. Soldier Field, 1410 Museum Campus Dr. Feb 3 at 9am. $45–$60.
4. Cupid's Undie Run Just like last month's Santa Speedo run, this race requires you to run a mile in your skivvies while raising money for charity (the Children's Tumor Foundation). Raise $25—in addition to the registration fee—for the Wrigleyville jaunt, and you'll get a gratis pair of custom undies. Other fund-raising prizes include access to the VIP open bar and an iPod. Houndstooth Saloon, 3369 N Clark St. Feb 9 at noon. $30.
5 North Shore Cupid's Love Dash Most races feature water stops; this one offers candy stations. And because the 5K and 10K features a Valentine's Day theme, runners can opt to announce whether they're single (and looking for love) on their running bib. The race benefits a handful of charities, including WINGS, an org that helps abused homeless women and children. 445 Central Ave, Highland Park. Feb 10 at 8:15am. $35–$50.