Fleur | Counter culture
We chat with the kind folks at Logan Square's Fleur just before Valentine's Day madness.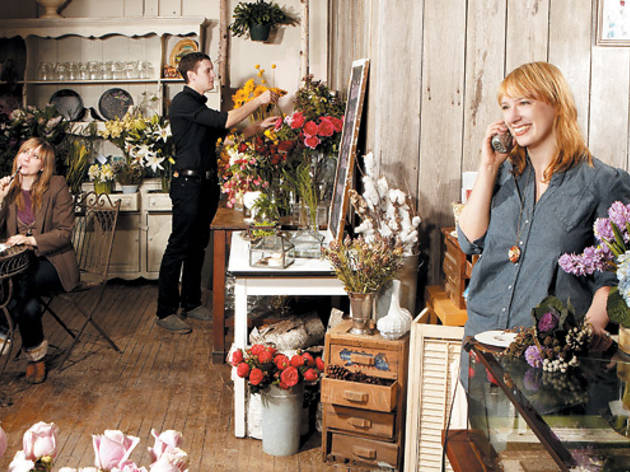 Kelly Marie Uus, shop owner
(pictured right)
On out-of-the-ordinary requests...
"Every now and then we have that one person who wants black roses. We joke and call that 'the bouquet for your inner vampire.' It's a rose called Black Baccara [which Fleur carries], and it's like a deep burgundy. We'll throw in white ostrich feathers."
For the fellas...
"We just started carrying adorable cross-stitches that are handmade in Logan Square. Some have a specific Valentine's Day theme, like the word kiss or [the phrase] 'I left my heart in Chicago.'"
Caleb Yono, store employee
On out-of-the-ordinary requests...
"This lady asked me to make a bouquet for a guy [whose house] she'd left her panty hose at. She brought a new pair of panty hose and asked me to tie the bouquet with them."
For the fellas...
"Woodsy things like branches and hearty things like thistle or some viney things like berries. Also tropicals like orchids."
Caitlin Kerr, store employee
On personal favorites...
"I'm into more monotone [arrangements]. You don't want the eye to go crazy when you're looking at something. I [like] when they're wildflowery, like when it's bunched together and a Ranuncula is sticking up. More organic asymmetrical. Sometimes I like smaller vases with larger arrangements. It can look like it's floating."
Fleur is located at 3149 W Logan Blvd (773-395-2770).