Foot massages
Pamper your poor feet with these three massage options.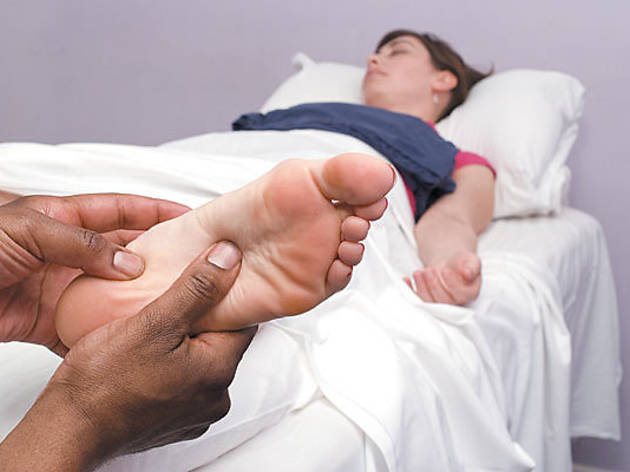 By

Jessica Herman. Photograph by Nicole Radja.
|
The one thing pedicures and full-body massages tend to have in common is they both leave you wanting a longer, deeper foot massage. Sure, the knots in your back need tending to, but whether it's long waits at the El platform or your daily five-mile run, your feet probably require more attention than they're getting. Fortunately, a handful of spas have come to the rescue. After exfoliating your skin with sea-salt scrub, oil and hot towels, therapists at Lincoln Park Massage combine Swedish massage, ashiatsu techniques and reflexology (not to mention occasional aromatherapy) to relax your legs from the knees down for 30 minutes ($45), 60 minutes ($85) or as a 15-minute add-on to a full body treatment ($20). If you're looking to save a few bucks, opt for the through-March special of 80 cents-per-minute foot massages for a minimum of 25 minutes at Chicago Touch. Add essential oils to the treatment for $1–$5 extra. Otherwise, Lakeview's Aroma Spa offers a few friendly perks with its 30- or 60-minute foot massage ($40–$65): In addition to the trigger-point-centric tootsie rubdown, the spa treats clients to complimentary hot stones, hot packs and free time in the steam room.
Lincoln Park Massage 630 W Webster Ave (773-296-6300)
Chicago Touch 1121 N Ashland Ave (773-342-3650)
Aroma Spa 3807 N Ashland Ave (773-883-9803)