G Boutique shop talk
The ladies behind g boutique talk favorite sex toys, hands-on instruction and something special called the Magic Banana that's flying off their shelves.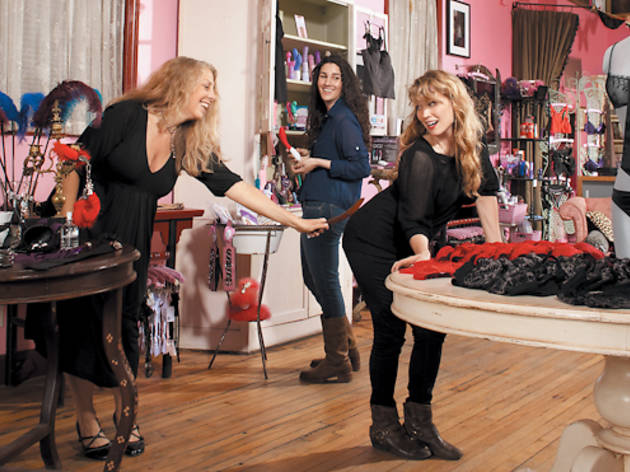 Cheryl Sloane, owner
(pictured, left)
On the Fifty Shades of Grey effect
"We've experienced a huge increase in sales of bondage gear because of Fifty Shades of Grey. We're selling a lot more handcuffs and a lot more Kegel exercise balls…. I guess they call it the soccer-mom demo, but I'm not exactly sure what a soccer mom is. They come in with a lot of things in the book and ask, 'How I can add this to my personal sex life without scaring somebody or going overboard?' "
On giving advice
"Use good lube. That's the basis of everything we do here. Use good lube, make sure to talk about things, and be creative and communicative. We like silicone-based lubes, [with] no glycerin or sugar. There's a great one made in Chicago called überlube."
Amy Elgart, store manager
(pictured, middle)
On her favorite toys
"The Magic Banana [a Kegel exerciser and sex toy designed by a yoga instructor] and LELO [a high-end, customizable vibrator] are probably my favorites. The Magic Banana is flying out of here. It's a self-exploration type of toy that helps you learn about your body."
Dana Grossman, instructor
(pictured, right)
On the evolution of teaching oral-sex and couples classes
"Five or six years ago, I started teaching oral-sex classes. People's perspectives have shifted along with ours. In the beginning it was shocking to present a class like that, to have a bunch of people in a room with dildos. It has to be something people want to add to their arsenal. [The baby boomer generation] didn't have the same freedom of information or access to information that younger people have had, so I get a lot of people who are older and ready to explore as well as young people who are curious and exploring." (Next up in the curriculum: anal sex.)
On being qualified to teach sex classes
"I like to teach from a creative perspective. Instead of narrowing down and thinking about information I specifically have, my perspective is to open people up. Sex is a creative endeavor, and I teach it like a painting class. You get a lot of information and a lot of techniques, but everyone's perspective and paint stroke is different."
g boutique is located at 2131 N Damen Ave (773-235-1234).