10 things you need for your same-sex wedding
Congrats, you're engaged! We've found 10 special items made especially for a same-sex wedding, including same-sex cake toppers and gay-friendly wedding rings.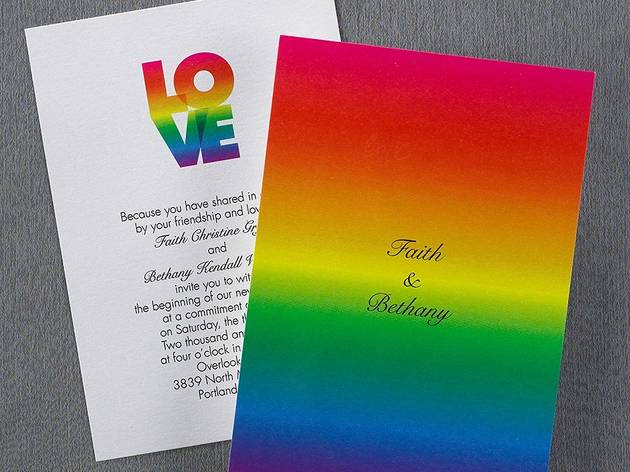 1/10
Photograph: Courtesy of Papyrus
Love's Rainbow invites, $184.50 for 50, at Papyrus Why we love: Papyrus just introduced an entire new collection for same-sex couples—and all the products are sophisticated and chic.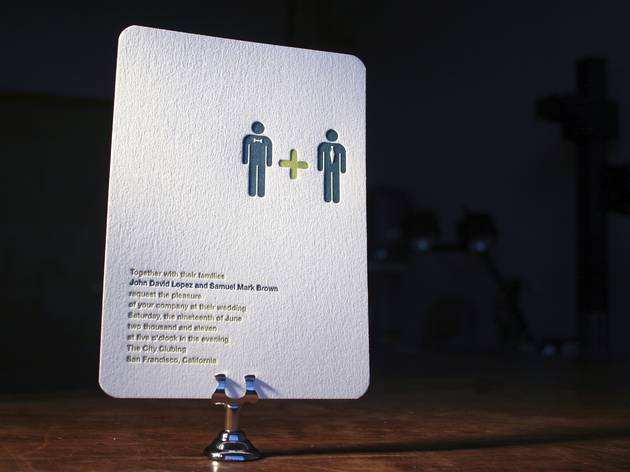 2/10
Photograph: Courtesy of Pulp & Ink
Custom invites (set as shown), $800 for 100, at Pulp & Ink   Why we love: At Pulp & Ink, invites can be customized with any color, design or message you desire. The store has extensive experience with GLBT weddings, and is actively involved with the Center on Halsted and Chicago House.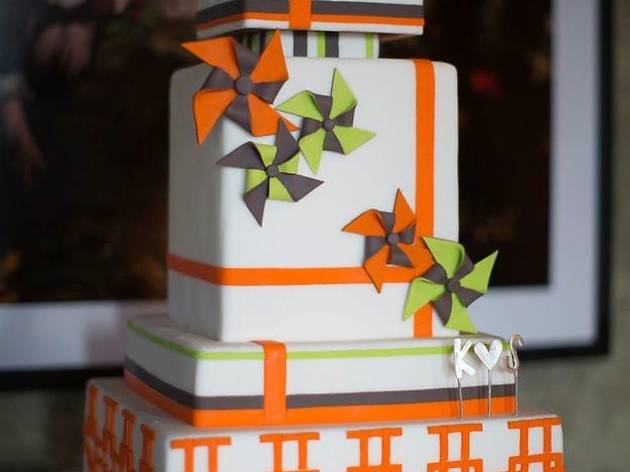 3/10
Photograph: Courtesy of Vanille Patisserie
Custom wedding cake, prices start at $6 per serving, at Vanille Patisserie Why we love: Each cake includes innovative and classic flavor pairings and sophisticated artistry, and is designed to stay true to your wedding vision. Euro chic!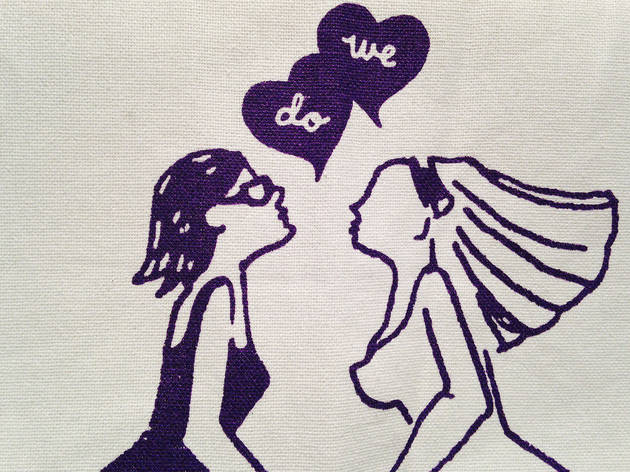 4/10
Photograph: Courtesy of Foursideed
Fishs Eddy "We do" women's tea towel (and the corresponding "We do" men's tea towel), $15.25 each, at Foursided Why we love: These are unique and cute—just like your honey.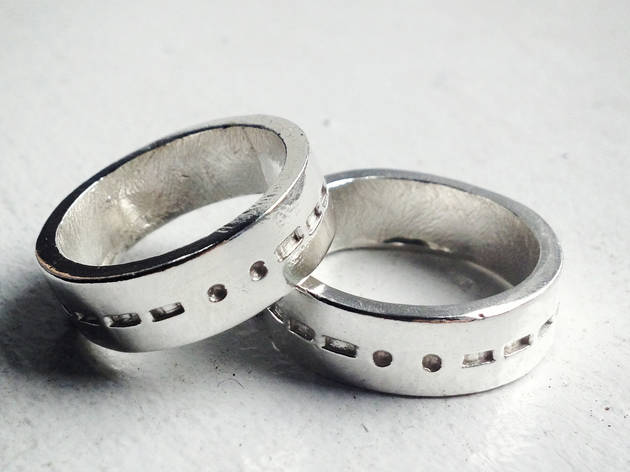 5/10
Photograph: Courtesy of Jules Jewelry
Morse Code rings, $145 and higher, at Jules Jewelry Why we love: This Chicago designer can engrave your wedding date, spouse's name or even a special secret message between the couple—all in morse code.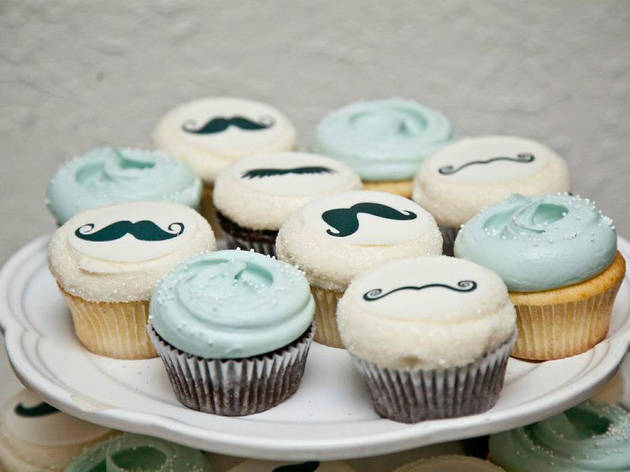 6/10
Photograph: Courtesy of Magnolia Bakery
Custom edible image cupcakes, $5.25 each (additional $1 each if individually boxed), at Magnolia Bakery Why we love: Magnolia Bakery now offers personalized, individually boxed cupcakes, which can be customized with a logo, image or text (on either the cupcake, tag or both).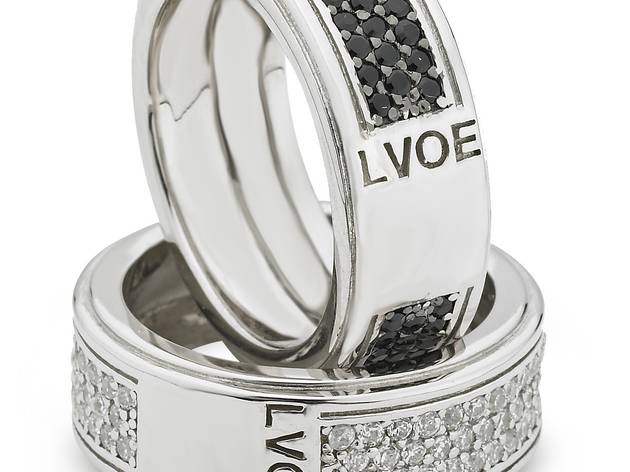 7/10
Photograph: Courtesy of Rony Tennenbaum
Rony Tennenbaum 14K white gold LVOE Pave Band, $2,250, at Sparkles Fine Jewelry Why we love: The idea is that "love" doesn't need to look the expected way.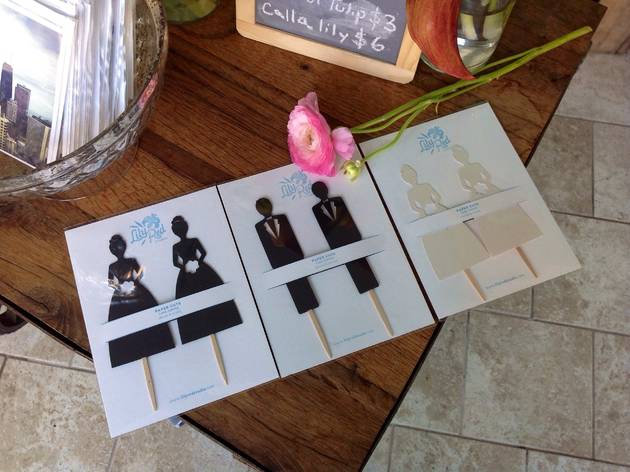 8/10
Photograph: Courtesy of Forget Me Knodt
Lily Red Studio cake toppers, $15 per set, available at Forget Me Knodt Why we love: These are cute, classy and affordable. It's the perfect wedding trifecta.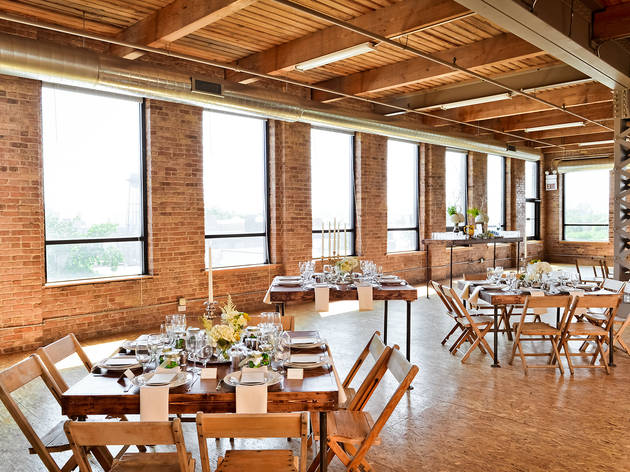 9/10
Photograph: Courtesy of City View Loft
City View Loft, rates for 2014 start at $4,000 for peak Saturday dates Why we love: City View Loft is a new venue space with the convenience of a one-stop shop. A gay-owned venue, it offers incomparable view of the city. The timber loft space is filled with natural light that adds a romantic glow to afternoon and evening ceremonies. Once the sun goes down, the city lights are the perfect backdrop for dinner and dancing.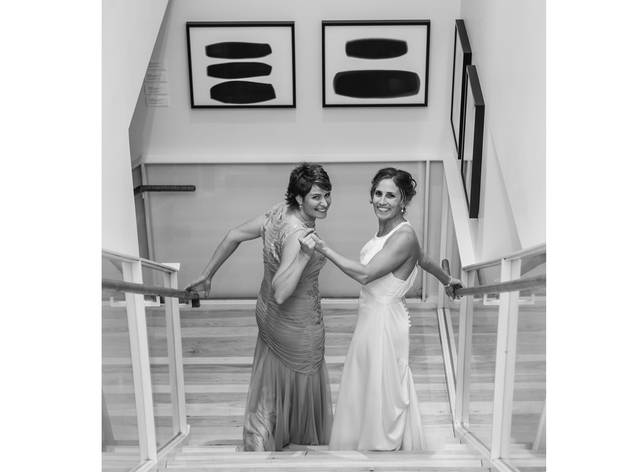 10/10
Photograph: Courtesy of The James
The James Hotel, price upon request Why we love: If you want an urban feel for your wedding, this is the place to have your reception. It has hosted tons of same-sex weddings, and the guest rooms are awesome if you're having a lot of out-of-town guests.
While no one in Chicago ever needs an excuse to party, we are pretty sure that the GLBT community—which has celebrated in style at the Pride Parade for years—will throw some kick-ass weddings now that marriage equality has passed in Illinois. Here's a list of our favorite goodies and venues to make sure your bash is a success.