Gut rehab
These abs classes will get you so ripped, you'll want to bring back the half-shirt.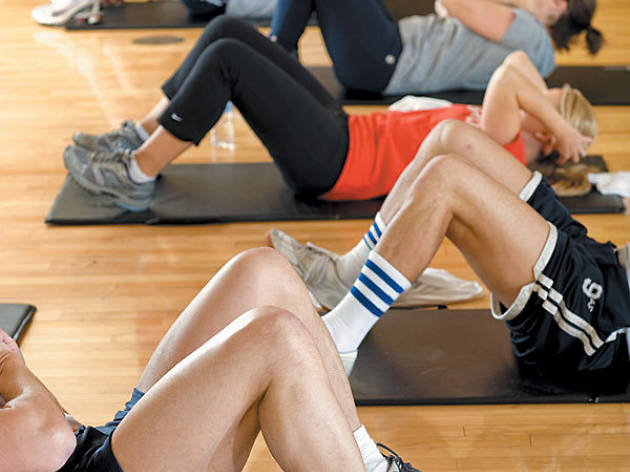 BEST
FITCore, Fitness Formula Clubs (FFC) Halsted
If I lived in Boystown near Fitness Formula Club (FFC), I'd have abs you could crack a nut with. FITCore has what it takes to make me a regular: efficiency, a kick-ass instructor and a really nice facility.
There's nary a minute wasted in this 30-minute gut buster. After a welcome from instructor Dave (he also teaches yoga, which shows in his Zenlike demeanor), we begin our first series of exercises: traditional and oblique (side) crunches with our backs and feet on the floor, then with our legs raised at a 90-degree angle. Our first cycle completed, we take 15 seconds to recover, then repeat the sequence with a new exercise added to the end. When class finishes, we've done around six cycles, adding leg raises, isometric holds and other mat-based exercises. In short, every muscle in my abdominal wall has been worked to fatigue.
Dave scores major points for his chill, fun personality (I don't need a drill sergeant treating me like Private Muffin Top). He's motivating, but doesn't make you feel like a degenerate if you need a break. The one downside is the soundtrack—thumping club music befitting Excalibur. But Dave brings other tunes in, often with themes (Election Day week featured protest music).
FFC Halsted's subterranean exercise room is sparking clean, there's no unsavory stank and, in a genius move, Dave dims the lights (unless you're Mario Lopez, who likes doing crunches under harsh fluorescent lighting?). Mondays, Wednesdays, 5:30–6pm.
Hard Core Abs, Cheetah Gym Bucktown
Our instructor, Tami, starts us standing with a three-minute warm up, then we launch into trunk twists and side bends with a lightweight bar across our shoulders. Taking it to the mat, Tami hits fast-forward. Every song (mostly hip-hop and R&B) has an accelerated tempo and we crunch to the beat, incorporating legwork to target our lower abs. I like a challenge, but the pace is so manic it's hard to concentrate on form (important for injury prevention). Still, it's a killer workout. Cheetah's facility is mazelike but nice, with bonus points for powerful ceiling fans and chilled towels. Mondays, 5–5:30pm.
Six-Pack Attack, XSport Fitness State Street
A personal trainer once told me that if you're doing crunches correctly, you don't need to do that many, so I'm excited to test this 15-minute class. Our teacher, Kara, starts us sitting on the BOSU (an inflatable dome with a flat, plastic bottom), crunching at a 45-degree angle to varying tempos. I know a class is killing me when I silently blaspheme my instructor with inappropriate names. Five minutes in, I'm thinking "you bitch"—the workout is that challenging. (For the record, she's not.) Next, we're on the mat crunching with our feet propped up on the BOSU, then moving on to bicycle kicks. There's no music, but our all-girl crowd doesn't seem to notice. XSport is spacious and clean, the equipment's in great condition and I wake up sore the next day. If you're in a time crunch (groan), this miniclass delivers. Thursdays, 7:15–7:30pm.
Ab Attack, Crunch Fitness Grand/Wabash
Our teacher, Lisa, is all business: "This class is 30 minutes of straight abs. So it's up to you to take a break if you need it." Britney Spears's "Womanizer" kicks off our first set—traditional crunches done at tempo, then pulsing double time. Occasionally we move too fast to concentrate on form, but for the most part, exercises are properly tough: crunches with our legs up, bicycle kicks and an oblique-burning exercise where we balance sideways on the BOSU doing leg raises. Crunch's group-exercise room is packed with fit twenty- and thirtysomething chicks, so she's doing something right. Check crunch.com for Lisa's winter class schedule.
Hard CORE, Lincoln Park Athletic Club
LPAC's exercise room is arguably the nicest: At street level, it's filled with natural light (though with that comes the occasional pedestrian gawker). I'm excited to see a new prop for my final class: a weighted medicine ball. Unfortunately, the 30-minute class lacks energy. Our teacher, Cecilia, is nice, but her personality isn't supermotivating. And the thirtysomething participants might dig the soccer-mom pop tunes (are Eric & Kathy from "The Mix" spinning?), but I'm not feeling it. Most exercises are variations on the standard crunch (my sides feel neglected and I'm getting bored). Cecilia eventually adds a perfunctory oblique move or two. But at the end, I feel underworked. Thursdays, 7–7:30am, Saturdays, 9:30–10am.