Holiday-themed spa treatments in Chicago
Celebrate the arrival of the holidays with these spa treatments at Chicago spas.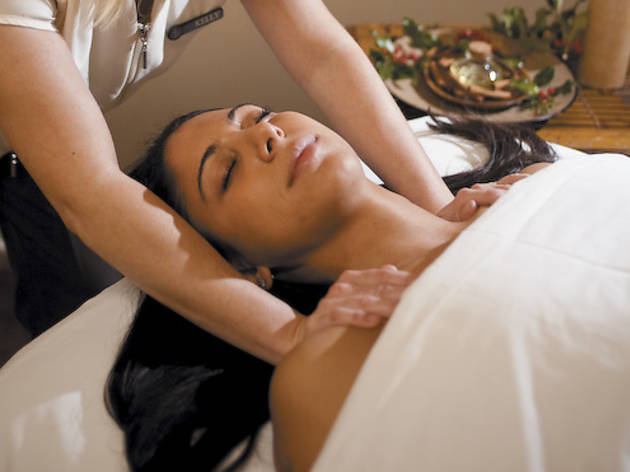 The Spa at Four Seasons Hotel's Holiday Aroma Blend Massage is pretty much the essence of the holidays—festive scents, warm-fuzzy feelings, stress-free relaxation—minus the seasonal chaos. Lying facedown on the massage table, you deeply inhale a powerful cinnamon scent (hello, Christmas!). Then the therapist uses cinnamon massage oil, which increases blood flow and amps up your energy level, to knead your muscles from head to toe in long, gentle strokes, applying acupressure in areas where you hold tension (upper back, shoulders and neck if you're anything like us). Before and after, enjoy the steam room and sauna to take your spa buzz up a notch. Consider it the ultimate just-for-you luxury after battling Michigan Ave tourists and shoppers as you scramble for presents. 120 E Delaware Pl (312-280-8800, fourseasons.com/chicagofs). $145 for 55 minutes.
Three more holiday treatments to try...
• Ginger and Spice Foot Rescue at Elysian Spa (11 E Walton St, 312-646-1300, elysianhotels.com) What's better than snacking on a gingerbread man? This foot service, which features a warm hot pear cider, ginger sweet treat and ginger and spice foot rescue treatment. $180 for 75 minutes.
• Peppermint Dream facial at the Dana Spa (660 N State St, 888-301-3262, danahotelandspa.com) Feel refreshed with a peppermint cooling mask that leaves your skin glowing and hydrated. The treatment also features organic cherry, which is rich in antioxidants. And you'll also receive a complimentary take-home mask. $135 for 50 minutes; $175 for 80 minutes.
• Shopper's delight massage at Bliss (644 N Lake Shore Dr, 877-862-5477, blissworld.com) Need a quick break from the hustle and bustle of Mag Mile shopping? Duck into this spa for a soothing leg and head massage. The service also features a refreshing cucumber mask. $70 for 30 minutes.