House call | A couple's apartment
A newly cohabiting couple marry their quirky, sometimes morbid collections in one home sweet home.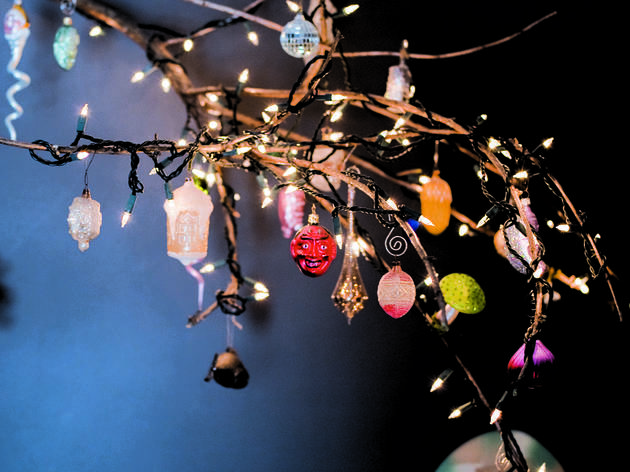 1/10
Photograph: Andrew Nawrocki
For their first Christmas together, the couple collected ornaments from Christkindlemart and hung them from this branch next to a cuckoo clock.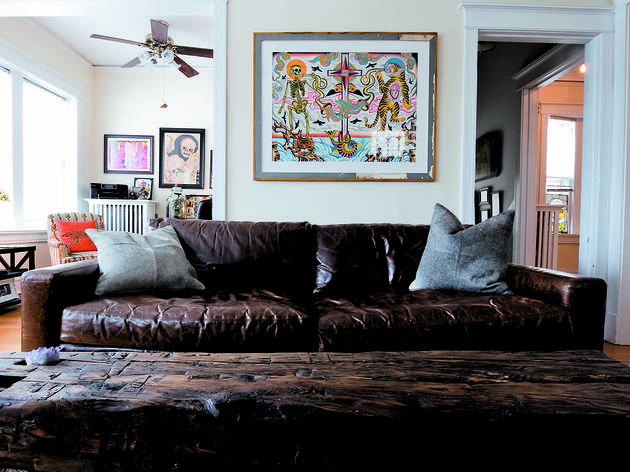 2/10
Photograph: Andrew Nawrocki
These two beams of cabin wood were salvaged from Howard's mom's property in Michigan. He cleaned them up, placed them on wheels and created a big rustic coffee table.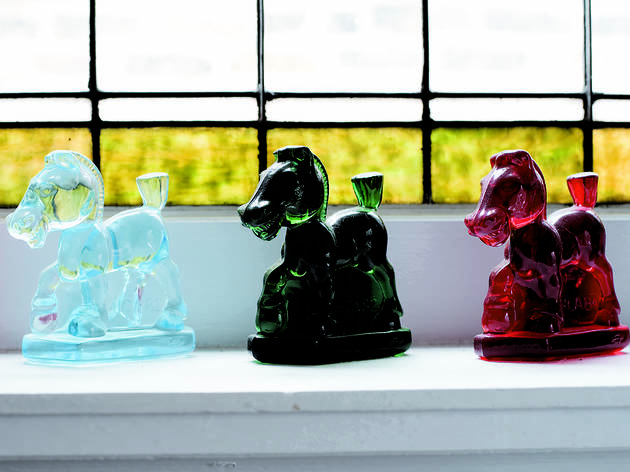 3/10
Photograph: Andrew Nawrocki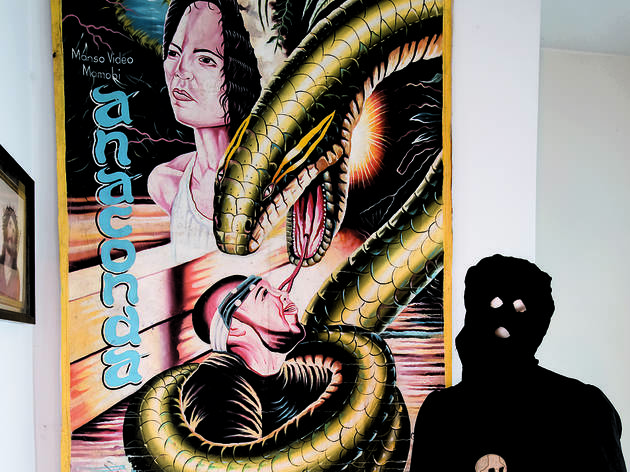 4/10
Photograph: Andrew Nawrocki
This authentic executioner's costume on a mannequin at the entrance to their apartment cost $500 on eBay. The old movie poster from Ghana for Anaconda, handpainted on a rice grain bag, was another eBay purchase, for Gallagher's birthday.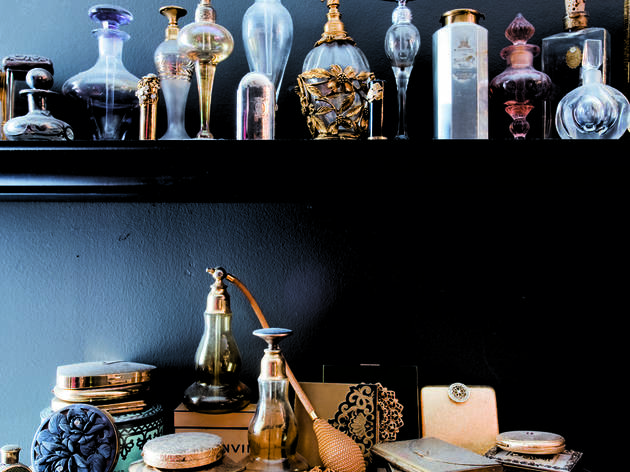 5/10
Photograph: Andrew Nawrocki
Gallagher received this collection of antique perfume bottles from Howard's mom.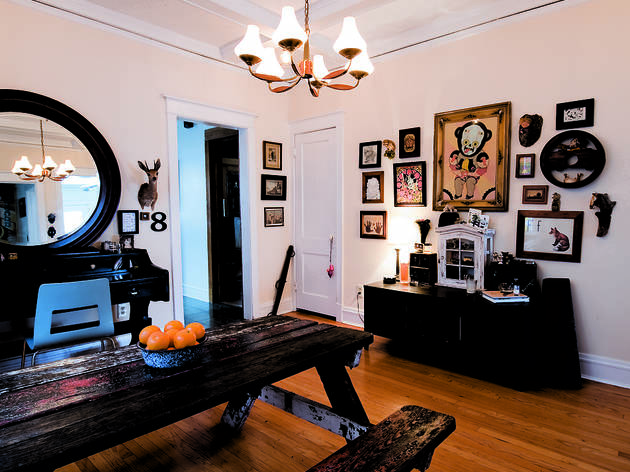 6/10
Photograph: Andrew Nawrocki
Howard picked up this weathered picnic bench in Milwaukee and slapped it on top of his Buick to haul it home.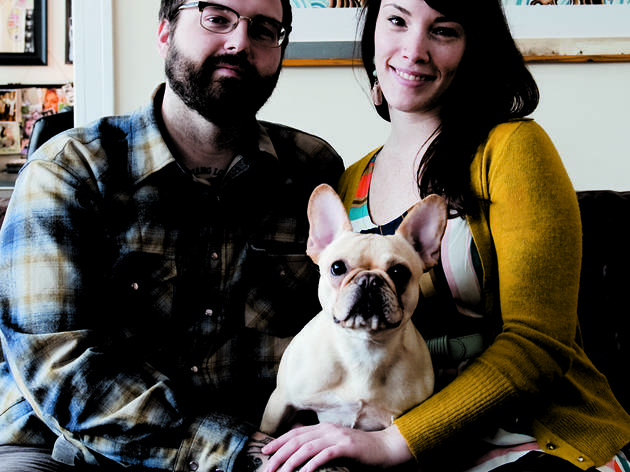 7/10
Photograph: Andrew Nawrocki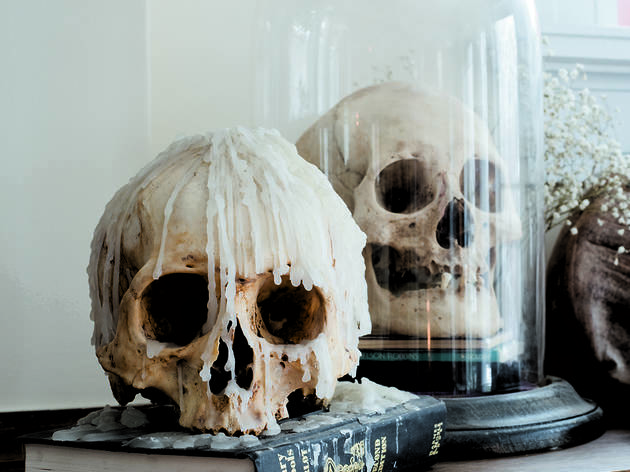 8/10
Photograph: Andrew Nawrocki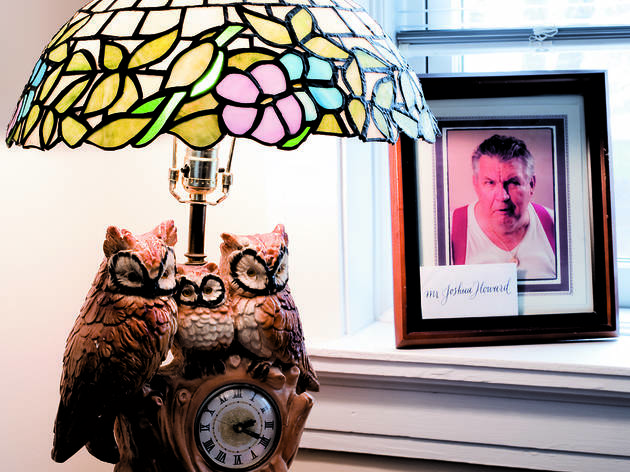 9/10
Photograph: Andrew Nawrocki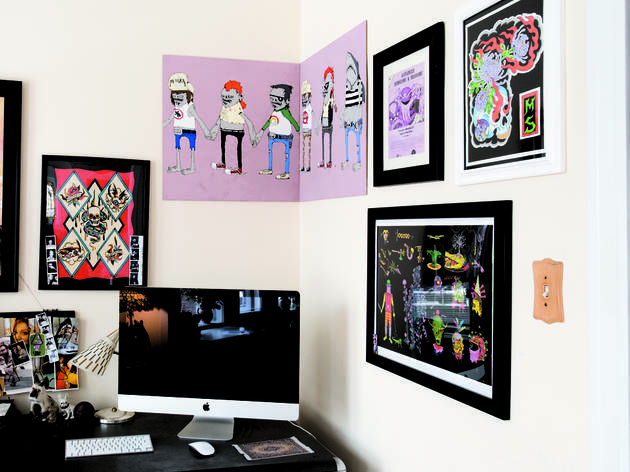 10/10
Photograph: Andrew Nawrocki
Some people spend hours poring over a West Elm catalog in search of the perfect home decor items. Others, like Josh Howard, comb through eBay and oddities shops looking for human skulls and executioners costumes.
RECOMMENDED: Chicago apartments guide
"I got these off eBay a few years ago when it was easier to get stuff like that," Howard says, referencing the two skulls on the fireplace mantle in his living room. "They came in a box without a return address, and when I pulled them out, all this sand came pouring out. They were probably from a grave."
One skull is in a glass cloche, and the other is dripping with candle wax, indicating that it's doubled as a candleholder at least a few times. "It's a good prop when he has his dude friends over," Howard's girlfriend and roommate, Katie Gallagher, chimes in.
That's not to say skulls are the central design elements of Howard and Gallagher's home in Ravenswood Manor, but in a way, how can two human skulls displayed in one's apartment not be? Not to mention, between the real-life fossils and illustrated skeletons in art around the apartment, skulls appear to have become a household theme. Howard explains that it's handy to have them around as a reference for his work as a tattoo artist.
Howard and Gallagher moved in together seven months ago, just two months after they started dating. "Our stuff matched perfectly," Gallagher says. She liked his art collection, which he acquired largely through trades with artist friends, and the steady stream of sometimes valuable, often peculiar vintage hand-me-downs from Howard's mom. He likes her consummate hostess tendencies, which means there's ample seating in every room, warm lighting and pieces like fancy monogrammed highball glasses with a crystal decanter in the dining room. In school for small business development at DePaul University, Gallagher aspires to eventually open a bed
and breakfast.
Individually, they've done a lot of acquiring followed by necessary scaling back with their possessions over the years, and now that they're cohabiting and settling down, they approach furniture shopping—as well as foraging—with a critical eye toward investment pieces. They're buying the big pieces together, like the leather couch from Restoration Hardware that they chose two weeks after they met, and the '50s metal desk from Carlos and Sarah's Surplus of Options (3664 N Lincoln Ave, 773-827-1330).
"We always joke that neither of us remembers our first kiss because it happened seemingly without either of us knowing," Gallagher says. "That is sort of how moving in together happened, too. All of a sudden we were looking at apartments… Now we're able to take our time with the rest of our future."