Heads up! We're working hard to be accurate – but these are unusual times, so please always check before heading out.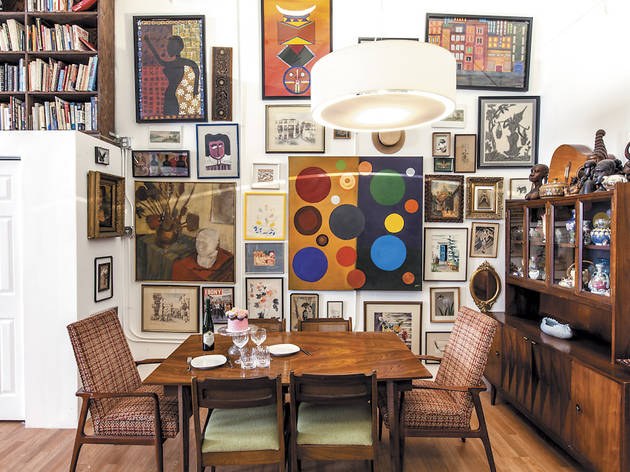 1/9
Photograph: Erica Gannett
Lynne and Ty of Orange Moon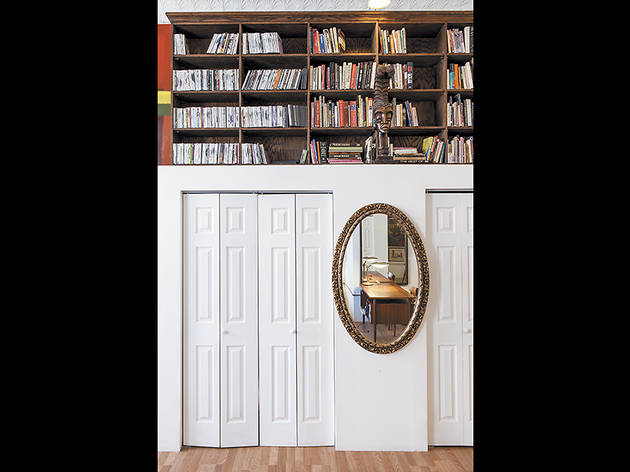 2/9
Photograph: Erica Gannett
She added these wood bookshelves filled with her substantial literature collection above the closets. Up next: a sliding ladder so she can access the books.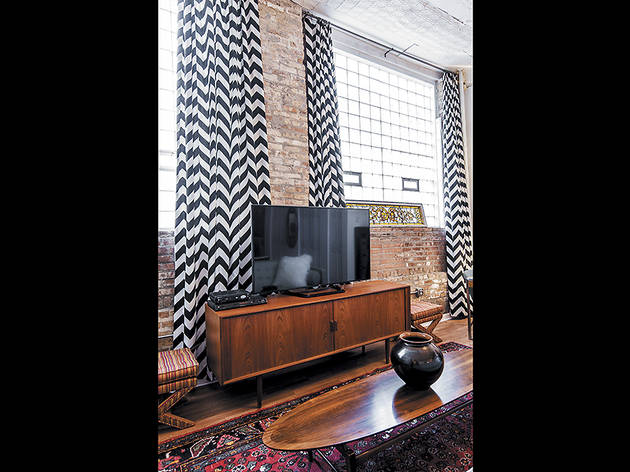 3/9
Photograph: Erica Gannett
You'd never guess, but the drawers in the Danish credenza store, among other things, 3-D glasses for the McDaniels' smart TV.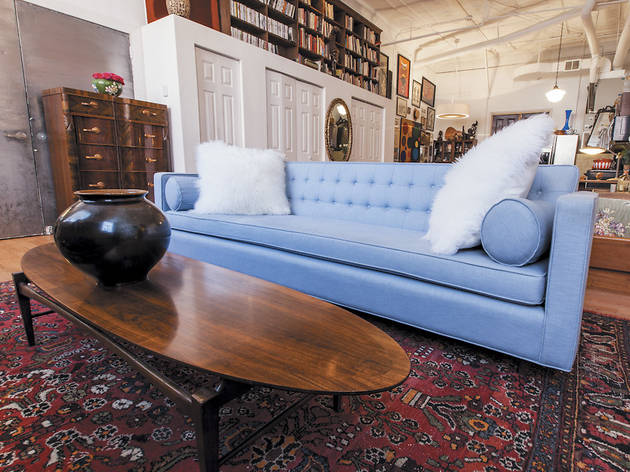 4/9
Photograph: Erica Gannett
The tuxedo-style midcentury-style couch called the Nicole sofa is a signature Orange Moon piece. The couple have them custom-designed for customers.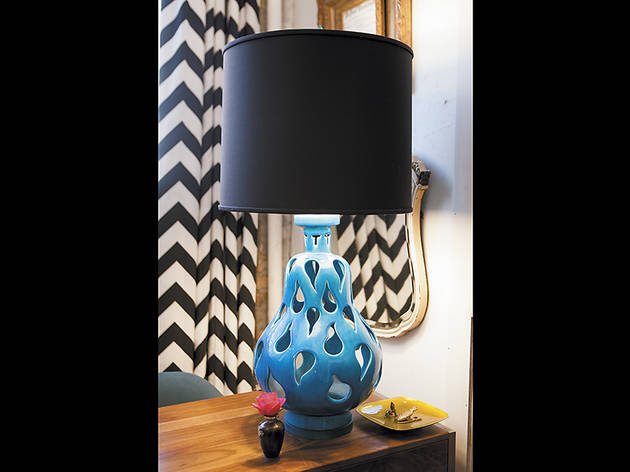 5/9
Photograph: Erica Gannett
One of McDaniel's favorite acquisitions is a pair of blue Italian cutout lamps with black shades. The lamps flank the room.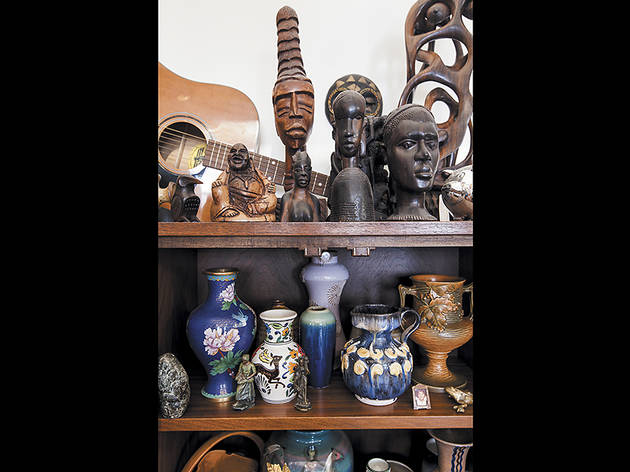 6/9
Photograph: Erica Gannett
A fan of furniture more than "smalls" (her term for knickknacks), McDaniel keeps her collection of ceramics and African statues quarantined to this cabinet.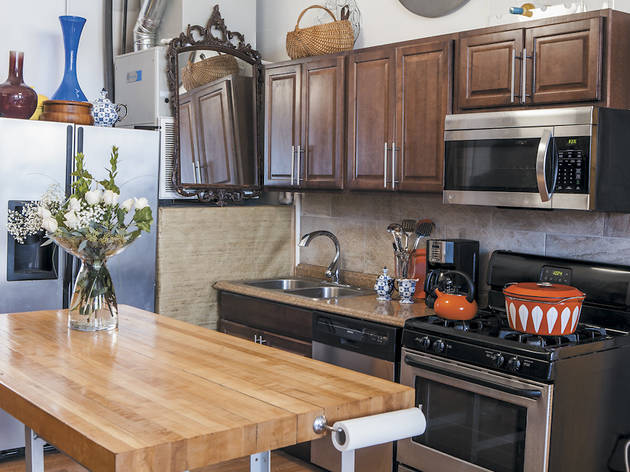 7/9
Photograph: Erica Gannett
Lynne and Ty of Orange Moon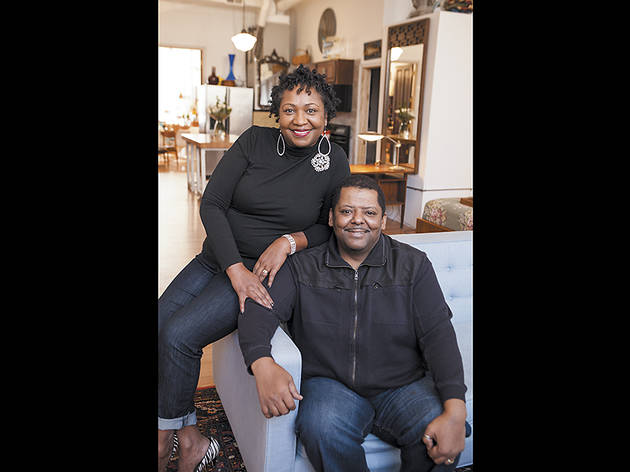 8/9
Photograph: Erica Gannett
Lynne and Ty of Orange Moon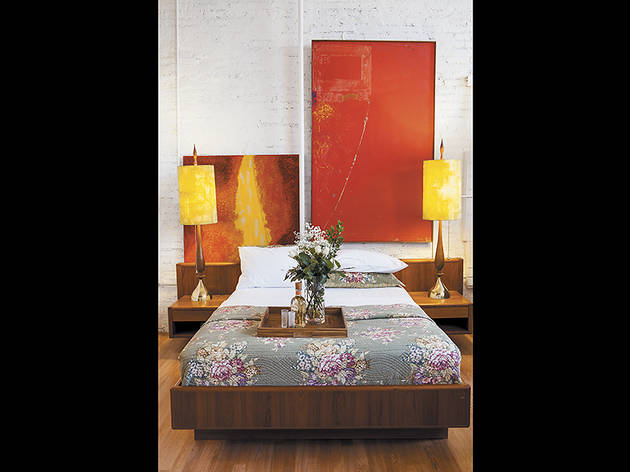 9/9
Photograph: Erica Gannett
Lynne and Ty of Orange Moon
House call | An Orange Moon apartment
Lynne and Ty McDaniel transformed the back of their store into a colorful crash pad.
Lynne McDaniel and her husband, Ty, had one requirement when they were scouting in Wicker Park for a new location for their vintage furniture shop, An Orange Moon (2418 W North Ave, 773-276-6726), and it had nothing to do with the customers' shopping experience: They wanted a place where they could crash after their frequent parties on- and off-site. "I'm drinking, dancing, laughing," says McDaniel, who's known for fostering a sense of community at her many get-togethers. "I don't want to get in the car and drive anywhere." The raw 1,000-square-foot empty box attached to what's now their North Avenue shop sealed the deal.
RECOMMENDED: Chicago apartments guide
Despite the nice shell, replete with 16-foot-high tin ceilings, it took more than a little tweaking to transform the space into comfortable living quarters. Formerly home to West Town Bikes, the place was "greasy, oily and drippy," McDaniel says. Marching band Mucca Pazza occupied the front space, now the shop, with a recording studio, and a makeshift divider barely separated the two areas. McDaniel explained her vision to the landlord: fairly major changes such as adding windows to the back wall, expanding the bathroom, adding a kitchen, a wall to divide the apartment from the shop, his and hers closets, and a heating and air conditioning system. After some negotiation, he agreed to the apartment makeover.
As the owner of a furniture shop since 2009 and having grown up in a family that went hunting at Maxwell Street Market every weekend, McDaniel has a strong aesthetic vision. "I wanted to throw together any kind of color," she says. "I wanted it to be adult, midcentury-modern meets glam meets good design." Referencing Elle Decor as her model, she explains that "it doesn't matter if it's a midcentury-modern sofa, turn-of-the century stained glass or '20s Art Deco chevron," pointing to the Tiffany blue sofa in the back, the stained glass panel on the windowsill and the dramatic chevron curtains covering the glass windows. "This stuff all blends together and works so well."
Remarkably, it does all blend together. Not to mention every piece in the apartment is vintage (except the kitchen appliances and the mattress). It's also all on rotation, with McDaniel swapping in new pieces as she and Ty see fit.
Now, a little more than a year after opening the North Avenue storefront, the couple find themselves spending half their week at their "crash pad," despite the fact that they also own a home on the South Side around the corner from the original An Orange Moon. But who can blame them?