House call Collection agent
Donna Dunlap tried to be a minimalist. That didn't last long.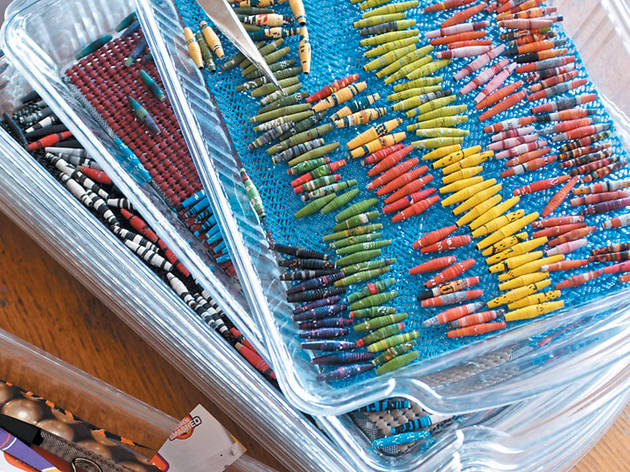 1/9
Photograph: Tate Gunnerson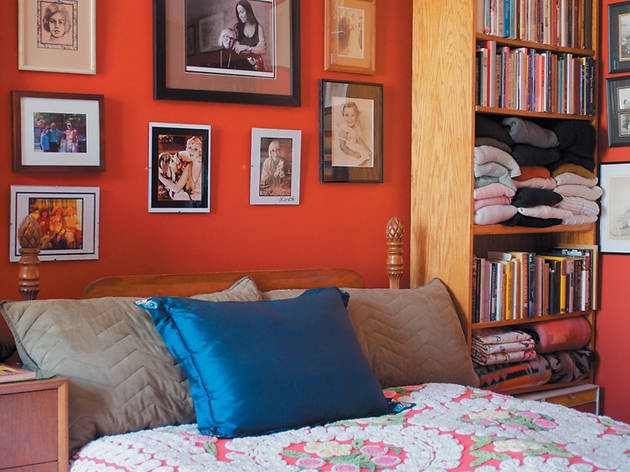 2/9
Photograph: Tate Gunnerson
Dunlap is attracted to the color and texture of old Mexican serapes and vintage Pendleton blankets, which can be found throughout the apartment.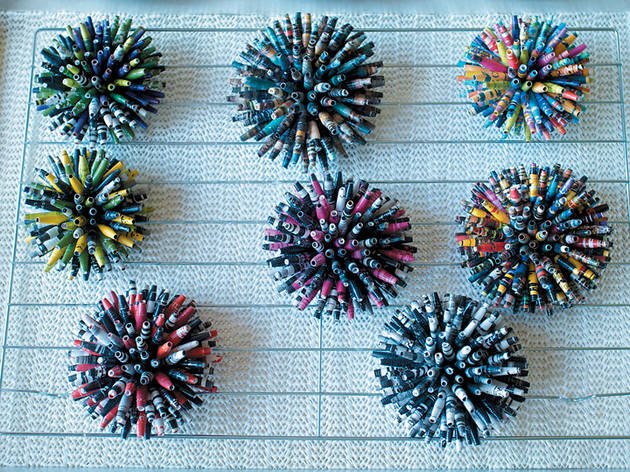 3/9
Photograph: Tate Gunnerson
It takes Dunlap approximately five hours to make a single handmade broach, which are available at the Museum of Contemporary Art gift shop.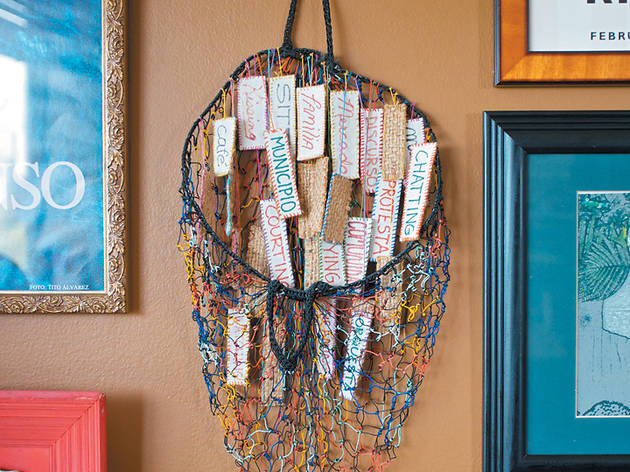 4/9
Photograph: Tate Gunnerson
The ultimate purse for a purse collector: Dunlap won this piece, which includes words such as chatting, courting and lying, at a silent auction to benefit the Teatro Vista theater company. "It's a wonderful assortment of things and feelings," Dunlap says.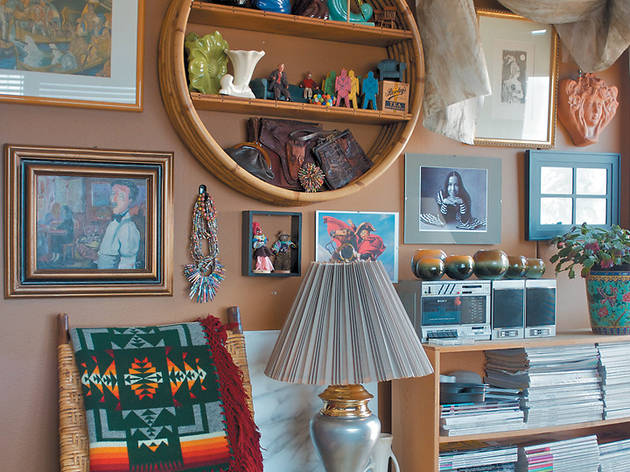 5/9
Photograph: Tate Gunnerson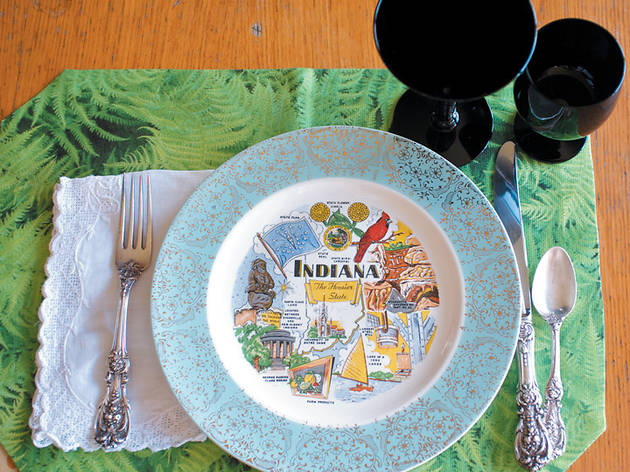 6/9
Photograph: Tate Gunnerson
Before Dunlap could afford fine china, she collected vintage commemorative dinner plates, which feature locales such as the state of Indiana and the Pennsylvania Turnpike. "I have better china, but those are my good dishes," Dunlap explains. "I guess I like a good story."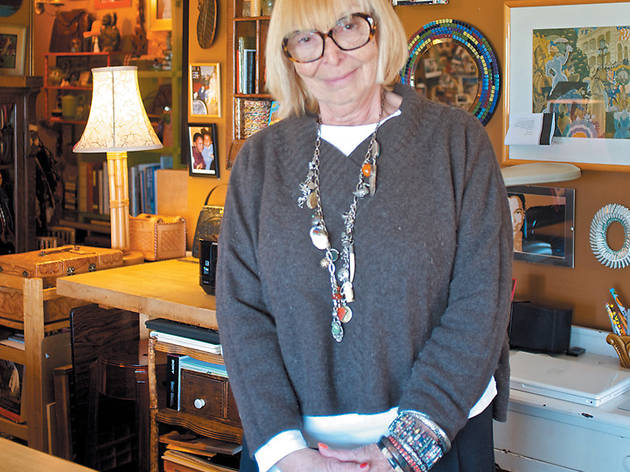 7/9
Photograph: Tate Gunnerson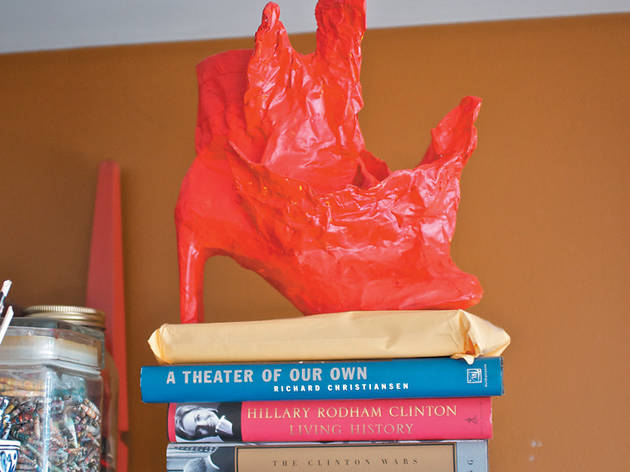 8/9
Photograph: Tate Gunnerson
The papier-mâche sculpture of a red shoe was a gift from artist Olivia Petrides.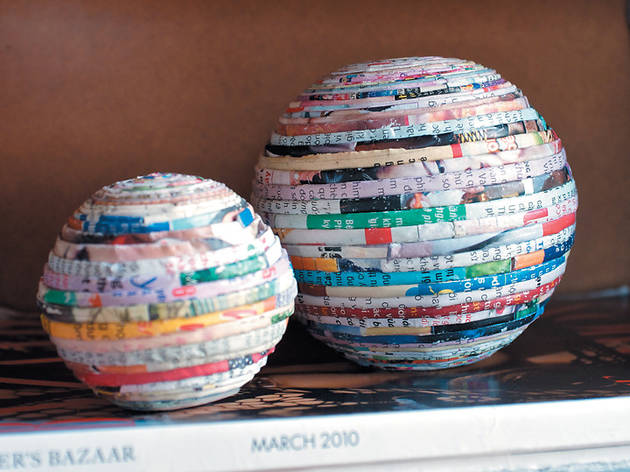 9/9
Photograph: Tate Gunnerson
"I never imagined I would be living in a high-rise," Donna Dunlap says while gazing at Lake Michigan from the 17th-floor window of her Lincoln Park apartment. She moved into the unit in the late 1980s after a fire destroyed her vintage three-flat and nearly everything she owned. When she toured the apartment, its plain white walls and sheer emptiness seemed like the clean slate she needed to start her next chapter. "I decided I was going to be a minimalist" Dunlap, a now-retired pet shop owner, recalls. "That lasted about an hour and a half."
Soon after moving in, Dunlap repainted the living-room walls, first turquoise and then caramel. She chose terra-cotta red for the bedroom. "It feels serene, comfortable and safe, like having a blanket around you," Dunlap says. "I believe we're somehow affected by colors, and I think it's true in every respect—how we live, what we wear." Indeed, when Dunlap decided to replace the preexisting orange shag carpeting, she chose a leopard print that coordinates well with her collection of prerevolutionary Cuban alligator-skin bags. "In some funny way, leopard is a neutral, because it goes with everything," Dunlap says.
Various furnishings line the perimeter of the main living area, including bookshelves and a coffee table featuring a mermaid base and a glass top that holds several vintage cloisonné vases. Over the years, Dunlap has slowly covered the walls with an art collection that includes pieces by Bill Zuehlke and Gertrude Abercrombie, as well as photos of her daughter and two grandchildren and a medley of objects she has picked up over the years (including vintage pottery and toys). Interspersed among them are necklaces, broaches and other pieces of jewelry Dunlap created using hand-rolled paper beads that she glues onto felt backing. It takes her several hours to make a single broach. "It's lunacy!" Dunlap says. "Only a clearly demented person would make them."
While Dunlap occasionally wishes she lived in an apartment with more space to entertain, she says high-rise life agrees with her. "It's nice to have a doorman who can accept deliveries. And I cannot tell you the excitement of having a trash shoot," she explains, recalling when taking out the garbage entailed walking down three flights of icy stairs. "When I moved to this apartment, I would walk down the hall to throw away a single piece of paper. It's so easy."
Although Dunlap has given up on the idea of living with less, the idea still holds some appeal. "In my head, the opposite of being a collector is being free," she says. "[But] collecting is great fun."