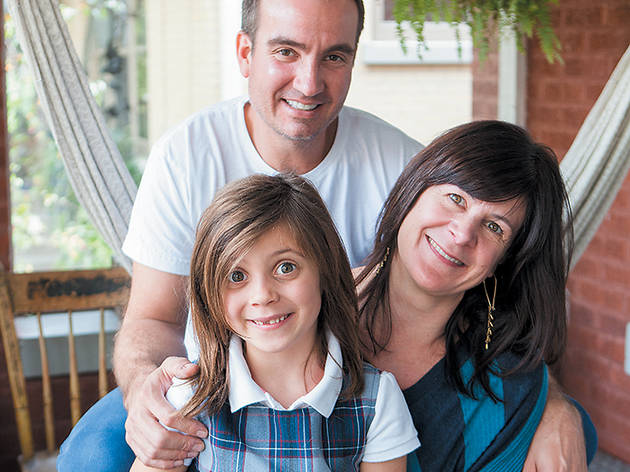 1/16
Photograph: Erica Gannett
Gretchen and Erik Guftaftson
2/16
Photograph: Erica Gannett
Gretchen and Erik Guftaftson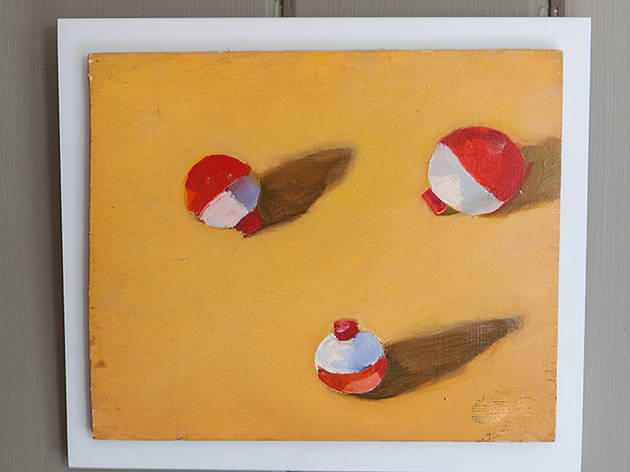 3/16
Photograph: Erica Gannett
Gretchen and Erik Guftaftson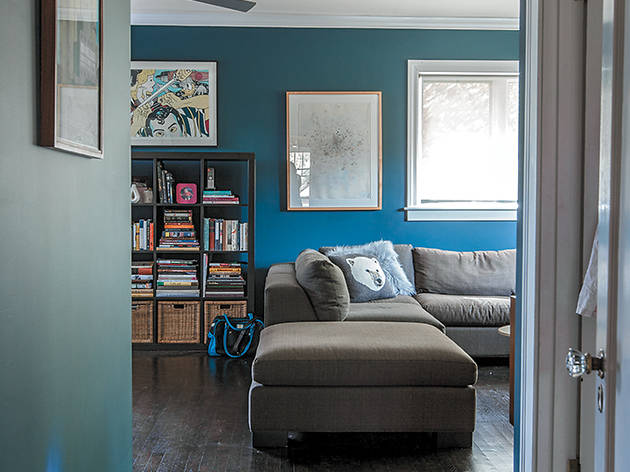 4/16
Photograph: Erica Gannett
Gretchen and Erik Guftaftson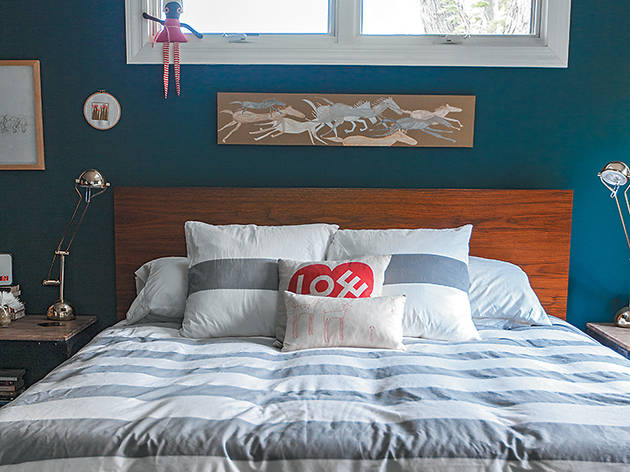 5/16
Photograph: Erica Gannett
Gretchen and Erik Guftaftson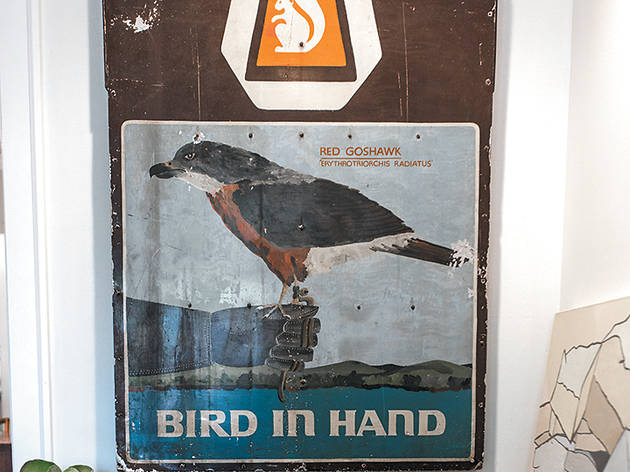 6/16
Photograph: Erica Gannett
Gretchen and Erik Guftaftson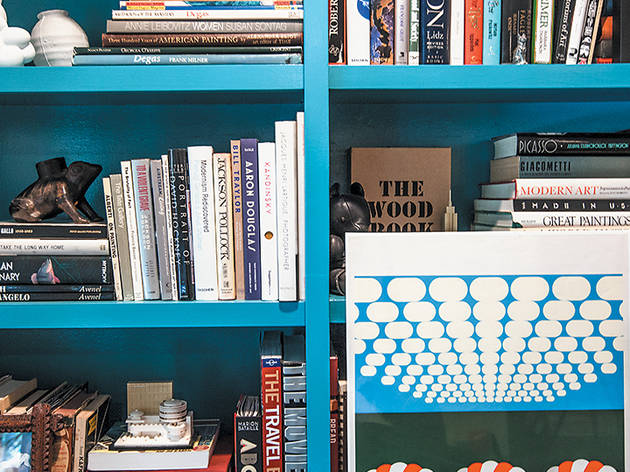 7/16
Photograph: Erica Gannett
Gretchen and Erik Guftaftson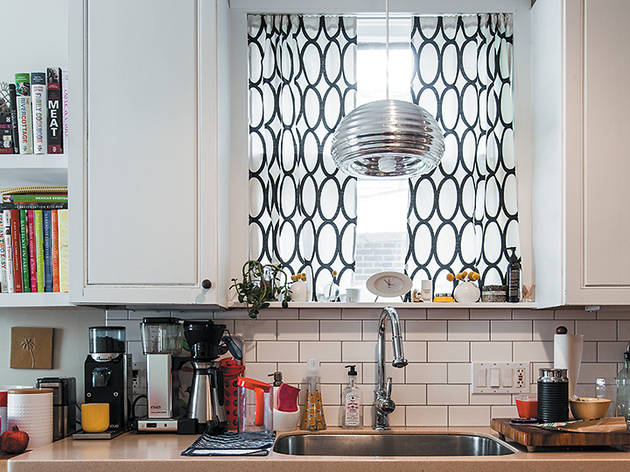 8/16
Photograph: Erica Gannett
"The kitchen is a great room to cook in," Gustafson says. He and a partner used to make and sell homemade sausages and charcuterie in this kitchen for some of the city's top restaurants (think Frontera Grill and North Pond) under the name E & P Meats until the health department closed them down. Gustafson still enjoys the process of smoking and curing meats but only does it for family and friends and has no plans to start up the business again.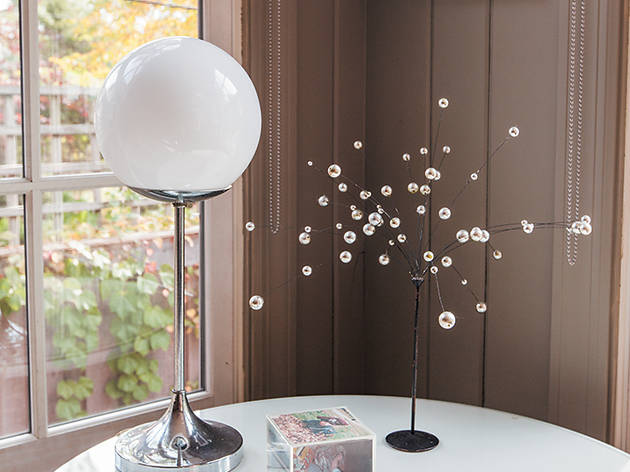 9/16
Photograph: Erica Gannett
Gretchen and Erik Guftaftson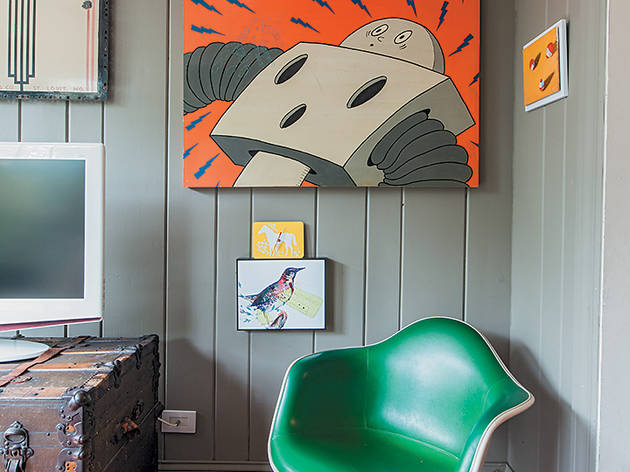 10/16
Photograph: Erica Gannett
The robot painting in the living room is by Spencer Dormitzer. "Erik had a ton of art when I met him because he used to trade art with friends and he knew a lot of artists," Praeger says.
11/16
Photograph: Erica Gannett
Gretchen and Erik Guftaftson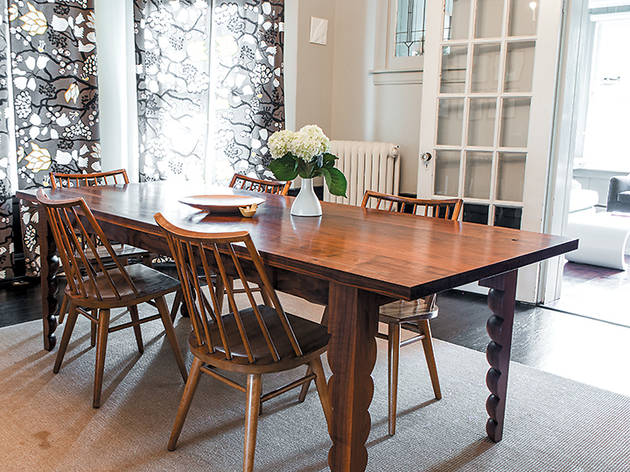 12/16
Photograph: Erica Gannett
Gretchen and Erik Guftaftson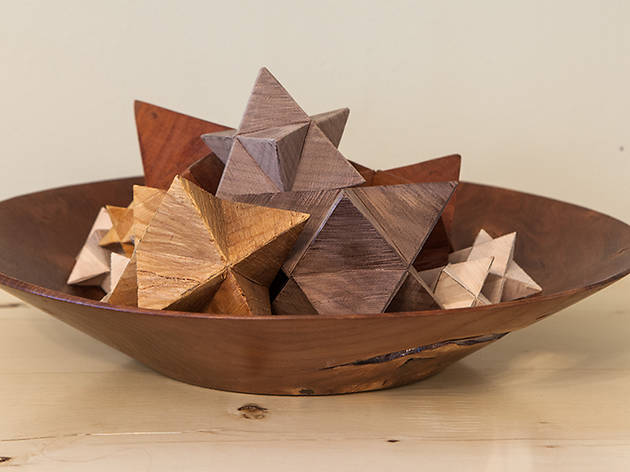 13/16
Photograph: Erica Gannett
Gustafson's father taught him how to make these hand-carved wooden stars, and now he uses them as a warm-up exercise for bigger pieces. "I can make one of those stars in 15 minutes depending on the size," he says.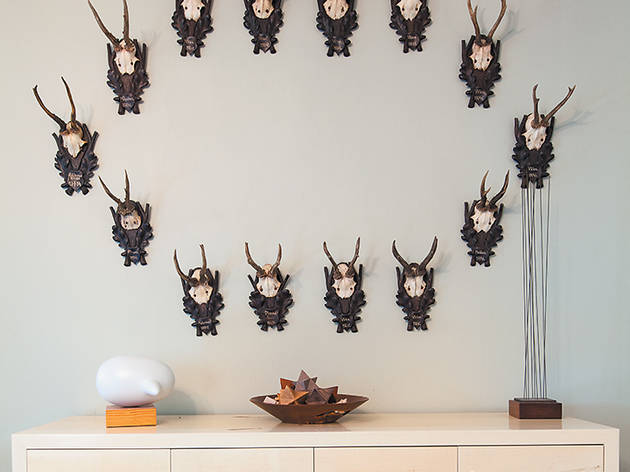 14/16
Photograph: Erica Gannett
In the dining room, a collection of 14 roe deer antlers, part of an original set of 30 that Gustafson was given as a gift, hangs on one wall. Sitting below is a small sculpture called Thought at Rest. It was made by Gustafson when he worked at Sears.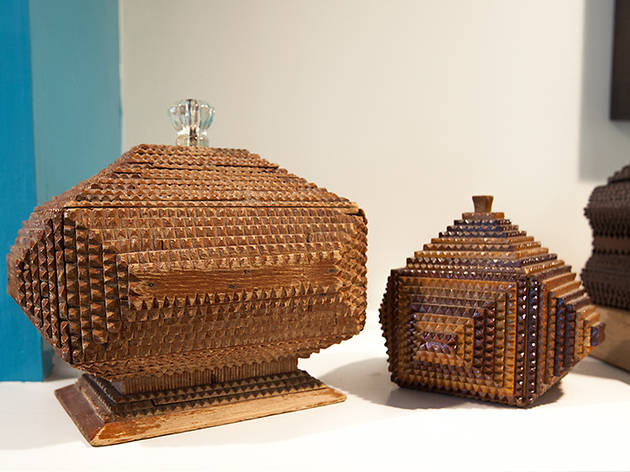 15/16
Photograph: Erica Gannett
Gretchen and Erik Guftaftson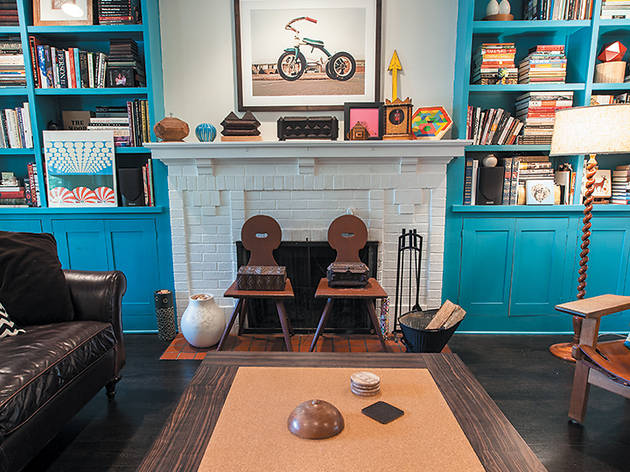 16/16
Photograph: Erica Gannett
"When we painted these bookshelves blue, we thought we'd probably change it after a year, but it's kind of stuck," Praeger says.
House Call | Evanston home
This Evanston home is filled with a ton of art—but that won't stop the owners from collecting more.
Amassing pieces from your professional-artist friends is a great way to decorate your home. But all that art can get overwhelming fast.
"We have a lot of art, more than we can have out [on display], so we're always moving things around," says Erik Gustafson, a furniture designer who shares a packed Evanston home with Gretchen Praeger and their six-year-old daughter, Clara.
RECOMMENDED: Chicago apartments guide
There are 35 or so paintings leaning against the walls in various areas of the 2,500-square-foot home. Under the bed, in the upstairs master bedroom, is a crate filled with unframed prints. And don't even get them started on the basement, which Praeger (a managing director at Optimus, a postproduction facility) says is more like a "junk store." "When you get stuff, you then need to get rid of stuff, too," she says. But, Gustafson adds, "Unfortunately, we haven't mastered the getting-rid-of-stuff part yet."
One thing they have mastered is creating a stylish yet playful home. You'll find a mix of works made by Gustafson, vintage pieces the couple have collected over the years and items created by those artist friends, including Leslie Baum, Dana De Ano and Gabe Ferrar.
How does Gustafson describe their style? "Our style? It's 'Do you like our junk?' " he says, laughing. Praeger defines junk a little differently. "We like mostly one-of-a-kind, I've-never-seen-anything-like-this-before kind of things," she says.
Take, for instance, their collection of tramp boxes. The couple have been amassing the intricate, chip-carved layered pieces of early-20th-century folk art made from discarded wooden cigar boxes for eight years and usually find them on antiquing trips. "It's super fun to be in a small town and find a little gem," Praeger says. (Note to would-be collectors: Step away from the computer, Gustafson suggests. "There's still good stuff to be found in stores because so many people look online now.")
Then there's the house itself, a 1929 light-filled American foursquare that's one street north of the Chicago border. They moved into the home five years ago after deciding their third-floor walk-up in the city was getting too small. "I didn't want to leave the city and [Praeger] wanted to live in Evanston," Gustafson says. "So this is the closest we could get to both of us winning."
Compromise came into play, too, with one of Gustafson's most prized possessions, a wood-carved sign that reads welcome crack whores. The piece, made by a friend, originally hung in the couple's kitchen, but with Clara getting to the age where she and her friends can read, Praeger had hoped Gustafson would take it out to his workshop. It now hangs in their bedroom.