House call | Narrow minded
An ultra-narrow but surprisingly spacious family home in West Rogers Park is all about smart design.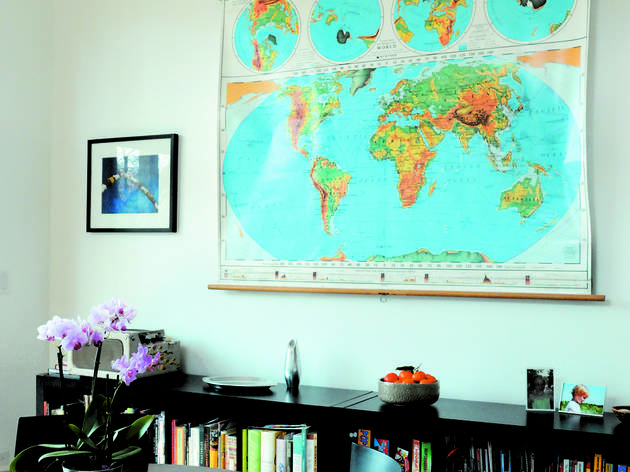 1/7
Photograph: Tate Gunnerson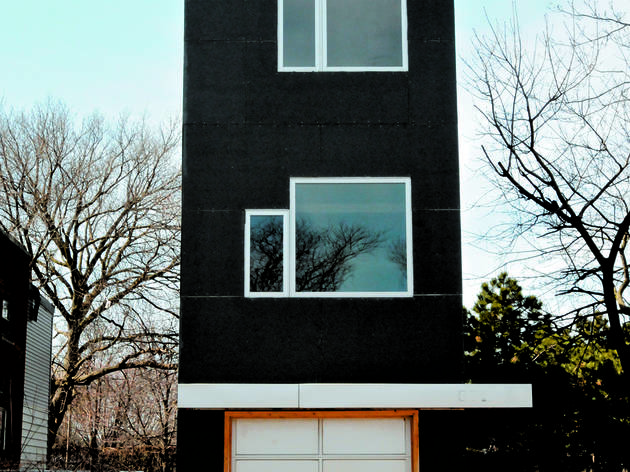 2/7
Photograph: Tate Gunnerson
Sandberg enjoyed experimenting with ecofriendly and low-cost materials such as the cement board exterior siding.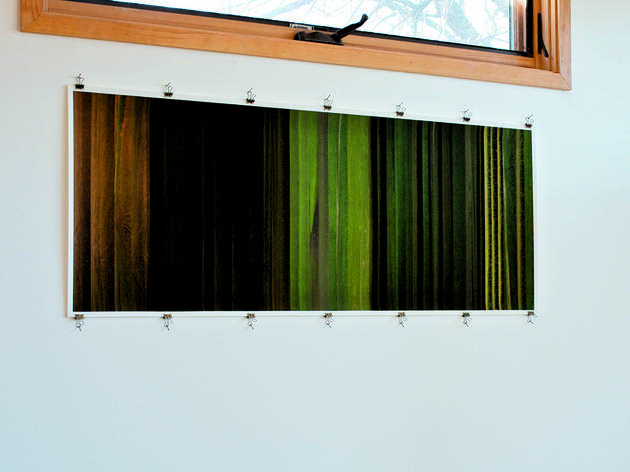 3/7
Photograph: Tate Gunnerson
Doug created this collage using photos of farm fields (corn, soy, alfalfa) that he had taken in different seasons.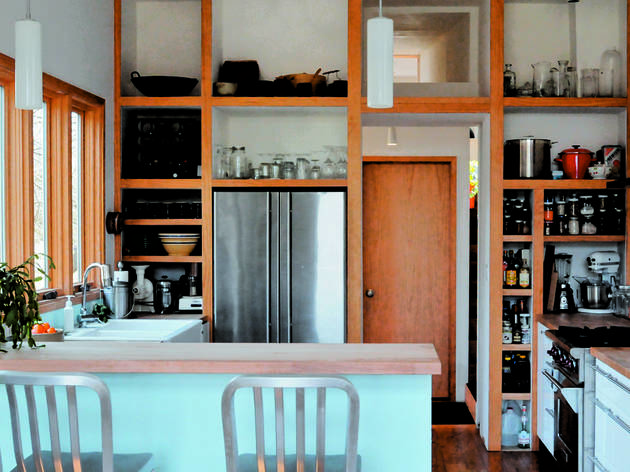 4/7
Photograph: Tate Gunnerson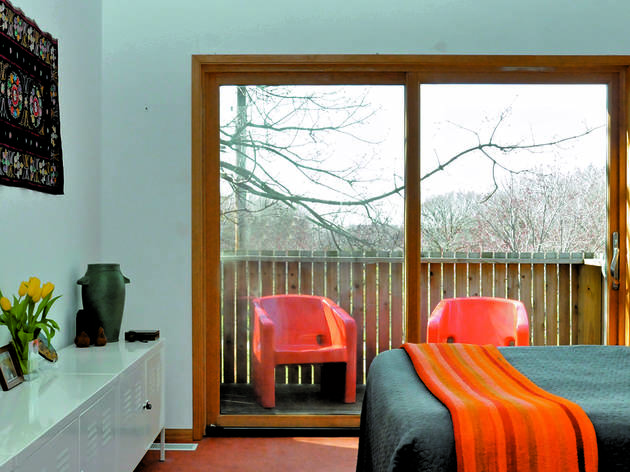 5/7
Photograph: Tate Gunnerson
Although the deck off the master bedroom was not part of the original design, Catherine convinced Doug to add it. "Doug liked the idea of providing a sunshade for the large patio windows in the kitchen below," she says.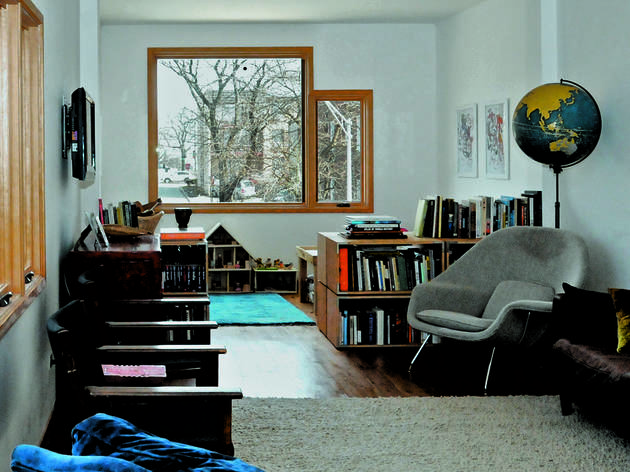 6/7
Photograph: Tate Gunnerson
Catherine nixed a wall Doug had planned between the living room and playroom when she realized it would obscure the sight lines and natural light. "There's no way we can block this," she recalls saying. "It needs to be a focal point."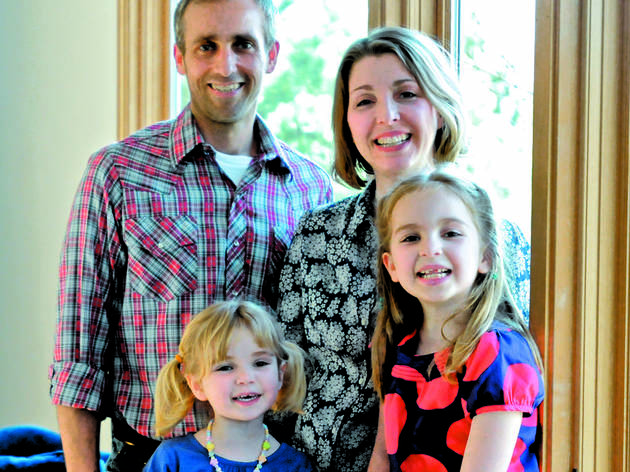 7/7
Photograph: Tate Gunnerson
When Doug Sandberg caught the travel bug in 2003, he and his wife, Catherine, decided to quit their jobs (he's an architect, she's a schoolteacher), sell their condo and use half the proceeds to travel the world. A few years later, they embarked on another bold project—this time much closer to home—to design and build an ultra-lean 12.5-foot-wide home for them and their two daughters (Claire, 7, and Thea, 4). The home is on a narrower than average lot bordering a golf course and a small city park in West Rogers Park that they purchased for under $200,000. "Our trip stretched my boundaries," Catherine says. "I learned to be patient and to be okay not knowing exactly what would happen. It probably prepped me for building the house, which I kind of think of as our third child."
The 1,900-square-foot, three-level, three-bedroom home is about as wide as a single room in many homes. But according to Doug, the lot's limitations posed no significant design challenges. "Most houses and apartments in Chicago have roughly 12-foot rooms as one of their narrower rooms," he explains. "A bungalow might have a much larger floor plan, but it's usually split right down the middle with a hallway."
In other words, it's not how much space you have but how you use it. To eliminate the "shotgun" feel so common in structures built on Chicago's long, narrow lots, he designed a central staircase that leads from the side entrance directly to the main living areas on the upper two levels. "The stairway kind of spirals up through the center of the house," Doug says. "This way, you're entering all the rooms from one end, so you don't have to dedicate space for a walkway to get to the next room."
Although the kitchen and living room are on separate levels, a horizontal air shaft connects the spaces while also concealing the home's large central air return grill. "From the living room, you can see back through the patio doors to the golf course," Doug says. "It added some richness to how the spaces are related, and it's a great way to draw air equally from both spaces."
Building the home gave Doug (he launched his own firm, Sandberg Architecture and Design in 2007) the chance to test some of the ecofriendly materials now available in residential design, including Forest Stewardship Council lumber and cement board exterior siding. He also used reclaimed materials, such as the 100-percent recycled rubber flooring, which he selected for the staircase and hallways. "It's a much more interesting design challenge to work with a boiled down, simpler form and a smaller set of materials," Doug says. "It was a fun challenge."
Many factors contribute to the home's open and airy feeling, including high ceilings in the main living areas and the size and placement of the windows, which he varied to take advantage of the best views. "In this space, there are all these different heights and sizes yet it all fits into this simple rectangular box," Doug says.
In the living room, a square picture window alongside three smaller identical windows naturally calls attention to the trees and golf course to the northwest. "The high ceilings and all the natural light makes it feel so much bigger," Catherine says. "I love looking out at the golf course and [also seeing] the sky from every room."