House call: Stacey Marquardt and Steve Reidell's Humboldt Park walk-up
Reidell of the Hood Internet and Marquardt, the Metro's director of sponsorship, aim for functionality with a sense of humor.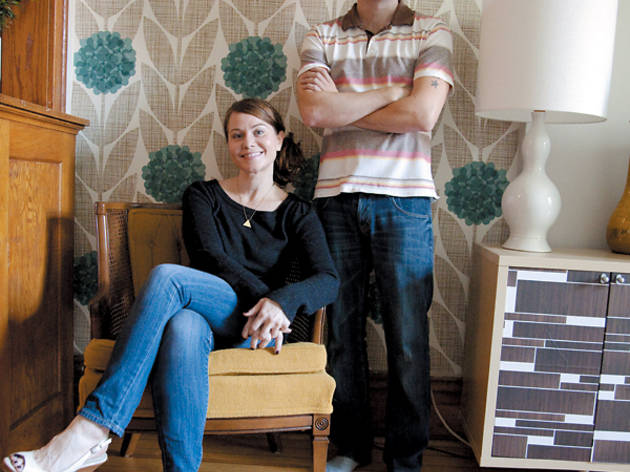 1/13
Stacey Marquardt, a director of sponsorship at Metro, and her boyfriend Steve Reidell, a designer and one half of mashup outfit the Hood Internet, infused a sense of humor in the design of their mod-influenced Humboldt Park walk-up.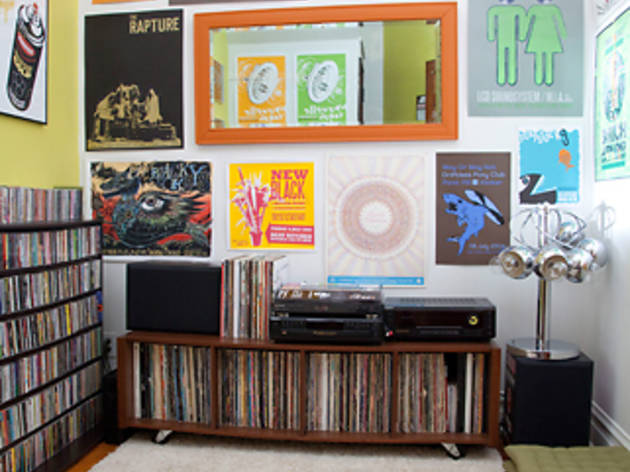 2/13
The psychedelic-vibed room the duo refer to as the dorm room boasts a stereo with turntable and a floor-to-ceiling collection of screenprinted posters, including many Reidell designed under the moniker Steve Sleeve (gigposters.com).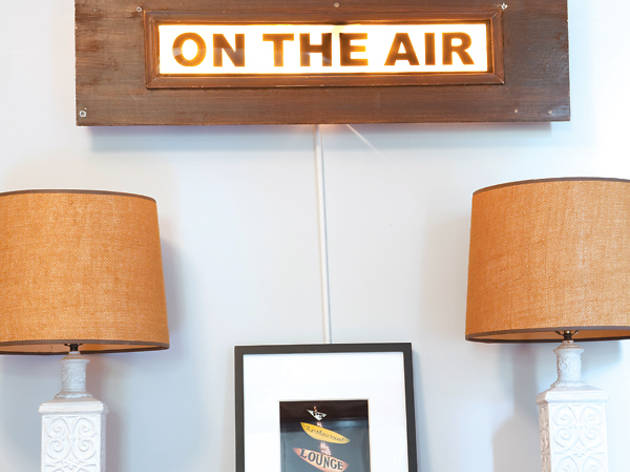 3/13
"There were certain elements I knew I wanted to bring in, like the disco ball," Marquardt says. "And the on-air sign," adds Reidell, citing the light he scored for $10 at a Live Bait prop sale. "We built the room around those."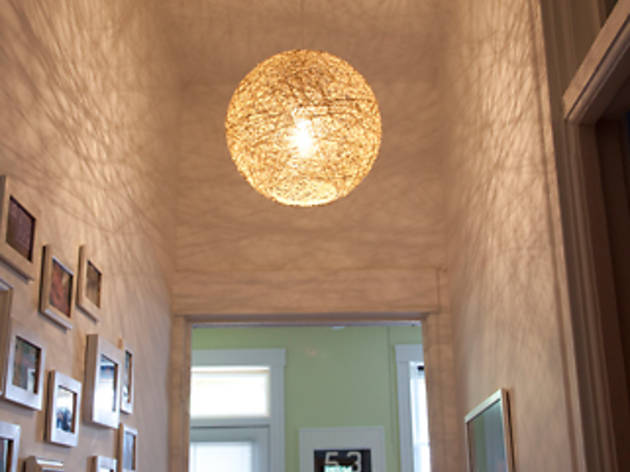 4/13
Marquardt has a knack for re-creating high-end items, including this pendant light inspired by a $600 Design Within Reach piece. She crafted it using only hemp string, a beach ball and craft glue, and has since made a few for friends—part of a larger plan to build up a portfolio for her own interior design service, Floor 34.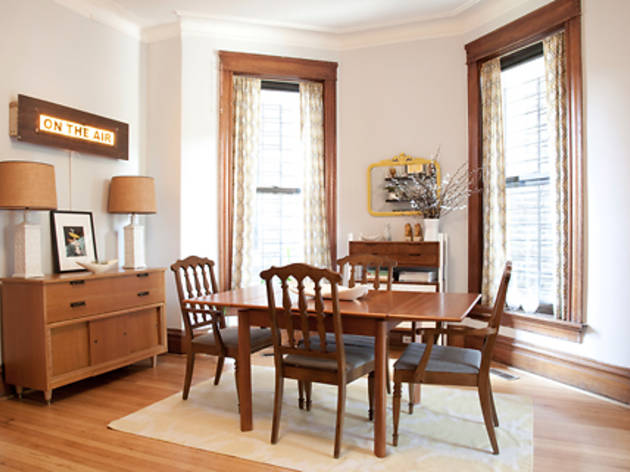 5/13
Marquardt's secret to great eBay and Craigslist scores: "I find overlooked stuff by searching misspellings. You'd be surprised how many people don't know how to spell dining room."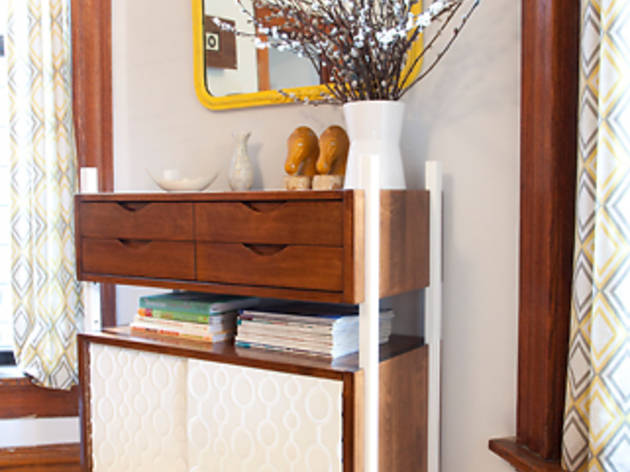 6/13
Marquardt enhanced more traditional pieces with mod touches—"for added texture and balance," she explains. After an intensive stripping and refinishing session, she outfitted a wood cabinet scored off Craigslist with white Shangri-La wall panels (velocityartanddesign.com).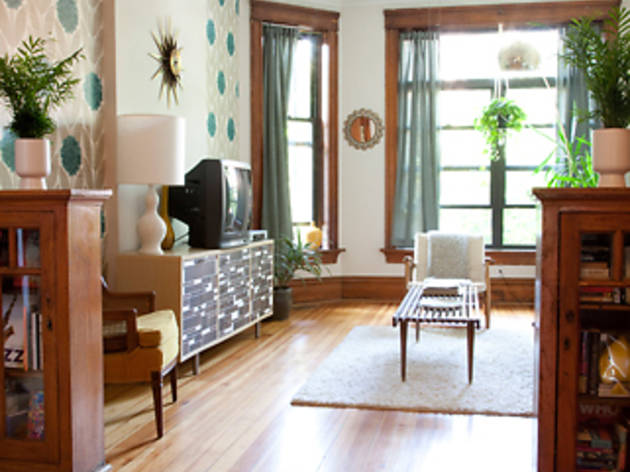 7/13
Highlighting the importance of the personal references they've inserted in their design scheme, Reidell notes, "It meant a lot to us when we had a party and some people after looking around said, 'We can tell that you live here.'"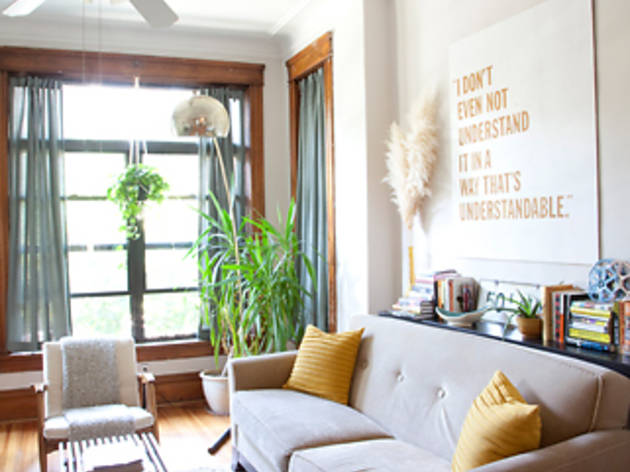 8/13
Over the couch hangs a painting of the words "I don't even not understand that in a way that's understandable." The quote, an off-the-cuff assessment Marquardt once made about some bad art, was immortalized using vinyl stickers as stencils, white paint and a piece of plywood.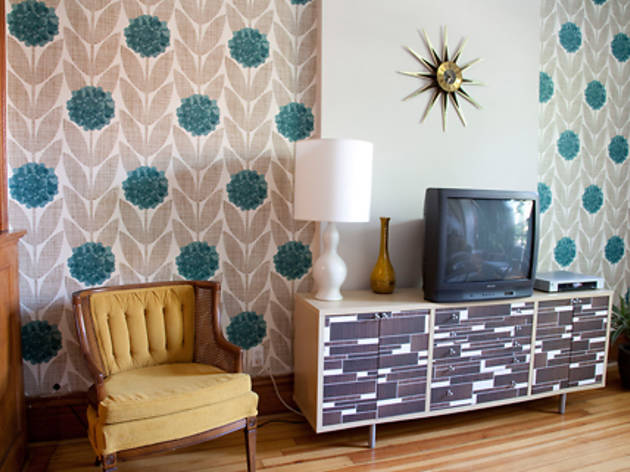 9/13
To add balance and pops of color to the living room, the couple added columns of vintage-inspired graphic wallpaper by Irish designer Orla Kiely.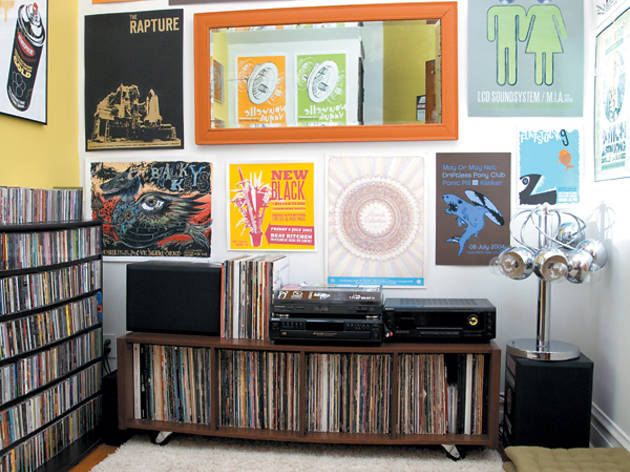 10/13
Records, posters and comfy cushions give the dorm it's collegiate, chillout feel.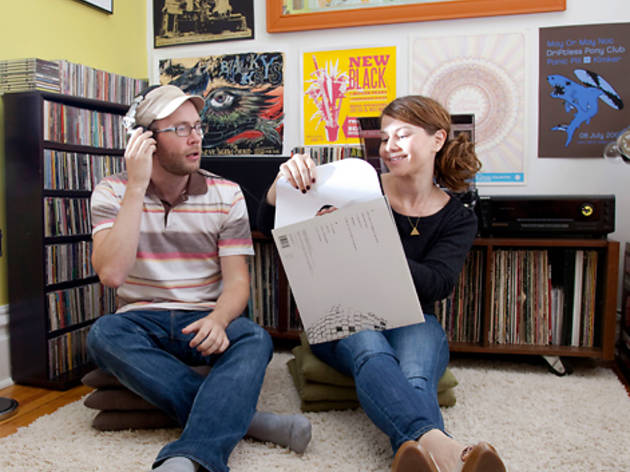 11/13
Marquardt says she and Reidell head to the room to relax and listen to music at the end of the day.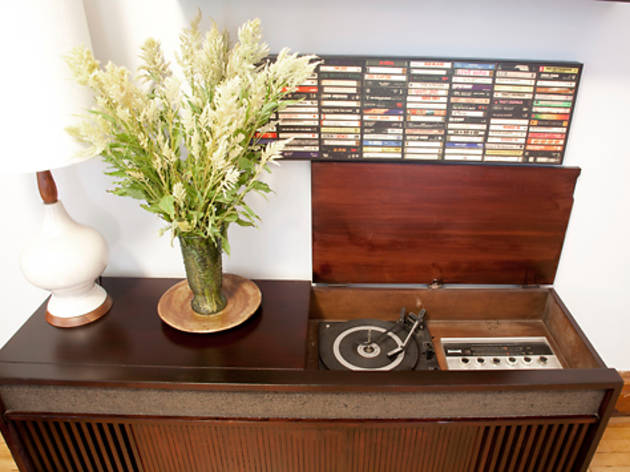 12/13
To reconcile the useful with the comical or just plain beautiful, the couple adapted every piece for maximum utility, including a refinished vintage turntable console AirPorted to play MP3s from a laptop.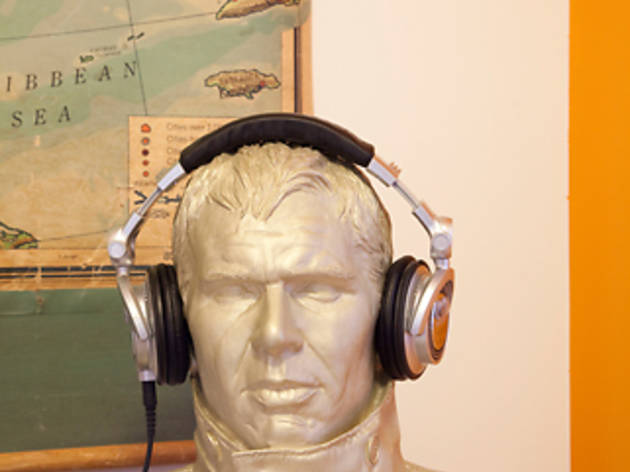 13/13
The couple's friend, local writer Jessica Hopper, tipped them off to this Craigslist gem, a life-size bust of Harrison Ford à la Blade Runner that doubles as a headphone stand.
For the past two years, Marquardt, a director of sponsorship and promotions at Metro, has rented a 1,200-square-foot 2.5-bedroom with her boyfriend, Reidell, a graphic designer and one half of DJ/production duo the Hood Internet. While the pair can't stand clutter, they also can't resist snagging whimsical Craigslist, eBay or thrift-store finds. "We like things with a good sense of humor," she says. To reconcile the useful with the comical, the couple adapted every piece for maximum utility, including a life-size bust of Harrison Ford à la Blade Runner that doubles as a headphone stand and a refinished vintage turntable console AirPorted to play MP3s from a laptop. The couple's personalities shine through in the decor, too, as Reidell notes: "It meant a lot to us when we had a party and some people after looking around said, 'We can tell that you live here.'"