How to give the perfect gift
Thanks to these tips, you'll be an expert gift giver in no time.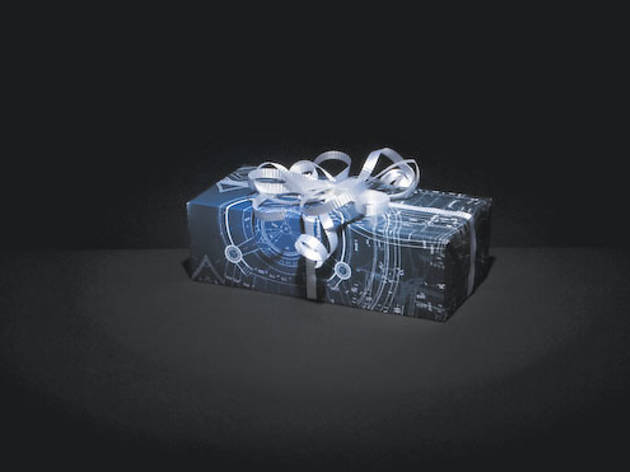 [node:15023387 noterms imagecache=field_image:timeout_250x220:image:0; cck=field_caption; cck=field_credits;]
Find inspiration online…
Surf around Pinterest.com.
If you already have a hazy idea or two for your giftee, Pinterest is the world's best place to home in on the best version of that present. Site members "pin" products that they love, which then become public, searchable inspiration pages. For example, if you know your girlfriend would totally dig something, say, chevron-y, type that word into the site and hundreds of examples populate your screen. When you see a product that would make an awesome gift, click on it to find its source. Voilà! Bonus: Many of the goods members have "pinned" come from independent artisans and under-the-radar design blogs.
Join Fab.com.
Gilt Groupe—the membership site that offers designer-label goods at super-discounted prices in limited quantities and for a limited amount of time—has inspired dozens of knockoffs. Our favorite is Fab.com, where a daily e-mail chock-full of sales from quirky, cool companies has introduced us to some fantastic, curated gift ideas. I recently found the perfect Christmas gifts—canvas city bags for my three sisters-in-law—marked down by 35 percent. I'm also eyeing the chalkboard piggy bank ($57 and 33 percent off) for my little brother.
Get thee to Amazon.com.
So, a couple of seconds ago we were singing the virtues of independent artisans and now we're telling you to go to Amazon? Here's the deal: Despite magazine articles like this, many people wait until the midnight hour (a.k.a. December 23) to deal with holiday shopping. If that sounds like you, Amazon is a good option. It carries pretty much everything under the sun—from charms for Mom's bracelet to a Dr. Seuss bodysuit for your BFF's new baby—and it'll overnight gifts for a mere $4 (two-day shipping is gratis!) if you're an Amazon Prime member. And you can be, for no fee, with a month-long trial.—Liz Plosser
---
[node:15023379 noterms imagecache=field_image:timeout_250x220:image:0; cck=field_caption; cck=field_credits;]
Expand on a theme…
Accessorize the main attraction.
Give new meaning to the phrase one of a kind by expanding on a single theme. For instance, splurge on a vintage typewriter for your writer friend and deck out the package with secretarial accoutrements like a pencil skirt, luxe paper for letter writing and adorable pencils.
Throw reason to the wind.
Who says you can't just have fun? Give her a "gift of the senses," appealing to her five senses with a package of goodies like a mix-tape USB drive, a massage certificate, an aromatic candle and a trip to the Art Institute of Chicago. Or, take a cue from Grant Achatz's latest menu at Next and send her back to childhood with a silly assortment of kiddie gifts like retro bubble gum and a modern lunch sack.
Give a gift that keeps on giving.
Literally. Sign him up for a subscription to the magazine he always buys off the rack (we're fans of the harder-to-find types like n+1 and Garden & Gun). Adopt an olive tree in Italy on his behalf from Nudo; he'll receive a spring package of extra virgin olive oil and an autumn package of three flavored extra virgin oils such as chili and lemon. Or, if you're part of the one percent purchase a subscription a year's worth of fresh and cured meat from an entire pig ($2,450 at laquercia.us).—Jessica Herman
---
[node:15023389 noterms imagecache=field_image:timeout_250x220:image:0; cck=field_caption; cck=field_credits;]
Be attentive…
Listen up.
It's always nice to be a good listener, but that skill can also help you become a better gift giver. Whenever someone mentions in passing something they need or are coveting, always take note. And if possible, buy it as soon as you can—that way you won't forget. While I was shopping with my mom a couple of years ago, she saw a vintage Santa mug and said it reminded her of her childhood. I went back to the shop a few days later, and I think it was one of her favorite gifts that year.
Snoop around.
We know. It's rude to snoop around someone's apartment, but it's also a great way to discover what he or she needs. If your friend loves to cook, take a peek in his kitchen and see what kind of tools he's missing. Your brother has bare walls in his apartment? Buy him a cool piece of art from 20x200.com (this Chicago print is set to be released on Monday 21).
Spy online.
Thanks to social media and blogs, it's easier than ever to see what types of things your friends and family are coveting. Facebook tells you that your bestie keeps listening to Beyoncé on Spotify? Give her B's latest concert DVD. Pay a little extra attention to their Twitter feed, Facebook page, Pinterest account (see top left for more info), Tumblr or, heck, even Google+, and gift ideas should abound.—Kevin Aeh