How to make a DIY lamp shade
Make a lamp shade using a roll of window screening.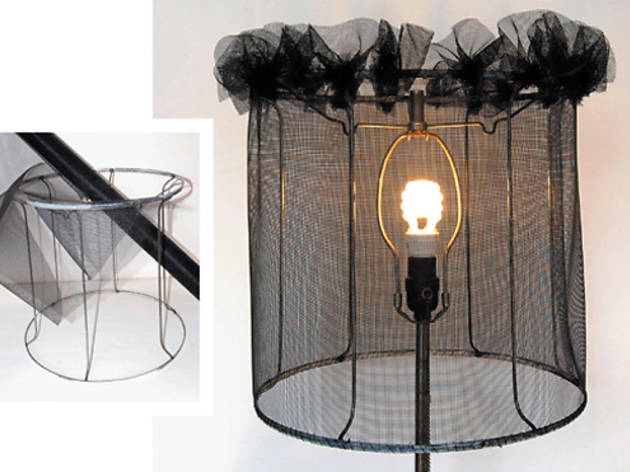 Found A roll of window screening near Arthur and Greenview Aves; a lamp shade frame at Ravenswood and Leland Aves.
The process I unrolled the screen and washed it in the shower. As it dried, I measured the height and circumference of the lamp shade frame. This shade measures 24" high by 45" around, so I cut a piece of screening to fit, adding 1/4" to overlap where the sides meet. Beginning at the top, I lined up the screen with the frame edge and sewed it in place with stitches that looped around the frame, making the stitches evenly spaced, every 3/8" or so. (I tried using hot glue, but it oozed through the screen and the result was messy.) I did the same with the bottom edge, lining up the screen and stitching it to the frame at even intervals. With the leftover scraps of screening, I cut 2" by 6" strips that I gathered together in my fingers to make poufs. I finished the shade by sewing the poufs on the top edge.—Collected and salvaged by Diana Durkes (finedivingchicago.com)
The materials Coats and Clark Dual Duty XP Heavy Thread $2, Singer Assorted Hand Needles Pack $2.50 at JoAnn Fabric and Crafts (2639 N Elston Ave, 773-227-7874). Total cost: $4.50.