How to vet a foreclosed home
Dodge a lemon with these tips from a licensed home inspector.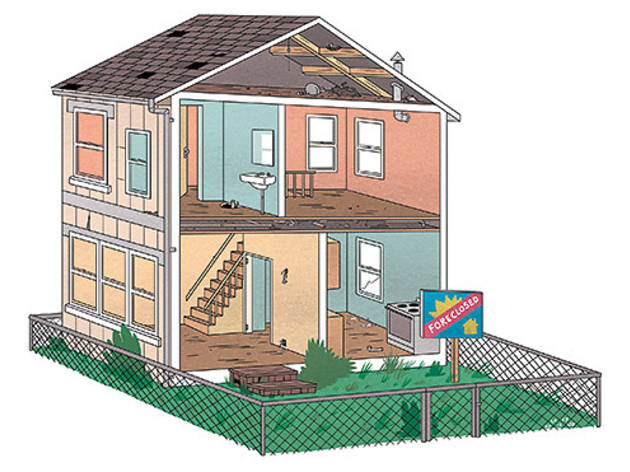 OUTSIDE
Be wary of vegetation. Randy Foege, an Illinois licensed home inspector, says overgrown plants can rot or damage the siding or trim, "and now you've got a great way for squirrels and raccoons to eat their way into the attic."
Look in lower-level windows for an A/C unit. "People steal those, sometimes for copper, or enter through that window and then steal more copper from the basement plumbing," Foege says. This can cost as much as $1,500 to replace.
Look at the condition of the roof and chimney. "Are the shingles good looking, or are they poking out, missing and so forth? Chimneys can be very expensive to repair, so if they're leaning or missing bricks, you know there's going to be major issues."
Nose around with the neighbors. Foege has encountered houses where neighbors disclosed that the previous owners didn't pay for trash pickup for three or four years, letting the trash pile up in the yard and garage. You'll also get an idea if the people on the street or in the building are creeps.
INSIDE
Repeat to yourself: You can redecorate. Bad paint jobs are not forever.
Spend time in the basement. Your major concerns: "Are there water marks on the walls? Do the walls have any cracks over a quarter-inch wide, or is the foundation obviously leaning? Do the furnace and water heater look old enough to vote?"
Make sure all plumbing is in place. Paying for parts and labor adds up. Thinking of doing it yourself? Consider the next tip first…
Be wary of any signs of DIY remodels. "My biggest red flag inside," Foege says, "is something that's not worn or dated as much as it looks like it was done by me—when I was about 11 years old. Amateur remodelers can do a surprising amount of damage."