In the house
We asked five Chicago gift shops to tell us about their favorite housewarming gifts.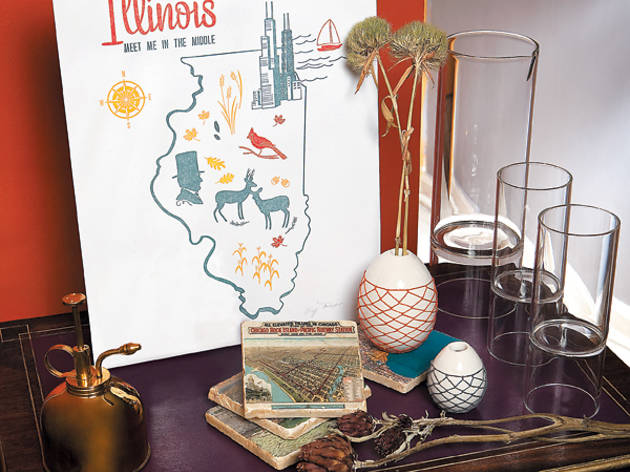 1 Stephanie Keller, the Inkling Shop (2917½ N Broadway, 773-248-8004)
"The best housewarming gift is the just released Illinois letterpress print from Chicago artist Cindy Tomczyk. It's the picture-perfect gift for the person making Chicago their home. This limited-edition, handcrafted print is adorned with iconic imagery and landmarks of Illinois." $30
2 Melissa Stone, Art Effect (934 W Armitage Ave, 773-929-3600, shoparteffect.com)
"We chose tumbled Italian Botticino marble coasters with vintage Chicago maps and scenes. They're a great hostess or housewarming gift for anyone who loves Chicago. The vintage finish gives them great character." $44
3 Elizabeth Cronin, Asrai Garden (1935 W North Ave, 773-782-0680, asraigarden.com)
"This brass plant mister is functional and adorable. People always give plants for housewarming gifts, so you can give them something gorgeous looking to help keep those plants alive." $38
4 Julie Horowitz, Virtu (2034 N Damen Ave, 773-235-3790, virtuchicago.com)
"We love Mike McDowell's egg vases for a simple housewarming. Filled with flowers or left unadorned, each petite egg is wrapped in one single thread continuously knotted to keep its treasure safe inside." $36–$48
5 Deborah Colman, Pavilion (2055 N Damen Ave, 773-645-0924, pavilionantiques.com)
"The Revolution Collection by fferrone design [is] modern, yet timeless, sleek and minimal. The water/wine glasses work by flipping them over to use the appropriate size glass with the appropriate liquid. Two glasses in one. Simple, elegant, but with a clever twist." Set of two wine/water glasses for $84; carafe for $98.